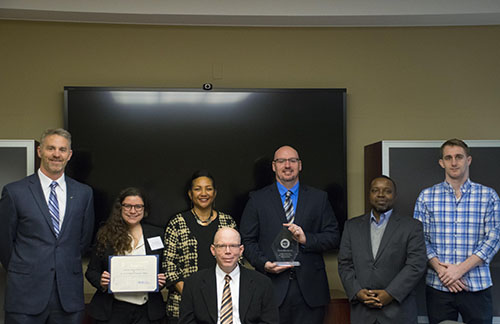 The City College of New York is the #1 Military Friendly School among public universities with more than 10,000 students.  This is according to Victory Media, which awarded City College its Top 10 Gold award for 2017.
The honor is based on public information gathered from a Military Friendly® survey and personal data from CCNY veteran students about how they feel about the college.
"Veterans are looking for a hand up, not a hand out, and so organizations like yours provide that opportunity for them to take that military service—where they learn team-work, discipline and leadership—and bring it into civilian institutions," Chris Hale, founder and chairman of Victory Media, said at CCNY. "This is a big time award and the work that you have done is creating great opportunities for what I would call our next greatest generation."
CCNY Interim President Vincent Boudreau said the college's Office of Veterans Affairs, under the current leadership of Director Christopher Gorman, was the brainchild of outstanding young veterans with strong support from Student Services. "I think the way in which this program has grown, and the effectiveness with which it's served the needs of our Veterans absolutely is rooted in the participation and lived experience of extraordinary veterans," he noted.
More than 200 companies and 1,200 post-secondary schools were designated as "Military Friendly®" by Victory Media this fall. Of these, 154 employers and 541 schools have been recognized for excellence in different award categories.
The Office of Veterans Affairs also received a certificate for its achievements from the office of Assemblyman Michael DenDekker. He is chair for veterans affairs in the New York State Assembly.
About The City College of New York
Since 1847, The City College of New York has provided low-cost, high-quality education for New Yorkers in a wide variety of disciplines. More than 15,000 students pursue undergraduate and graduate degrees in eight professional schools. View CCNY Media Kit .