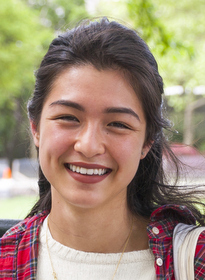 Less than two weeks before the start of the fall semester, Francesca Lingo put an impressive freshman year at City College behind her with a NASA presentation on "Earth's Past as a Window on Exoplanet Habitability." The prospective physics major was a participant in the Summer 2015 NASA New York City Research Initiative (NYCRI) Internship program at the NASA Goddard Institute for Space Studies (GISS) in Manhattan.
"I investigated the Neoproterozoic Era specifically the Sturtian ice age when scientists believe multicellular life came to rise. The idea was to understand the conditions Earth placed on life because based on our climate models the Earth had an extremely harsh environment," said Lingo. 
Her research in the eight-week program was conducted alongside faculty, graduate students and lead scientists of NASA-funded research projects at universities within a 50-mile radius of New York City.
The NASA internship, for high achieving students with a keen interest in the STEM fields, was one of the honors earned by Lingo in her first year at CCNY. She was also nominated for induction into the National Society of Leadership and Success'Sigma Alpha Pi chapter. 
About The City College of New York
Since 1847, The City College of New York has provided low-cost, high-quality education for New Yorkers in a wide variety of disciplines. More than 16,000 students pursue undergraduate and graduate degrees in: the College of Liberal Arts and Sciences; the Bernard and Anne Spitzer School of Architecture; the School of Education; the Grove School of Engineering; the Sophie Davis School of Biomedical Education, and the Colin Powell School for Civic and Global Leadership. U.S. News, Princeton Review and Forbes all rank City College among the best colleges and universities in the United States.