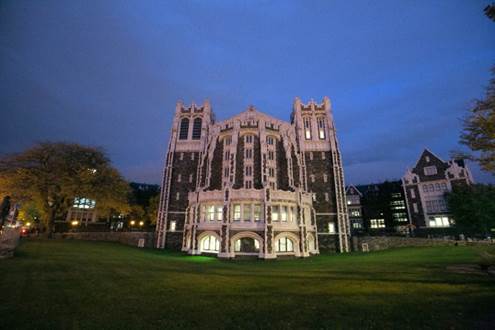 Low cost, academics, and research are college assets
The City College of New York is one of the nation's "Best Value" colleges and universities, according to The Princeton Review, for "astonishingly" low cost, strong connection to research, and rigorous academic programs. The education services company profiles CCNY in its latest book, "The 200 Best Value Colleges and What it Takes to Get In—2015 Edition" and on its website. 
"The Princeton Review recognition coincides with a number of recent City College achievements, including 2014 Nobel Laureate and alumnus John O'Keefe, groundbreaking research and discoveries by renowned faculty, and national and international awards secured by our students to include Watson, Truman, Gilman, Pickering, and NSF scholarships. These successes illustrate the endless opportunities and great value of the City experience," said City College President Lisa S. Coico.
In the Princeton Review profile, editors also praise City College for its "great engineering program," art program that is "one of the best," and "extensive array of contacts and networking opportunities."
"We salute and highly recommend The City College of New York and all of our Colleges That Pay You Back schools. They stand out for their excellent academics, impressive career preparation services, and affordability to students with need – via comparatively low sticker prices, generous financial aid, or both," said Robert Franek, Princeton Review senior vice president/publisher and lead author of the book. He added that City College students graduate with great career prospects.
Using a unique "Return-on-Education" rating system, City College was measured on everything from academics, cost, financial aid, and student debt to statistics on graduation rates, alumni salaries and job satisfaction, based on data collected in 2013-14 from surveys of administrators and students at 650 colleges, plus surveys conducted by PayScale.com through April 2014 of alumni.
The Princeton Review also lists City College in its books, The Best 379 Colleges and Guide to Green Colleges.
About The City College of New York
Since 1847, The City College of New York has provided low-cost, high-quality education for New Yorkers in a wide variety of disciplines. More than 16,000 students pursue undergraduate and graduate degrees in: the College of Liberal Arts and Sciences;the Bernard and Anne Spitzer School of Architecture;the School of Education;the Grove School of Engineering;the Sophie Davis School of Biomedical Education, and the Colin Powell School for Civic and Global Leadership. U.S. News, Princeton Review and Forbes all rank City College among the best colleges and universities in the United States.