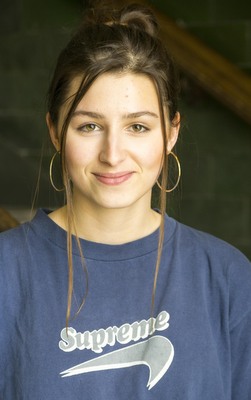 Teenage freshman Ana Naumovska, a Jewish Studies major with no previous film experience, carries The City College of New York banner in this year's Tribeca Film Festival with her short "So Help Me God."
The nearly six-minute experimental piece was accepted by the Tribeca Film Institute in its "Our City, My Story" category. It premieres on April 29. Click here to RSVP for the free screening.
"It has a lot of symbolism and emphasizes the importance of unity," said Naumovska, adding that the film was inspired by true family events.
Born in Macedonia, Naumovska arrived in the United States in 2009 when her mother came to work at the United Nations.  When her job ended, the family decided to stay in New York. Naumovska noticed the parallels between her displaced family and her homeland of two million still struggling after its break from the former Yugoslavia. She reflects that in "So Help Me God."
"I parallel the fall of Yugoslavia and the innate displacement of those people to emphasize on the importance of unity in times of hardship," said Naumovska. "The unfortunate events that my family faced could have led us to division, but instead, by sticking together and working through our problems as one we were able to overcome a significant obstacle."
Now 18, Naumovska was a 17-year-old graduate of School of the Future high school in Manhattan last summer when she shot "So Help Me God" with a borrowed camera. She relied on knowledge garnered from an elective film class at 11th grade and the mentorship of director/producer Esther de Rothschild who taught the class.   It was de Rothschild that encouraged her to submit the film to Tribeca.
"This is a great accomplishment for Ana," said Anne Becker, senior director of marketing and brand partnerships at the Tribeca Film Institute.
  About The City College of New York
Since 1847, The City College of New York has provided low-cost, high-quality education for New Yorkers in a wide variety of disciplines. More than 15,000 students pursue undergraduate and graduate degrees in eight professional schools and divisions. View CCNY Media Kit.