Internal CCNY Scholarships and Fellowships
Colin Powell School for Civic and Global Leadership
Internal CCNY Scholarships and Fellowships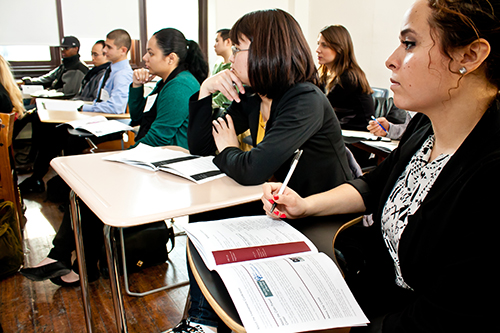 City College Fellows
To prepare a new generation of scholars on college and university campuses, the Ford Foundation joined with City College to provide funds for a program that attracts and supports the most talented undergraduates interested in pursuing careers in advanced research and college teaching.  The program provides financial support and academic structure from the beginning of a student's junior year until admission to graduate school.
Mellon Mays Fellowship
To address the shortage of minority scholars on college and university campuses and
to improve racial relations, the Andrew W. Mellon Foundation established the Mellon Mays Undergraduate Fellowship Program.  The program is designed to encourage talented undergraduate students from groups traditionally underrepresented in graduate education,
as well as others with a demonstrated commitment to eradicating racial disparities, to
enter Ph.D. programs and pursue careers in research and college teaching. The program
provides financial and other structured support from the summer preceding a student's
junior year until admission to graduate school. In addition, Mellon Mays Fellows receive
continuing support from the Mellon Foundation as they advance through graduate school and
gain faculty appointments.  City College is one of over thirty participating colleges and
universities nationwide.
Nyman Award
The Nyman Award offers two annual prizes for "work that meaningfully illustrates family life in all its complexity."  Sample themes include: how families cope with the normal challenges of development across the lifespan, such as: becoming a committed couple; the birth and growth of children; the death of an elder; how families handle adversity and oppression; styles of communication among family members; the impact of culture on families, and; how families are affected by social, economic, and political events in the larger society. Matriculated baccalaureate or Master's degree students majoring in the Arts, Humanities, or the Social Sciences are eligible to apply.
Other City College Scholarship Opportunities
The City College of New York Scholarship Program offers a variety of scholarships and programs for new and continuing students. To be eligible for the general scholarships, continuing students must have a minimum GPA of 3.0. Departmental scholarships and program GPA rules vary. Community and/or school service are considered when applications are reviewed.  Some scholarships may have additional requirements.
Apply (New Students Only)   (Continuing Students)    Learn More