Colin Powell School Scholarships and Fellowships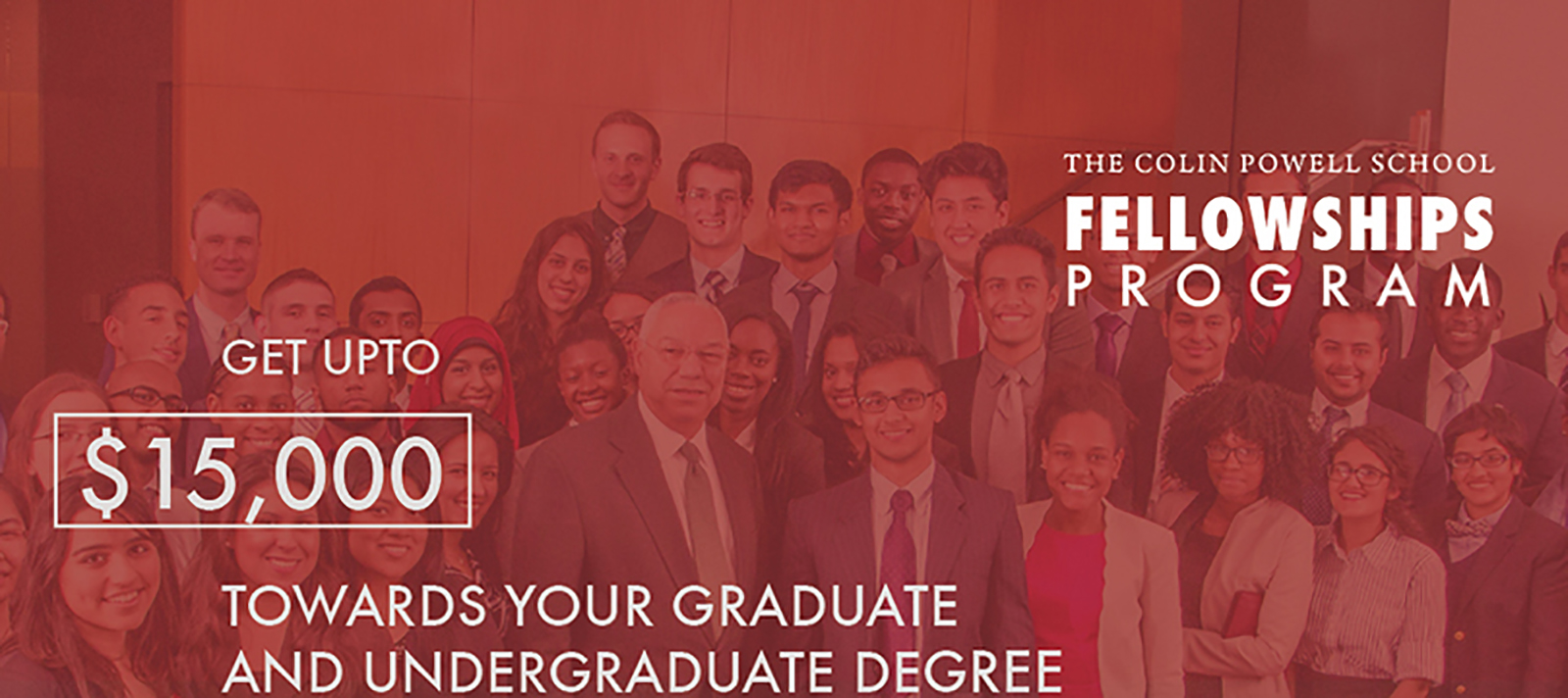 GRADUATE STUDENTS FROM THE COLIN POWELL SCHOOL: 
 
COLIN POWELL GRADUATE FELLOWSHIP 
A 1-year project with a partner organization $15,000 for 1 year ​​​​​​
Each year the Colin Powell School selects five graduate students from the social science graduate programs offered through the Colin Powell School (Economics, International Relations, General Psychology, Mental Health Counseling, Master's in Public Administration (MPA), and Sociology) to participate in the Colin Powell Fellowship for a one-year period. Graduate students are encouraged to explore ways in which their developing academic expertise can be used to address urgent public problems in underserved communities. Fellows take part in weekly seminars that meet regularly throughout the year. They also take part in special events and have opportunities to hear from distinguished public figures.
Deadline: The deadline for the Fall 2020 class is  March 13th, 2020. Applicants must submit materials to cpsfellowships@gmail.com
The Colin Powell School offers a variety of fellowships for both undergraduate and graduate students at the City College of New York. They are open to all students regardless of the major.
UNDERGRADUATES (FROM ANY SCHOOL OR MAJOR):
JEROME LEVY FOUNDATION GRADUATE FELLOWSHIP
The Colin Powell School for Civic and Global Leadership will award a Jerome Levy Foundation Graduate Fellowship to support one recent graduate of the Colin Powell School for graduate studies in Europe during the 2019-2020 academic year. The award will provide up to $50,000 in stipend support, which can be used to cover the costs of tuition, room, board, fees, books, and travel.
Applicants for the Jerome Levy Foundation Graduate Fellowship must have:
Graduated with a degree from the Colin Powell School and CCNY within the past five years;
Finished their studies at CCNY with a GPA of 3.2 or higher;
Demonstrate that they have gained admission to an accredited graduate program in Europe;
Plan to be enrolled full-time in a graduate program in the academic year 2019-2020