Management First Program (MFP)
Continuing and Professional Studies at CCNY
Management First Program (MFP)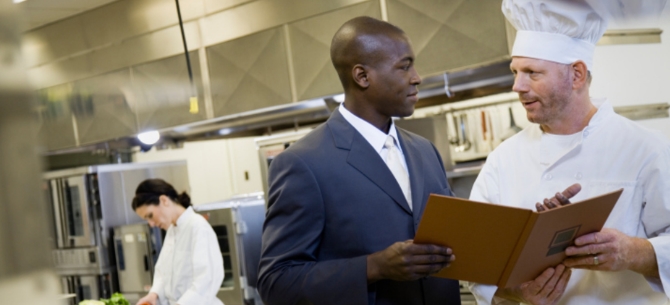 "I learned more in one class than in the entire 6 weeks of another restaurant class I took."
- CPS Foodservice Management Student
The Management First Program (MFP) is a national certification awarded by the National Restaurant Association through The City College of New York, Continuing and Professional Studies. The certification is designed to teach the highest level of professional competencies in the food service industry.  All courses are taught by National Restaurant Association certified instructors. NYC Business Solutions offers Continuing and Professional Studies' Food Service Management students job placement assistance, and small business development.
CONTROLLING FOOD SERVICE COSTS
Through classwork applications, this course will examine cost ratios, recipe conversions, labor costs, budgets production analysis, menu pricing, food cost control systems, and menu product mix.
HOSPITALITY & RESTAURANT MANAGEMENT
Course examines the dynamics of leadership in the foodservice industry, effective communication, and goal setting techniques.
FOOD SERVICE HUMAN RESOURCE MANAGEMENT AND SUPERVISION
Course covers the concepts of management, training and the development process, recruitment, selection, employee relations and legal requirements.
Shepard Hall
Room 2
160 Convent Avenue
New York, NY 10031

p: 212.650.7312
f: 212.650.6614
e: cps@ccny.cuny.edu