Sophie Davis Biomedical Education Program
ADMISSIONS FACT SHEET
The CUNY School of Medicine/Sophie Davis Biomedical Education Program is one of the most unique medical education programs in the United States. The program brings together talented and motivated high school graduates of diverse ethnic, cultural and economic backgrounds to prepare them to serve the urban community as primary care physicians. It is a seamless program with a specially designed curriculum that prepares students to receive both the B.S. and M.D. degrees from the City College of New York (CCNY) in seven years.
Unique Features
Receipt of B.S. and M.D. degrees in 7 years Bachelor of Science/Doctor of Medicine degrees from The City College of New York — U.S. News and World Report ranking as one of the best public universities No MCAT required Specialized integrated undergraduate and clinical curriculum Early clinical exposure Excellent academic and personal support services
Description 
The Sophie Davis Program/CUNY School of Medicine provides an integrated curriculum leading to the B.S./M.D. seven years. The undergraduate curriculum includes the biological, physical and biomedical sciences, epidemiology and bioethics, as well as the humanities and social sciences. Students begin their exposure to patient care with a 3-year continuity experience in a health center. Our focus on population health and its role in wellness and disease prevention equip students for a successful transition into residency and for primary care practice.
Admissions Criteria
Our Admissions Committee considers applicants based on a holistic review which includes the metrics, experiences, and attributes of each candidate. This includes:
~ Outstanding achievement in high school (minimum average of 85 for the first three years) with a strong record in the sciences and eleventh-grade mathematics 
~ Performance on the ACT (American College Test) and the SAT (Scholastic Assessment Test)
~ Volunteer and work experience, especially in health-related areas such as hospitals and/or community settings
~ Evidence of leadership, initiative, responsibility and motivation to pursue a career in medicine.
IMPORTANT DATES TO REMEMBER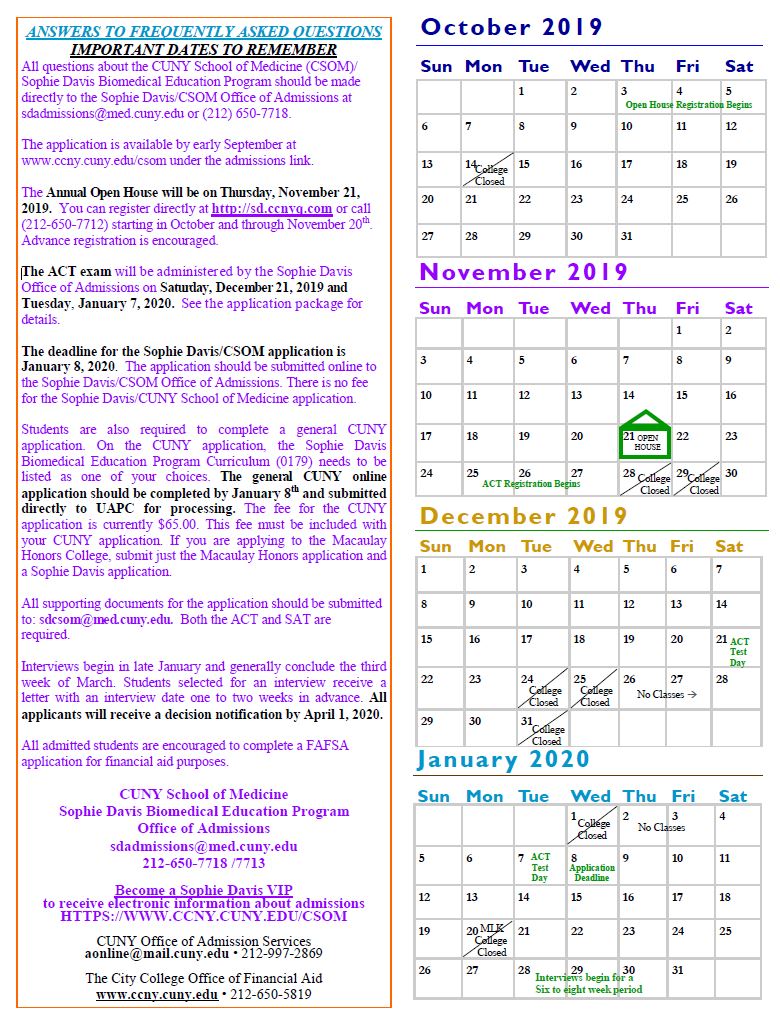 CUNY School of Medicine
Sophie Davis Biomedical Education Program Office of Admissions sdadmissions@med.cuny.edu
212-650-7718 /7713
 Be Come a Sophie Davis VIP receive electronic information about admissions HTTPS://WWW.CCNY.CUNY.EDU/CSOM
CUNY Office of Admission Services
aonline@mail.cuny.edu • 212-997-2869
The City College Office of Financial Aid
 www.ccny.cuny.edu • 212-650-5819