On January 7-10, 2018, CUNY School of Medicine hosted a site visit team representing the Liaison Committee on Medical Education (LCME).  The LCME is the official accrediting body for medical education programs in the U.S. and Canada leading to the MD degree. We are frequently asked by faculty, staff, and students about our accreditation status. The following will outline where we are in the process.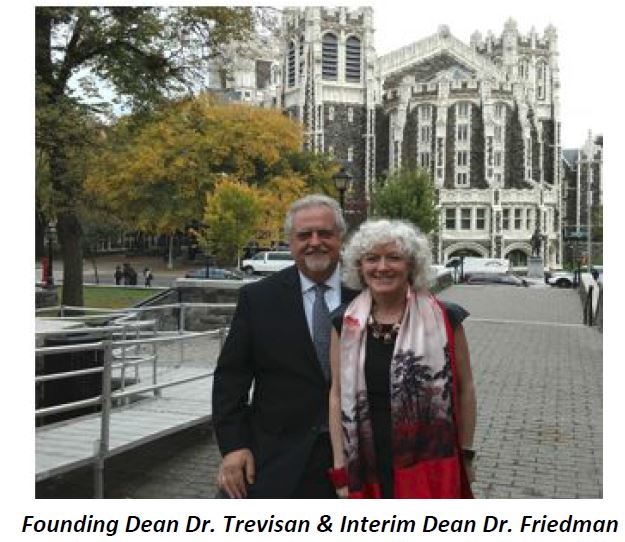 The LCME accreditation process progresses in sequence, from preliminary, to provisional, to full accreditation. The LCME offers proscriptive requirements for each stage of the process.  In June 2015, the CUNY School of Medicine was given preliminary accreditation status. In June 2018 we received provisional status. CSOM immediately began planning for full accreditation with Founding Dean Trevisan charging the  Steering Committee in June. The process is underway. Our LCME full accreditation survey is scheduled for October 27-30, 2019.  Please visit the LCME Timeline link below for more details.
Dr. Erica Friedman, Interim Dean of CUNY School of Medicine, is our Faculty Accreditation Lead and oversees the progress of the full accreditation effort.  One steering committee and four subcommittees were established to evaluate and write reports on the following areas:  academic/learning environment; faculty preparations, productivity, and policies; curricular competencies, objectives, and design; curricular content; curricular management and evaluation; teaching, supervision, assessment and safety; academic support, records, and career advising; and health services, counseling, and financial aid. Members of each of these committees can be found below:
Institutional Setting & Faculty (Standards 1, 2, and 4)
Educational Program (Standards 6, 7, 8 and 9)
Educational Resources (Standard 5)
Medical Students (Standards 3, 10, 11 and 12)
 Since July 2018, faculty and staff collected information to populate the DCI (Data Collection Instrument) so that the Self-Study Committees could review and write their assessment reports.  The template for the information that was collected is HERE. Medical students created, distributed and analyzed the data collected from the M1-M3 classes in the spring of 2019. Results of the ISA were included in the reports addressed by the subcommittees.  To view the role of students in the ISA, click HERE.
The DCI, ISA and Executive Summary were submitted to the LCME on August 5, 2019, and the DCI was updated and the revisions were uploaded on September 30, 2019. 
The LCME accreditation process provides a valuable opportunity for quality assurance and improvement and analysis of our MD educational program that will involve many faculty, staff, and students.  It is also a critical criterion in obtaining federal grants and loans as well as sitting for U.S. licensing exams and admission to accredited postgraduate training and specialty board certifications.
This truly is a schoolwide effort and requires the time and attention of each and every one of you. We are grateful for your support, enthusiasm, and commitment to our school as we proceed toward the goal of full accreditation!