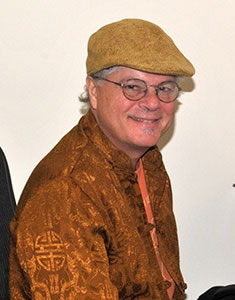 The CUNY Dominican Studies Institute began the 2019-2020 academic year by welcoming Dr. Paul Austerlitz as a visiting scholar. Dr. Austerlitz is a Professor of Music and Africana Studies at Gettysburg College. His first book, Merengue: Dominican Music and Dominican Identity, published in 1997, opened an avenue of academic research in the genre in the U.S. and remains a landmark text in the study of Dominican/Latin music. Dr. Austerlitz is also a seasoned musician and composer, with over thirty years of experience in the field of Afro-Caribbean and jazz music, especially in the Dominican Republic and in the U.S. Dominican community. He leads a robust musical ensemble that specializes in Afro-Dominican jazz fusion that enables him to combine theoretical views and practice as he creates and recreates music.
While at the CUNY Dominican Studies Institute, Dr. Austerlitz is contributing to a range of ongoing and original projects. He joined the CUNY DSI team working on "A History of Dominican Music in the United States," a research project supported by three years of federal funding from the prestigious National Endowment for the Humanities. The project, the first of its kind, will narrate the history of Dominican musical involvement in the U.S. from the 1920s to the present, using performances, stories, timelines, maps, historical guides, and a guided section for school teachers and children. Dr. Austerlitz has served as one of the faculty advisors for the "A History of Dominican Music in the United States" project and is now contributing key writing and overall final touches from the standpoint of an expert, both theoretically and empirically.
In addition, Dr. Austerlitz is working with John Bimbiras on completing an ambitious research program focusing on the life and contributions of Maestro Rafael Petitón Guzmán (1894-1983), a prominent Dominican composer and pianist, who spent most of his life in New York City, leading an important merengue/Latin music orchestra. Petitón's personal papers are housed at the CUNY DSI Archives, and his collection includes original unpublished music scores, letters, photographs, contracts, and other evidence of his life as a musician in the U.S. Bimbiras, a former assistant researcher at CUNY DSI with a MA in Music from CCNY, is now a Ph.D. student in Ethnomusicology at the University of Texas at Austin.  Relying on Petitón's archives, extensive research in secondary sources, and the ingenuity of modern sound engineering and technology, Dr. Austerlitz and Bimbiras will bring to the forefront Maestro Petitón's contributions to Dominican, Latin, and U.S. music in general.