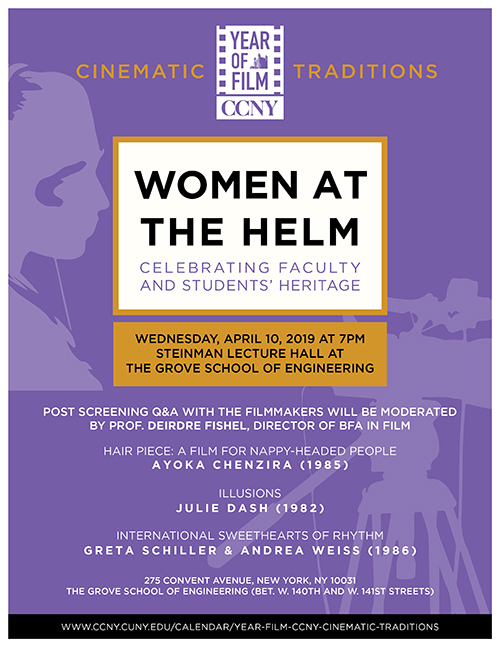 As part of The City College of New York's "Year of Film" celebration, four female filmmakers with CCNY links will screen their work at the "Women at the Helm: Celebrating Faculty and Students' Heritage" on Wed., April 10 at 7 p.m. in the Steinman Lecture Hall.  Films by Ayoka Chenzira, Julie Dash, Greta Schiller and Andrea Weiss will all be shown. The event is free and open to the public.
Deirdre Fishel, associate professor and program director of the BFA Film and Video Program, will moderate a post-screening Q&A with some of the filmmakers. CCNY's film program is housed in the Division of Humanities and the Arts' Department of Media and Communication Arts.
Following are the three films that will be screened:
"Hair Piece: A Film for Nappy-headed People" by Ayoka Chenzira, the former chair of the Department of Media and Communication Arts at CCNY. She managed programs in advertising, public relations, journalism, film and video and also co-created the MFA Program in Film, formerly the MFA in Media Arts Production;
"Illusions" by Julie Dash, alumna and American film director, writer and producer. She received her MFA at the UCLA Film School and is one of the graduates and filmmakers born out of a time known as the L.A. Rebellion; and
"International Sweethearts of Rhythm" by Greta Schiller, alumna and Emmy-winning documentary filmmaker and science educator who has received multiple National Education Association film awards and was the first Fulbright Arts Fellowship in film, and Andrea Weiss, Emmy-winning filmmaker, professor and co-director of the MFA Program in Film, whose research is funded by her 2014 Fulbright Scholars award for production of "Bones of Contention," which focuses on the erasure and denial of LGBT history in post-Franco Spain.
About CCNY's "Year of Film"
As early as 1934, student members of the aptly named Film and Sprockets Society were rolling out motion pictures at The City College of New York, establishing CCNY as one of the earliest film schools in the nation. In 1941, pioneering Dadaist and filmmaker Hans Richter took charge of the Institute of Film Techniques, CCNY's first formal filmmaking program, founded by Irving Jacoby. Nearly eight decades later, CCNY has declared 2019 the "Year of Film" to celebrate Richter and the legacy of arguably the oldest, continuous film program in the U.S.
About The City College of New York
Since 1847, The City College of New York has provided a high quality and affordable education to generations of New Yorkers in a wide variety of disciplines. CCNY embraces its role at the forefront of social change. It is ranked #1 by the Harvard-based Opportunity Insights out of 369 selective public colleges in the United States on the overall mobility index. This measure reflects both access and outcomes, representing the likelihood that a student at CCNY can move up two or more income quintiles. In addition, the Center for World University Rankings places CCNY in the top 1.2% of universities worldwide in terms of academic excellence. More than 16,000 students pursue undergraduate and graduate degrees in eight professional schools and divisions, driven by significant funded research, creativity and scholarship. CCNY is as diverse, dynamic and visionary as New York City itself.  View CCNY Media Kit.