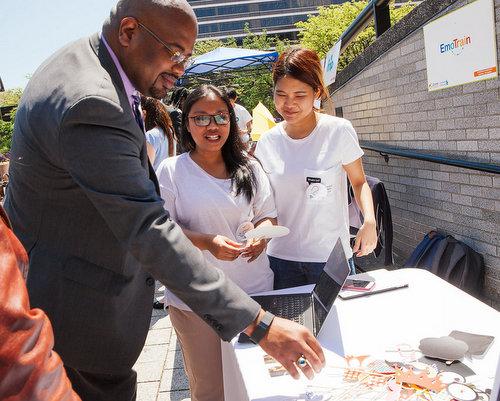 Matthew Washington, deputy Manhattan Borough president, at a Zahn Demo Day at CCNY.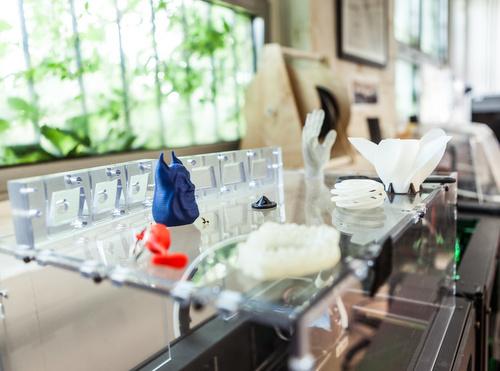 Hobby-sized printers in the Zahn Center's MakerLab.
The City College of New York's Zahn Innovation Center is the recipient of $500,000 in capital funds from the Manhattan Borough President's Office. The award will enable the   Center, a startup incubator, to dramatically improve its manufacturing offerings by adding short run manufacturing capabilities to the equipment in its MakerLab. The MakerLab is a rapid prototyping facility designed for student entrepreneurs and the hardware startup community. The new equipment and improvements will bring lasting impact to City College and Harlem community startups, both benefitting from the upgrade.
"I am thrilled to support the Zahn Innovation Center and assist in the creation of a prototyping hub in Harlem, led by student innovators" said Manhattan Borough President Gale A. Brewer. "I am proud to invest in a diverse group of students and local entrepreneurs as they build their startups and test their ideas in this lab of the future."
Lindsay Siegel, executive director of the Zahn Center, hailed Brewer and Deputy Borough President Matthew Washington. "Their generosity will enable our student startups to realize their visions sooner," she said.
The Center helps CCNY student startups:
Build prototypes;
Develop products and refine their features;
Improve sales pitches; and
Negotiate the complicated realms of financing and intellectual property law.
Since its founding, the Center has graduated 155 startups. Collectively, these startups have raised and earned more than $32 million in capital, and filed more than 75 provisional and full patents for their concepts.
The new funds will be a major boost for student entrepreneurs at an institution, where according to the latest available figures, 60% of whom are from homes with an annual family income of $30,000 or less.
In addition, the improved MakerLab is expected to expedite the entire production process for both student and Harlem community startups.
"This enables students to fulfill a Kickstarter campaign months ahead of the typical production schedule associated with most crowdfunded hardware startups," said Devin Voorsanger, the Zahn Center's technology program director. "This rapid fulfillment of orders and the drastically reduced costs will allow student startups to proudly manufacture in the U.S. and get their businesses off the ground."
The new services will also be available to community startups. This will make it significantly easier for startups in Harlem to launch and iterate their own hardware startups as they have a homegrown manufacturing and prototyping facility available to help them, said Siegel.
About the Zahn Innovation Center
The Zahn Innovation Center was established by the City College Fund in 2012, with support from the Moxie Foundation and the Manhattan Borough President's Office, as an incubator at the City College of New York (CCNY). The Zahn Center empowers students to develop entrepreneurial skills while incubating the most promising technology startups and social impact ventures. We provide co-working space, a campus-wide speaker series, and four entrepreneurship competitions with prize money.
About The City College Fund
The City College Fund is a tax-exempt 501c(3) non-profit fundraising organization, established in 1946 to support The City College of New York in its mission to provide access and excellence in higher education, particularly to students who might not otherwise be able to afford to go to college. Gifts to The City College Fund directly benefit City College's extraordinary students, renowned faculty, innovative programs and schools.
About The City College of New York
Since 1847, The City College of New York has provided low-cost, high-quality education for New Yorkers in a wide variety of disciplines. Today more than 16,000 students pursue undergraduate and graduate degrees in eight professional schools and divisions, driven by significant funded research, creativity and scholarship.  Now celebrating its 170th anniversary, CCNY is as diverse, dynamic and visionary as New York City itself.  View CCNY Media Kit.