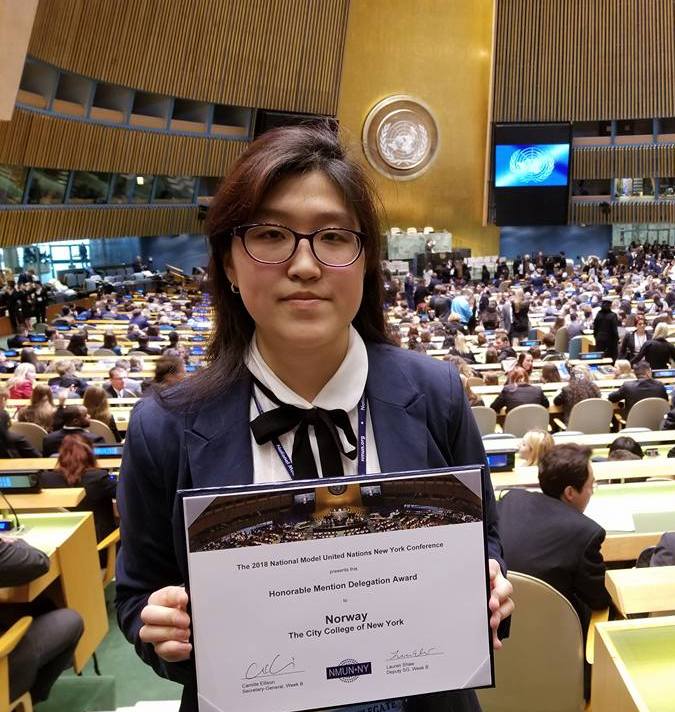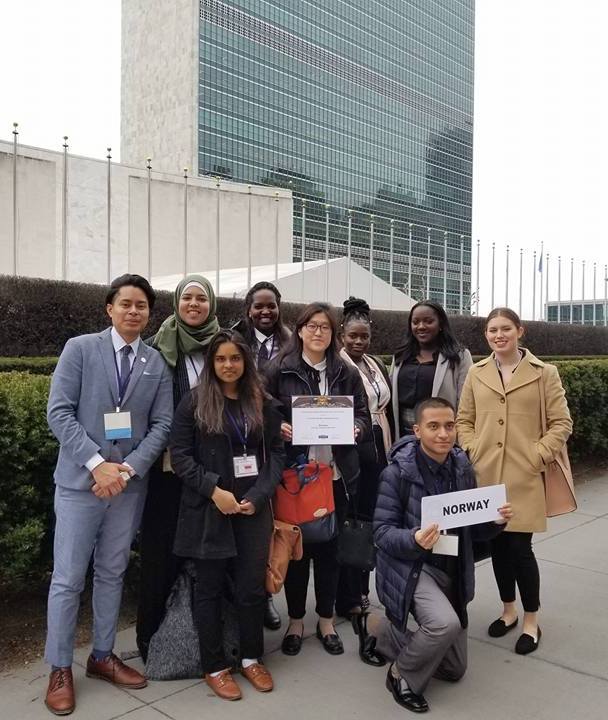 Representing Norway in an unprecedented 10 simulated UN committees, The City College of New York's 12-member delegation earned an Honorable Mention at the 2018 National Model United Nations (NMUN) Conference in Manhattan. More than 5,000 university students from some 215 schools around the world participated in the competition, discussing current global issues in a real world context.
The accolade from the National Collegiate College Association continued the winning streak over the years by NMUN teams mentored by City College's Colin Powell School for Civic and Global Leadership.
Faculty advisor Rafal Szczurowski, from whose Model UN course in the Colin Powell School the CCNY team is recruited, praised his charges.
"CCNY took an ambitious task of representing Norway in 10 different committees. The range of topics our students had to research and prepare for was truly mind-blowing," noted Szczurowski, who teaches international studies. "They succeeded and delivered an outstanding performance. But more important than winning was the transformation from students to global leaders. Our Model UN program with its courses and conferences is uniquely positioned to facilitate that process."  
Co-head delegate Jasmine Park explained what it meant to participate in the Model UN. "It was an amazing and great experiential learning activity. It was a privilege to work with students from around the world."
Personally, the international studies/political science double major said the Colin Powell School's Model UN program prepared her really well for the conference and gave her the courage to be a leader."
The other CCNY student delegates (all international studies unless stated) were:
Shelley-Ann Pitterson, political science;
Thana Hamed;
Masuf Ahmed, undeclared major;
Bineta Sall;
Thanjinia Haque;
Lucia Lopez, history/political science (Macaulay Honors College);
Derek Basler;
Adja Bambi Sow;
Raneem Elsayed, history/political science;
Aichatou Nimaga; and
Fred Machado (head delegate).
Supporting the 2018 delegation were CCNY MUN alumni acting as advisors and volunteers: Nancy Larcher, Emma Sata Laparam, Sushmita Lamsal, Arieanna Jainarain, and Amanda Jimenez.
About the CCNY Model United Nations Program
CCNY's MUN program prepares students for simulations of the United Nations in class and in local competitions, leading to the annual National Model United Nations Conference. Over two semesters, students examine major issues facing the United Nations, learn about the work of its specialized agencies, and explore the world of multilateral diplomacy. Students also engage in research applying the case study method. They are introduced to the practice of international diplomacy through presentations and experiential learning activities. CCNY MUN Program with its two academic courses are designed to prepare students for the national conference as well as to provide general knowledge about international organizations.
About The City College of New York
Since 1847, The City College of New York has provided a high quality and affordable education to generations of New Yorkers in a wide variety of disciplines. Today The Chronicle of Higher Education ranks CCNY #2 among public colleges with the greatest success in ensuring the social mobility of our student body; at the same time the Center for world University Rankings places it in the top 1.2% of universities worldwide in terms of academic excellence. More than 16,000 students pursue undergraduate and graduate degrees in eight professional schools and divisions, driven by significant funded research, creativity and scholarship. CCNY is as diverse, dynamic and visionary as New York City itself.  View CCNY Media Kit.