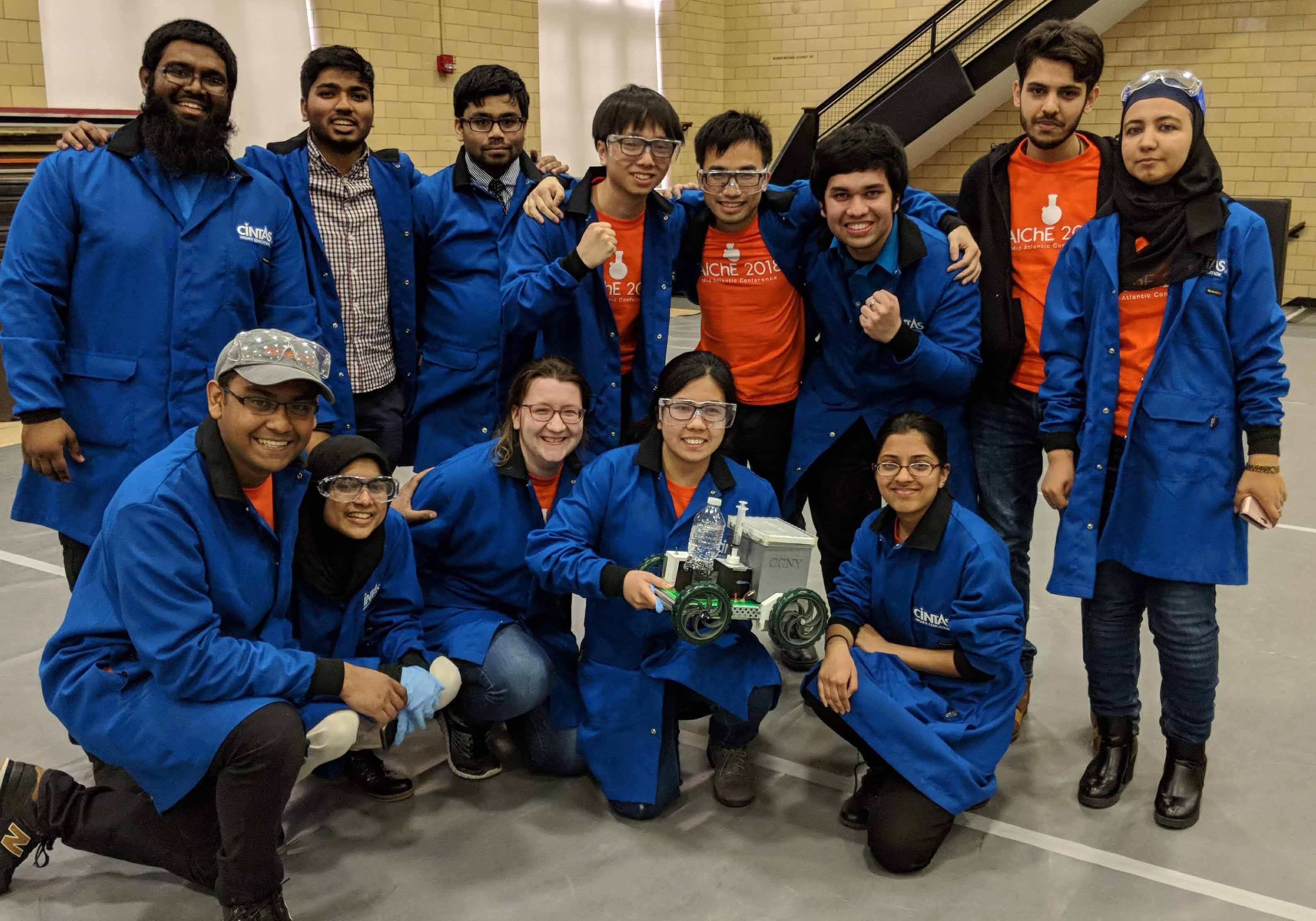 For the third year in a row a team from The City College of New York has won the American Institute of Chemical Engineers (AIChE) Mid-Atlantic Regional Chem-E-Car competition! The team participated in the competition held at Princeton University on April 7, 2018.
"Zincotron", a Grove School of Engineering student-designed shoe-box sized car, finished ahead of a crowded field of 20 competitors and was within 16cm of the target of 18.4m carrying its load of 400ml of water. The second-place car from Cooper Union was close behind, at 18cm.
In this competition, teams spend the semester designing and building a vehicle that is powered by and stopped with only chemical reactions. They prepare calibrations to know how much chemicals are needed for different distances and loads. One hour prior to the competition, the teams are given a target distance and load. Teams use their calibration knowledge to "fuel" their car with chemicals. They get two runs during the competition to get closest to the target distance while carrying the designated load.
The Grove School team, led by captain Sujana Shifon (ChE, junior) and co-captains Ariella Himelstein (ChE, sophomore) and Hamad Haider (ChE, senior) is one of five teams that qualified to compete this fall in the Chem-E-Car International Competition held at the Annual National AIChE Meeting in Pittsburgh.
Congratulations to the team, which also won first place for their poster presentation at the conference and to Elizabeth Biddinger, Assistant Professor of Chemical Engineering at the Grove School, who has been the AIChE CCNY Chapter faculty advisor for the past three years.
"I'm so proud of our students. This year had the toughest competition at regionals that I've seen. The team came together, had confidence in the car they developed and came out on top. Getting the poster prize, which usually doesn't go to a top car performer, was icing on the cake," said Biddinger.
About The City College of New York
Since 1847, The City College of New York has provided a high quality and affordable education to generations of New Yorkers in a wide variety of disciplines. Today The Chronicle of Higher Education ranks CCNY #2 among public colleges with the greatest success in ensuring the social mobility of our student body; at the same time the Center for world University Rankings places it in the top 1.2% of universities worldwide in terms of academic excellence. More than 16,000 students pursue undergraduate and graduate degrees in eight professional schools and divisions, driven by significant funded research, creativity and scholarship. CCNY is as diverse, dynamic and visionary as New York City itself. View CCNY Media Kit.