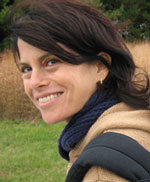 City College of New York English professor Mikhal Dekel, is the recipient of a National Endowment for the Humanities faculty award for her book in progress "Tehran Children: On the Trail of WWII Refugees in Uzbekistan and Iran."
Dekel, who heads City College's Rifkind Center for the Humanities and the Arts, will spend the fall 2017 semester working on "Tehran Children," which is forthcoming from W.W. Norton. Based on testimony, travel narrative, and extensive archival research that was conducted in Poland, Russia, Uzbekistan, Iran, Israel and the United States, the book recounts the long and circuitous journey of Polish-Jewish child refugees, including Dekel's father, through Central Asia and the Middle East. 
Traveling with other young Jewish refugees, Hannan Dekel, aged 13 when the Nazis invaded Poland in 1939, his sister and a cousin, fled Poland at the outbreak of the war. Three years and thousands of miles later they were living in the Iranian capital along 900 other Jewish children aged one to 18, who would become known by the moniker the "Tehran Children."
Dekel is the recipient of multiple awards, including a Mellon fellowship. In addition to "Tehran Children," her book "The Browar Near the Skaters Pond" is forthcoming from Northwestern University Press. She has written books and articles on late nineteenth and early twentieth century English and Hebrew literature, modern tragedy, and the memoir. 
About The City College of New York
Since 1847, The City College of New York has provided low-cost, high-quality education for New Yorkers in a wide variety of disciplines. More than 15,000 students pursue undergraduate and graduate degrees in eight professional schools and divisions. View CCNY Media Kit .