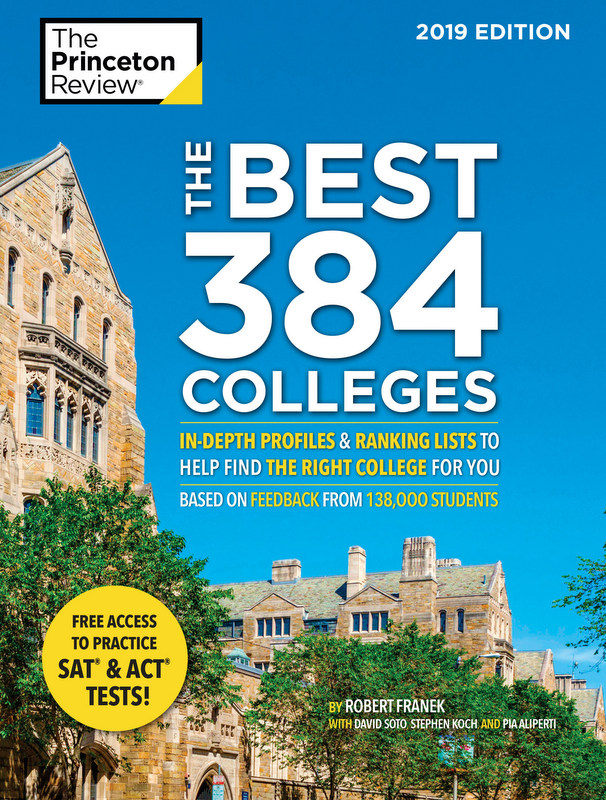 For the seventh consecutive year, The City College of New York is listed among the top institutions in the nation by The Princeton Review®.  CCNY features in the Review's 2019 "The Best 384 Colleges" guide (Penguin Random House / Princeton Review Books, $24.99, Aug. 7, 2018) available today.
The "Best 384" rankings are based on surveys of 138,000 students at 384 top colleges that includes a wide representation by region, size, selectivity and character. Published annually since 1992, the book has detailed profiles of the colleges with rating scores in eight categories as well as ranking lists of top 20 schools in 62 categories.
"City  College  is  one  of  the  toughest  CUNY  schools  to get  into,  with  an  admissions rate  of  about  33  percent  (some  schools  and  programs  within  can  be  lower)," notes the Princeton Review.
Students surveyed lauded CCNY's fortes, from its "profound" diversity across the board, its "historic" location and the unique college experience it offers.
"The diversity  in  the  student  body,  as  well  as  the  faculty  and  administration,  'is  profound,'  which  helps  many people  interact  with  different  people  from  different  cultures  and  come  together  to  get  through  each  semester," said one student.
Another student observed that most  CCNY  students are  not  looking  for  the  "typical  college  experience,"  but  rather  are  interested "in  the  intellectual  and  emotional  growth  that  comes  with  higher  education."
City College annually receives high rankings from the Princeton Review. Last January, the education services company named CCNY among the top schools in the country that pay you back.  It listed CCNY in its 2018 annual guide "Colleges That Pay You Back: The 200 Schools That Give You the Best Bang for Your Tuition Buck."
About the Princeton Review
The Princeton Review is a leading tutoring, test prep, and college admission services company. Every year, it helps millions of college- and graduate school-bound students achieve their education and career goals through online and in person courses delivered by a network of more than 4,000 teachers and tutors, online resources, and its more than 150 print and digital books published by Penguin Random House. Its Tutor.com brand is the largest online tutoring service in the U.S. It comprises a community of thousands of tutors who have delivered more than 15 million one-to-one tutoring sessions. The Princeton Review is headquartered in New York, NY. The Princeton Review is not affiliated with Princeton University.
About The City College of New York
Since 1847, The City College of New York has provided a high quality and affordable education to generations of New Yorkers in a wide variety of disciplines. Today The Chronicle of Higher Education ranks CCNY #2 among public colleges with the greatest success in ensuring the social mobility of our student body; at the same time the Center for world University Rankings places it in the top 1.2% of universities worldwide in terms of academic excellence. More than 16,000 students pursue undergraduate and graduate degrees in eight professional schools and divisions, driven by significant funded research, creativity and scholarship. CCNY is as diverse, dynamic and visionary as New York City itself.  View CCNY Media Kit.