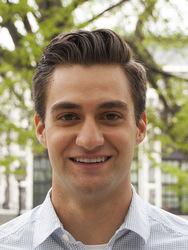 Valedictorian Andoni Mourdoukoutas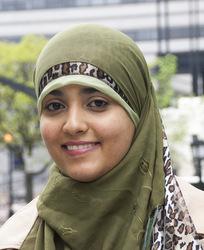 Salutatorian Orubba Almansouri
Antonios "Andoni" Mourdoukoutas, a recent NSF Graduate Research Fellowship recipient from the Macaulay Honors College, is The City College of New York's Class of 2016 Valedictorian. Orubba Almansouri, a Yemeni immigrant and SEEK student, will be the Salutatorian at CCNY's 170th Commencement Exercises on June 3.
First Lady Michelle Obama will be the speaker at the ceremony on CCNY's South Campus Great Lawn.
Following are brief bios of the Valedictorian and Salutatorian:
Andoni Mourdoukoutas
A Long Island resident, Andoni is graduating with a BE in biomedical engineering and a 3.90 GPA. The NSF Fellowship tops a list of top honors that he's earned at CCNY. It is considered the nation's most prestigious federal grant for graduate research in the sciences. His other awards include a 2015 Goldwater Scholarship.
Andoni has been accepted to doctoral programs in bioengineering at MIT-Harvard and UC Berkeley-UC San Francisco. His interest is neural stimulation to treat illness.
Orubba Almansouri
Orubba is a double major who has completed BA degrees in English and history with a 3.97 GPA. She has been accepted to both New York University, to begin a master's in near eastern studies this fall, and the University of Michigan for a PhD program after that.
Orubba's numerous accolades include Colin Powell, Mellon Mays, CUNY Graduate Pipeline, and Josh and Judy Weston fellowships. The Brooklyn resident was also an English Honors student.
Click here for the latest information on City College's 170th commencement exercises.
About The City College of New York
Since 1847, The City College of New York has provided low-cost, high-quality education for New Yorkers in a wide variety of disciplines. More than 15,000 students pursue undergraduate and graduate degrees in the College of Liberal Arts and Science; Bernard and Anne Spitzer School of Architecture; School of Education; Grove School of Engineering; Sophie Davis Biomedical Education/CUNY School of Medicine; and the Colin Powell School for Civic and Global Leadership. U.S. News, Princeton Review and Forbes all rank City College among the best colleges and universities in the United States.