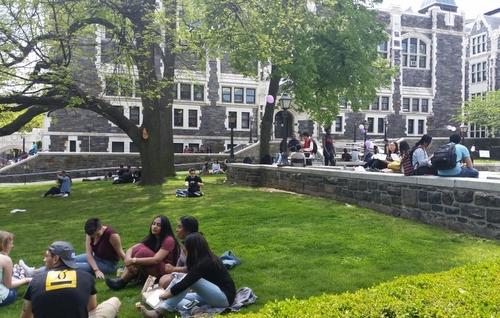 City College remains one of the nation's leading schools, according to the latest Forbes rankings of top colleges and universities.
The City College of New York remains one of the nation's leading education institutions, according to Forbes magazine's 2016 America's Top Colleges rankings. For the third consecutive year, CCNY is ranked in the top 100 in the Northeast and is #62 among public colleges across the country. In New York City, CCNY is ranked among the top 10 schools at #6. Overall, the college is #228 nationally.
"What sets our calculation of the best 660 U.S. colleges and universities apart is our firm belief in ROI (Return on Investment)," said Forbes. "We look at factors that directly concern students (and their families): Are current undergrads satisfied? Is it likely I'll graduate on time or incur a ton of student debt? Will I get a good job and be a leader in my chosen profession?"
Forbes partnered with the Center for College Affordability and Productivity to produce the rankings. They used information from the U.S. Department of Education, Payscale, and tallied alumni success.
About The City College of New York
Since 1847, The City College of New York has provided low-cost, high-quality education for New Yorkers in a wide variety of disciplines. More than 15,000 students pursue undergraduate and graduate degrees in the College of Liberal Arts and Science; Bernard and Anne Spitzer School of Architecture; School of Education; Grove School of Engineering; Sophie Davis Biomedical Education/CUNY School of Medicine; and the Colin Powell School for Civic and Global Leadership. U.S. News, Princeton Review and Forbes all rank City College among the best colleges and universities in the United States.