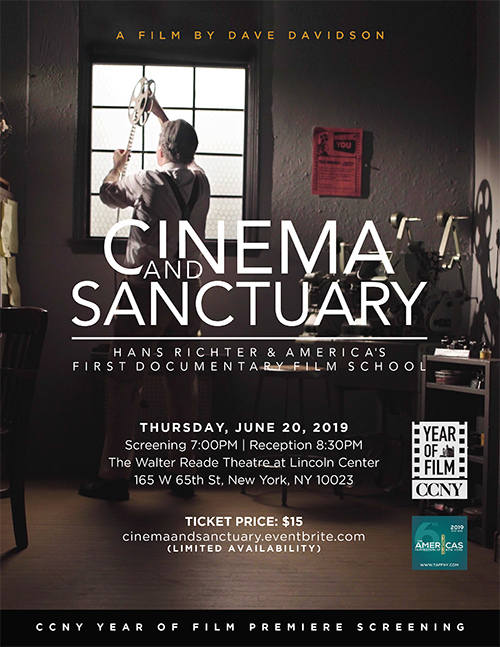 One of the best kept secrets in the history of film is the fact that The City College of New York (CCNY) is the birthplace of the first documentary film school in the United States. As early as 1934, student members of the aptly named Film and Sprockets Society were rolling out motion pictures at CCNY. However, it was in 1941, with the arrival of pioneering Dadaist and filmmaker Hans Richter that the Institute of Film Techniques, CCNY's first formal filmmaking program founded by Irving Jacoby, became a film school. Honoring Richter's legacy, City College is proud to present the world premiere of "Cinema and Sanctuary," a documentary by independent filmmaker and media educator, Dave Davidson on Thursday June 20, 7pm at Walter Reade Theater (Film at Lincoln Center 165 W 65th Street, NYC). Reception to follow.
"Cinema and Sanctuary" traces the tumultuous twenty-five-year history of The Institute of Film Techniques at CCNY, much of the time under the unlikely, yet inspired leadership of the Dadaist, radical thinker and pioneering experimental filmmaker, Hans Richter. The Film Institute was founded in 1941 by CCNY alumnus, Irving Jacoby, as a training center to make films for the war effort. After a few months Jacoby moved to the U.S. Office of War Information and turned the directorship over to Hans Richter. Forced out of Europe in 1940 by the Nazis, the German-born Richter was a major force in redefining art and film in the 20th century. His influence over generations of American filmmakers was immense. He opened their eyes to documentary, experimental and European films, the likes of which working-class students from New York City had never seen.  Under his charismatic leadership thousands of aspiring filmmakers passed through the doors of the CCNY Film Institute, from Academy Award winners such as Stanley Kubrick, editor Alan Heim (All that Jazz), cinematographer Nestor Almendros  (Days of Heaven) and Woody Allen to groundbreaking experimenters like Jonas Mekas and Shirley Clarke.  For this astonishingly diverse range of students Hans Richter was a prophet of modernism and City College was his pulpit.
"Cinema and Sanctuary" completes a trilogy of projects on the Avant Garde filmmaker, Dadaist and radical educator, Hans Richter. The first, HANS RICHTER: Everything Turns - Everything Revolves (2013), is a one-hour film biography tracing Richter's remarkable career at the forefront of Modernism over seven decades. The film was broadcast on Swedish Television (SVT) and was a featured installation at major museums in Los Angeles (LACMA), Berlin (Gropius-Bau) and Metz (Centre Pompidou). The second, Rescoring Richter (www.rescoringrichter.com) is an ongoing interactive web project, pairing contemporary sound artists with the compelling imagery of Richter's iconic experimental films from the 1920s.
"I was drawn to this story by the sheer improbability of an aristocratic, Avant Garde artist from the European elite being thrown in the same room as a bunch of working class kids from New York City, " says director Dave Davidson, adding, "It seemed like such a random DADA encounter - I just knew there had to be story there.  As soon as the alums started recounting their life-changing experiences with Hans Richter I knew my instincts were right."
City College President Vincent Boudreau hailed the school's Year of Film declaration. "We're delighted to commemorate CCNY's sometimes forgotten legacy in film. Founded in the spirit of anti-fascist activism during World War II, the study and production of film at CCNY has consistently allowed CCNY students to frame visions of the world that are imbued with a critical social conscience," he said. "We hope that anyone interested in the history of New York film will join us for this extraordinary review of CCNY's role in it."
In recent years, BFA in Film and Video and MFA Program in Film majors have kept CCNY's lofty film tradition going. The college has garnered seven Student Oscars and three Student Emmy awards. CCNY has also had three Sundance Film selections and a Cannes Film Festival selection.
In another coup for film at CCNY, Zach Borst, MFA '10, wrote, directed and edited the contest-winning commercial, "Happy Grad" that aired at Super Bowl XLVI.
CCNY's film program is housed in the Division of Humanities and the Arts' Department of Media and Communication Arts.
What: The world premiere of "Cinema and Sanctuary: Hans Richter and America's First Documentary Film School"
When: Thursday June 20
Where: Film at Lincoln Center – Walter Reade Theater, 165 W 65th Street, NYC
Tickets: $15
More info: Click here
Teaser: Click Here
For interviews with director Dave Davidson and faculty members of CCNY's MFA Program please contact Diana Vargas / America Stevens at press@dianavargas.com / americastevens2@gmail.com or 917.658.7735 / 917.246.0948.
ABOUT DAVE DAVIDSON
Dave Davidson is an independent documentary filmmaker and media educator whose work focuses on social issues, culture and the arts. He has directed over twenty award-winning documentaries, including A Gesture and a Word (2018), There's a Future in the Past (2016), A Place Out of Time - The Bordentown School (2010), Into the Light – The Furious Birth of The American Film Industry (1996), The Dancing Man - Peg Leg Bates (1992) and Cissy Houston - Sweet Inspiration (1988). Davidson's numerous awards and honors include an American Film Institute Independent Filmmaker Grant, an Emmy Award, the NEA Mid-Atlantic Artist Fellowship, Pioneer of The Arts from The Black Experimental Theatre and Outstanding Artist Award from The New Jersey Arts Council, as well as numerous awards at international film festivals. Davidson is a professor and the founding director of The MFA in Media Arts Production Program (recently re-named The MFA in Film) at The City College in Harlem, where he has taught since 1984.
ABOUT MFA IN FILM AT CCNY
The intensive two-year MFA is the only graduate-level film program of its kind, offering hands-on Documentary and Fiction tracks in an affordable public university.  An international filmmaking community in the heart of Harlem, the students have ready access to the finest talent, locations, and production facilities of New York City.
Its faculty of award-winning filmmakers is dedicated to mentoring a talented, selective group of students to become the next generation of original voices in independent film. Cityvisions, the annual film showcase at The Directors Guild of America Theater, launches their work into the film festival circuit, television broadcast, and non-theatrical distribution. CCNY's MFA in Film students have won numerous student Oscars and Emmys and their films have been official selections at Cannes, Sundance, Tribeca, Berlin, and Venice (Biennale) Film Festivals. More info here
ABOUT BFA IN FILM/VIDEO AT CCNY
City College's Bachelor of Fine Arts in Film/Video is one of the oldest film schools in the U.S. and the only public institution in New York City to offer a BFA in film/video. The competitive program picks twenty-five students a year to follow a rich, intensive two-year curriculum with emphasis on single camera fiction and documentary production.
The mission of the BFA Film & Video Program is to teach the art and craft of filmmaking, explore the history and theory of film and video, and to provide intensive hands-on experience utilizing the latest technology in fiction and documentary media production. Embedded in a liberal arts academic environment, the program nurtures students to discover their unique voice and provides them with the knowledge and diverse skills to enter an ever-changing media world.
ABOUT THE CITY COLLEGE OF NEW YORK
Since 1847, The City College of New York has provided a high quality and affordable education to generations of New Yorkers in a wide variety of disciplines. CCNY embraces its role at the forefront of social change. It is ranked #1 by the Harvard-based Opportunity Insights out of 369 selective public colleges in the United States on the overall mobility index. This measure reflects both access and outcomes, representing the likelihood that a student at CCNY can move up two or more income quintiles. In addition, the Center for World University Rankings places CCNY in the top 1.2% of universities worldwide in terms of academic excellence. More than 16,000 students pursue undergraduate and graduate degrees in eight professional schools and divisions, driven by significant funded research, creativity and scholarship. CCNY is as diverse, dynamic and visionary as New York City itself.  View CCNY Media Kit.