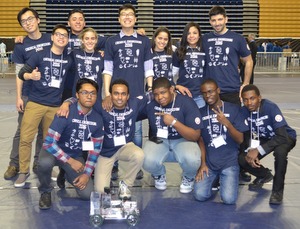 "Iodonator – C8," the latest chemical powered vehicle designed by City College of New York engineering students, took first place at the Mid-Atlantic regional competition to qualify for the AIChE's national finals in San Francisco this November.  
"This is the first time City College has placed first in an American Institute of Chemical Engineers (AIChE) regional or national competition," said Dilan Mataraarachchi, a chemical engineering and captain of the CCNY Chem-E- Car team.
CCNY competed against 27 other universities and colleges at the Mid-Atlantic competition, with Iodonator outperforming entries from Princeton University, Cooper Union and Johns Hopkins among others.
The objective of the Chem-E-Car competition is to build a car, the size of a shoebox, which runs and stops at a precise distance via one or more chemical reactions. Iodine is one of the chemicals used by the CCNY students from the Grove School of Engineering to run their invention, and a source of its name.
Iodonator's trip to San Francisco will be the fourth straight by a CCNY team to the AIChE finals where they have excelled in recent years. Their honors include a second place finish in 2013 with "REAKTER," and the Spirit of Competition Award in 2015 with "RuSTi."
The team to Delaware comprised (all chemical engineering unless indicated):
Aftab Siddidiu;
Dilan Mataraarachchi;
Shakir Julien;
Riliwan Sanni;
Kawsu Touray (electrical engineering);
Jovan Tewira;
Paulina Librizzi;
Yashoma Boodhan;
Brian Chen;
Nicholas Randazzo;
Deyvi Tenemaza
Simon Ng (mechanical engineering).
About The City College of New York
Since 1847, The City College of New York has provided low-cost, high-quality education for New Yorkers in a wide variety of disciplines. More than 15,000 students pursue undergraduate and graduate degrees in the College of Liberal Arts and Science; Bernard and Anne Spitzer School of Architecture; School of Education; Grove School of Engineering; Sophie Davis Biomedical Education/CUNY School of Medicine; and the Colin Powell School for Civic and Global Leadership. U.S. News, Princeton Review and Forbes all rank City College among the best colleges and universities in the United States.