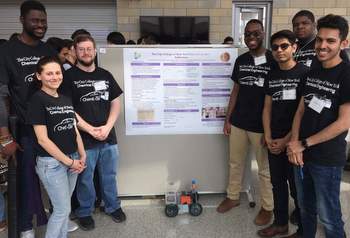 City College of New York's Chem-E- Car team is once again the American Institute of Chemical Engineers Mid-Atlantic champion. "Sulfurious," CCNY's latest entrant, beat out vehicles from 23 other schools to scoop first place in the regional Chem-E- Car competition at Rowan University for the second year running.  
The Grove School of Engineering student-designed car finished ahead of a field including two entries each from Carnegie Mellon and NYU; Columbia University, Johns Hopkins and New Jersey Institute of Technology.     
Next stop for Sulfurious is the 2017 AIChE Annual Meeting, Oct. 29 – Nov. 3, in Minneapolis.  There qualifiers from around the world will compete in the Chem-E- Car international finals.
Sulfurious' trip to Minneapolis will be the fifth straight by a CCNY team to the AIChE finals. Their honors include a second place finish in 2013 with "REAKTER," and Spirit of Competition awards in 2015 with "RuSTi" and 2016 with "Iodonator."
 "Chem-E-Car competitions require students to design and build shoe-box sized vehicles that run and stop by chemical reactions," said Elizabeth Biddinger, the CCNY team faculty advisor.
According to team captain Shakir Julien, a chemical engineering junior, the car's name is  derived from the "Too Fast, Too Furious" movie franchise and the main element in the stopping mechanism, sulfur. Sulfurious runs on a nickel-zinc battery, developed in partnership with the CCNY-based CUNY Energy Institute.
The team to the Mid-Atlantic regionals comprised (all chemical engineering unless indicated):
Captain Oswald Shakir Julien;
Co-captain Karlas Christopher;
Co-captain Nannette Hernandez;
Hamad Haider;
Noor Hossain;
Sana Ilyas;
Yash Patel;
Silvija Skemaite;
Stephan Smith;
Leo Strauss (electrical engineering); and
Eric Tung.
About The City College of New York
Since 1847, The City College of New York has provided low-cost, high-quality education for New Yorkers in a wide variety of disciplines. More than 15,000 students pursue undergraduate and graduate degrees in eight professional schools and divisions. View CCNY Media Kit.