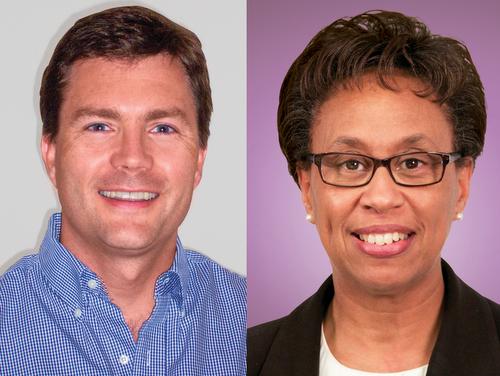 CCNY Grove School's Jeff Morris and Rosemarie Wesson.
Jeffrey Morris, Professor of Chemical Engineering in The City College of New York's Grove School of Engineering is the AIChE 2017 Shell Thomas Baron Award recipient. He received the award today at the organization's annual meeting in Minneapolis, Minnesota, where he delivered the award's eponymous lecture. His talk was entitled: "Exploring Complex Colloidal Dispersions by Simulation."
Also at the annual gathering, Rosemarie D. Wesson, associate dean for research and Professor of Chemical Engineering in the Grove School, was elected to a three-year term as AIChE treasurer. Her tenure begins in 2018.
Morris was cited by AIChE, the acronym for the American Institute of Chemical Engineers, for being "an acknowledged leader worldwide on fluid-particle systems, widely recognized for his theoretical contributions as well as using numerical simulations to address challenging problems in suspension mechanics."
The organization further noted that Morris has produced results on phenomena in suspension flows and new experimental approaches for these problems.
He has published widely and participated in major leadership roles in the field, including programs in fluid mechanics for AIChE and chairing the Bingham Award Committee for Society of Rheology.  His major contributions to the rheology of suspensions include theory-simulations based on single-particle insights as well as modeling with effective medium approaches.
Morris' new ideas, including accounting for finite volume fractions and inertial effects, have been tested using numerical simulations and experiments. He reviews the progress in the field and applies the results to more practical situations: suspension flow in thin films and suspension jet flow.
Morris is a graduate of the Georgia Institute of Technology (BS, MS) and the California Institute of Technology (PhD).
About The City College of New York
Since 1847, The City College of New York has provided low-cost, high-quality education for New Yorkers in a wide variety of disciplines. Today more than 16,000 students pursue undergraduate and graduate degrees in eight professional schools and divisions, driven by significant funded research, creativity and scholarship.  Now celebrating its 170th anniversary, CCNY is as diverse, dynamic and visionary as New York City itself.  View CCNY Media Kit.