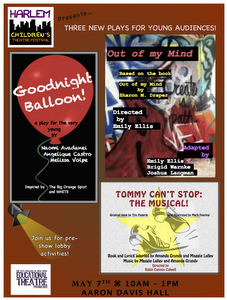 The culminating event for an innovative graduate program in educational theatre welcomes scores of young community members to The City College of New York on Saturday, May 7, for the Harlem Children's Theatre Festival.
From 10 a.m. to 1 p.m.  at City College's Aaron Davis Hall, young audiences can watch performances adapted by students in the CCNY School of Education's Graduate Program in Educational Theatre.
The event is free and open to families from Harlem and surrounding communities.  Performances and show times are:
10:15 a.m. "Good Night Balloon," inspired by the children's picture book "The Big Orange Splot," by Daniel Manus Pinkwater and adapted for ages 5 and under.  
11 a.m. "Tommy Can't Stop!" based on the book by Tim Federle and adapted for ages 6 and up.
12 p.m. "Out of My Mind," based on the book by best-selling author Sharon M. Draper and adapted for ages 8 and up.
Special guest cast members are from the CAT Youth Theater, the Repertory Company High School for Theatre Arts and PS 161 in Harlem. 
"Our goal is for our candidates to present their artistic work to an audience of captivated and inquisitive young people and their families. And there is no better community to share their work with then the Harlem community," Jennifer Katona, program director, educational theatre.
Sobha Kavanakudiyil, a faculty member and the festival's producer, added that community outreach is a core value of the program.
About The City College of New York
Since 1847, The City College of New York has provided low-cost, high-quality education for New Yorkers in a wide variety of disciplines. More than 15,000 students pursue undergraduate and graduate degrees in the College of Liberal Arts and Science; Bernard and Anne Spitzer School of Architecture; School of Education; Grove School of Engineering; Sophie Davis Biomedical Education/CUNY School of Medicine; and the Colin Powell School for Civic and Global Leadership. U.S. News, Princeton Review and Forbes all rank City College among the best colleges and universities in the United States.