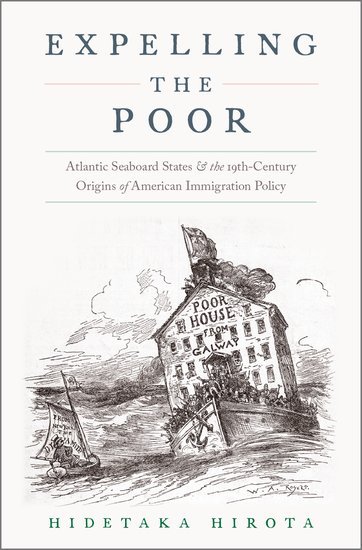 City College of New York historian Hidetaka Hirota's seminal maiden book, "Expelling the Poor: Atlantic Seaboard States and the Nineteenth-Century Origins of American Immigration Policy," is winner of the Immigration and Ethnic History Society's Best First Book Award.
The national prize recognizes the work of early career scholars in the field of U.S. immigration and ethnic history. "Expelling the Poor" was judged to be the best book on any aspect of the immigration and ethnic history of the United States and/or North America. Other considerations were its substantial primary research, its presentation of a major new scholarly interpretation and, of course, it being Hirota's first academic monograph.
Published by Oxford University Press, "Expelling the Poor" is the first sustained study of immigration control conducted by states prior to the introduction of federal immigration law in the late nineteenth century.
The 320-page work fundamentally revises the history of immigration restriction in the United States, especially deportation policy. Challenging the conventional understanding that the introduction of federal laws to restrict Chinese immigration in the late nineteenth century was the beginning of American immigration control, the book demonstrates how the states of New York and Massachusetts regulated immigration since the 18th century and locates the roots of American immigration control in anti-Irish nativism and economics on the Atlantic seaboard.
A substitute assistant professor in City College's Division of Humanities and the Arts,
Hirota's areas of research and teaching include: American immigration, 19th century   U.S. history, the Civil War and Reconstruction eras, wealth and poverty in America, and transnational/international history. 
About The City College of New York
Since 1847, The City College of New York has provided a high quality and affordable education to generations of New Yorkers in a wide variety of disciplines. Today The Chronicle of Higher Education ranks CCNY #2 among public colleges with the greatest success in ensuring the social mobility of our student body; at the same time the Center for world University Rankings places it in the top 1.2% of universities worldwide in terms of academic excellence. More than 16,000 students pursue undergraduate and graduate degrees in eight professional schools and divisions, driven by significant funded research, creativity and scholarship. CCNY is as diverse, dynamic and visionary as New York City itself.  View CCNY Media Kit.