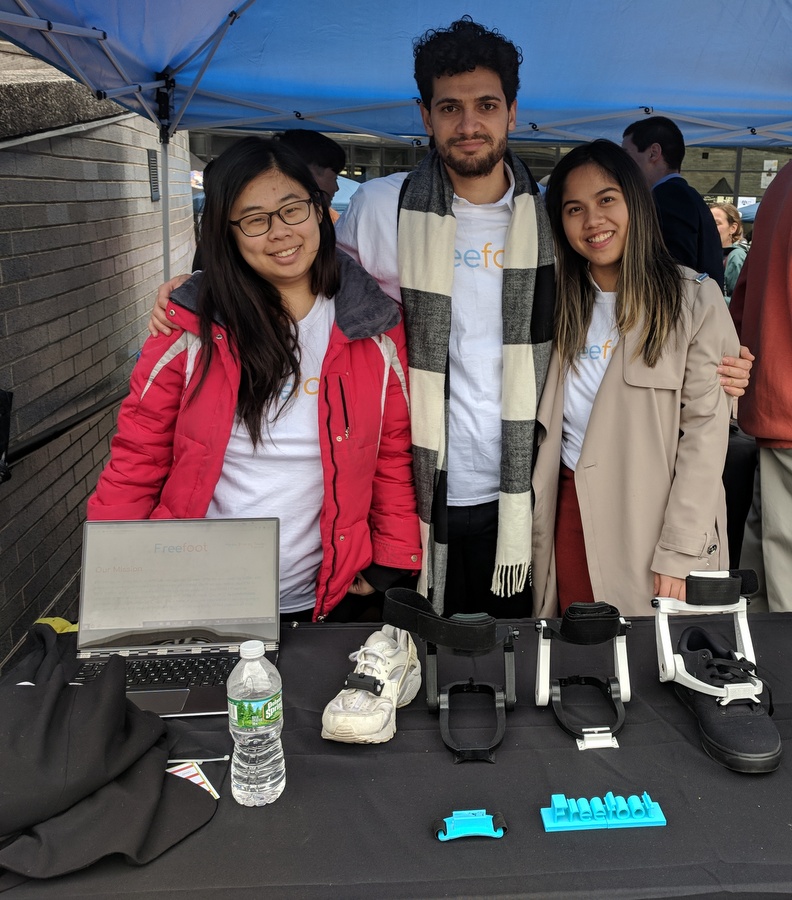 Health and mental wellness-related pitches by student startups were among the big winners in the Zahn Innovation Center's 2018 venture competition at The City College of New York. More than $150K in prizes went to the budding inventor/entrepreneurs to develop their ideas.
The startups competed in four categories. Some startups designed hardware devices, others created software, some focused on social impact, and others were women-led ventures that leveraged technology for NYC. The startups at the Zahn Center have both a hyper-local focus in the city, as well as a global perspective in congruence with City College's diverse student body.
FreeFoot won the $50,000 Kaylie Prize for its assistive device for those with gait disorders
The $25,000 Zahn Technology Prize went to Skinno for its app to decipher skincare ingredients for consumers.
FloraMind's mental health education curriculum for high school students to promote self-care and break the stigma around mental health received the $25,000 Zahn Social Impact Prize.
In the Standard Chartered Women+Tech4NYC category, an app that connects college students with new friends via safe, reliable, publicly shared walking routes earned CakeWlk the $25,000 top prize.
The runners-up in all four categories each received $5,000. They are:
Brystech, an imaging device that makes breast cancer-screening more comfortable and accessible (Kaylie Prize);
 
Fare, a driver-focused intuitive taxi demand prediction model (Zahn Tech);
 
Listen!, an e-learning tool that teaches basic vocabulary and language structure for children in refugee camps (Social Impact); and
 
Among Allies,  a platform that helps victims of workplace sexual harassment find resources while also helping companies establish safer workplace environments (Standard Chartered Women+Tech4NYC).
Click here for all the winners in the 2018 venture competition.
 About the Zahn Innovation Center
The Zahn Innovation Center, a program of the City College Fund, is at the heart of entrepreneurship at the City College of New York. It inspires a diverse community of changemakers to develop transformative ventures.
About The City College of New York
Since 1847, The City College of New York has provided a high quality and affordable education to generations of New Yorkers in a wide variety of disciplines. Today The Chronicle of Higher Education ranks CCNY #2 among public colleges with the greatest success in ensuring the social mobility of our student body; at the same time the Center for world University Rankings places it in the top 1.2% of universities worldwide in terms of academic excellence. More than 16,000 students pursue undergraduate and graduate degrees in eight professional schools and divisions, driven by significant funded research, creativity and scholarship. CCNY is as diverse, dynamic and visionary as New York City itself.  View CCNY Media Kit.