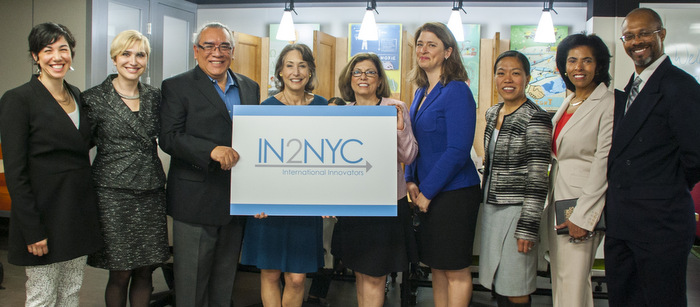 IN2NYC, a program piloted by the Zahn Innovation Center at The City College of New York to bring foreign entrepreneurs to New York City, is officially underway.
New York Deputy Mayor Alicia Glen, City College President Lisa S. Coico and Maria Torres-Springer, president of the NYC Economic Development Corporation, participated in the launch at CCNY today.  They highlighted the economic influence IN2NYC will have on the city and NYCEDC's partnership with the Zahn Center.
NYCEDC is sponsoring the program through the City College Fund and the Zahn Center.
The ceremony also kicked off the application period for entrepreneurs wishing to participate in IN2NYC. It closes on July 1.
CCNY's partner institutions from CUNY in the program include Lehman College, Medgar Evers College, Baruch College, LaGuardia Community College, Queens College and the College of Staten Island.
About IN2NYC
The International Innovators Initiative (IN2NYC) facilitates collaborative partnerships between international entrepreneurs and City University of New York (CUNY) schools, enabling entrepreneurs to qualify for cap-exempt H-1B visas, while helping CUNY schools attract innovators that can develop entrepreneurship and technical programs for their students.
About the Zahn Innovation Center
The Zahn Innovation Center, a program of the City College Fund, is at the heart of entrepreneurship at the City College of New York. It inspires a diverse community of changemakers to develop transformative ventures.
About The City College Fund
The City College Fund is a tax-exempt 501c(3) non-profit fundraising organization, established in 1946 to support The City College of New York in its mission to provide access and excellence in higher education, particularly to students who might not otherwise be able to afford to go to college. Gifts to The City College Fund directly benefit City College's extraordinary students, renowned faculty, innovative programs and schools.
About The City College of New York
Since 1847, The City College of New York has provided low-cost, high-quality education for New Yorkers in a wide variety of disciplines. More than 15,000 students pursue undergraduate and graduate degrees in the College of Liberal Arts and Science; Bernard and Anne Spitzer School of Architecture; School of Education; Grove School of Engineering; Sophie Davis Biomedical Education/CUNY School of Medicine; and the Colin Powell School for Civic and Global Leadership. U.S. News, Princeton Review and Forbes all rank City College among the best colleges and universities in the United States.