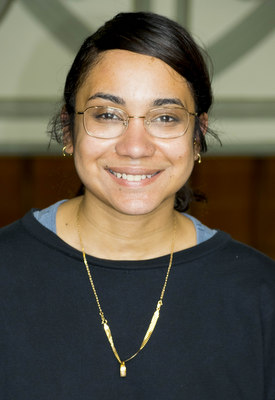 Natalia Rodriguez' poetry is taking her places. The City College of New York graduating senior showcases her verse at a literary exhibition at the New Women Space in Brooklyn April 14, straight from her top two finish in the invitation-only Kathryn Irene Glascock Intercollegiate Poetry Contest at Mount Holyoke College.
An English major with a concentration in creative writing, Rodriguez joins several emerging writers and artists in the literary exhibition. The event is entitled, "A writing gallery: showcasing a variety of multi-genre experimental and interactive prose and poetry across mediums."In the exclusive Glascock Poetry Contest, Rodriguez won second prize for a selection of her verse.  The field included poets from Yale University, Fordham and Smith College.
Distinguished poets Ari Banias, Marilyn Chin and Ronaldo Wilson served as judges. 
Held annually since 1924, the Glascock competition has launched the careers of many of America's most important poets including James Merrill, Sylvia Plath, Kenneth Koch, Donald Hall and Gjertrud Schnackenberg.
Last summer, Rodriguez, a Washington Heights resident, was one of five undergraduate poets selected to attend the Missoula/CCNY Poetry Residency in Montana.
The residency is a collaboration between Michelle Valladares, poet and co-director of City College's MFA Program in Creative Writing, and Chris Dombrowski, poet, river guide and director of the Beargrass writing workshops in Montana.  Participants travel to Missoula, Montana, to hike, canoe, write poems and think about wilderness, landscape and the relationship between the environment and their writing.
Rodriguez, who has a 3.50 GPA, is an editorial associate with "Fiction," a CCNY-published literary magazine.
About The City College of New York
Since 1847, The City College of New York has provided low-cost, high-quality education for New Yorkers in a wide variety of disciplines. More than 15,000 students pursue undergraduate and graduate degrees in eight professional schools and divisions. View CCNY Media Kit.