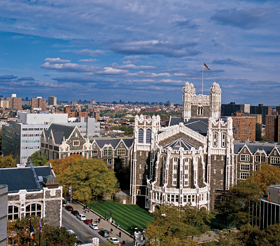 The City College of New York rose significantly in Forbes magazine's 2015 rankings of America's Top Colleges, landing in the top 100 in the Northeast for the second consecutive year. CCNY also ranked in the top 200 overall for the first time.
The only CUNY college to make the region's top 100, CCNY jumped to #78 from #92. CCNY is also one of only two New York state public institutions to rank in the top 200 overall; CCNY climbed to #177, up from last year's rank of #215.
The Forbes rankings cap a particularly successful year for CCNY. Highlights of the past year include: the awarding of the Nobel Prize in physiology to 1963 alumnus John O'Keefe, making him CCNY's 10th Nobel Laureate; CCNY's being a co-leader nationally in producing the most 2014-2015 Fulbright U.S. Scholars; CCNY students' and faculty's receipt of prestigious awards, fellowships and scholarships; and the establishment of the CUNY School of Medicine at City Collegein partnership with St. Barnabas Hospital.
About The City College of New York
Since 1847, The City College of New York has provided low-cost, high-quality education for New Yorkers in a wide variety of disciplines. More than 16,000 students pursue undergraduate and graduate degrees in: the College of Liberal Arts and Sciences; the Bernard and Anne Spitzer School of Architecture; the School of Education; the Grove School of Engineering; the Sophie Davis School of Biomedical Education, and the Colin Powell School for Civic and Global Leadership. U.S. News, Princeton Review and Forbes all rank City College among the best colleges and universities in the United States.