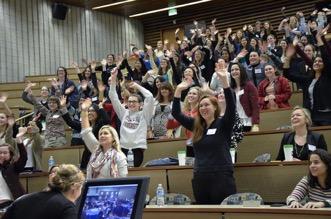 Conference of Undergrad Women in Physics group photo
As CUWiP's impact has grown, so has the number of undergrad women who attain physics degrees
On Jan. 12-14, The City College of New York, Columbia University, and Barnard College will join together for a common purpose: advancing women in Physics. The three institutions will co-present the 2018 Conference for Undergrad Women in Physics (CUWiP) in the NYC region. For most student attendees, it will be their first opportunity to experience a professional conference, get information about graduate school and professions in physics, and access to other women in physics of all ages with whom they can share experiences, advice, and ideas.
In addition to the NYC regional conference, 11 other regional CUWiP conferences will be held simultaneously nationwide, with a combined total of 2,000 female students expected to attend.
Myriam Sarachik, Distinguished Professor of Physics at City College explains why it's important to participate: "We're co-hosting this CUWiP with Columbia and Barnard because of the scale of the impact we can have together. The number of attendees at the nationwide conferences (around 2,000 this year) is comparable to the number of undergraduate women receiving a degree in Physics each year (around 1,600). Which means we're reaching the majority of such students nationwide." ​
It will be an action-packed few days for attendees, who will visit all three campuses. There will be talks by the best and brightest, including keynote speaker Patricia Burchat, Gabilan Professor at Stanford University on topics like Astrophysics, Condensed Matter, Undergrad Research, NanoFabrication, Work/Life Balance, and How to Give a Compelling Physics Talk. There will also be breakout sessions, networking, student talks, lab visits, awards, and social events like ice skating in Central Park.
The conference dinner will be held on Jan. 13 in the CCNY Faculty Dining Room. Tony Liss, Martin & Michele Cohen Dean of Science at CCNY, will provide opening remarks. Sarachik, who is only the third woman to be elected President of the American Physical Society, will be the featured speaker and will address the amazing improvement in opportunities for women in physics.
The first CUWiP was held in 2006 at the University of Southern California. Within a few years, there were six nationwide conferences. To date, an estimated 10,000 female undergrads have attended CUWiP conferences (including 2018).
About The City College of New York
Since 1847, The City College of New York has provided a high quality and affordable education to generations of New Yorkers in a wide variety of disciplines. Today The Chronicle of Higher Education ranks CCNY #2 among public colleges with the greatest success in ensuring the social mobility of our student body; at the same time the Center for world University Rankings places it in the top 1.2% of universities worldwide in terms of academic excellence. More than 16,000 students pursue undergraduate and graduate degrees in eight professional schools and divisions, driven by significant funded research, creativity and scholarship. CCNY is as diverse, dynamic and visionary as New York City itself.  View CCNY Media Kit.