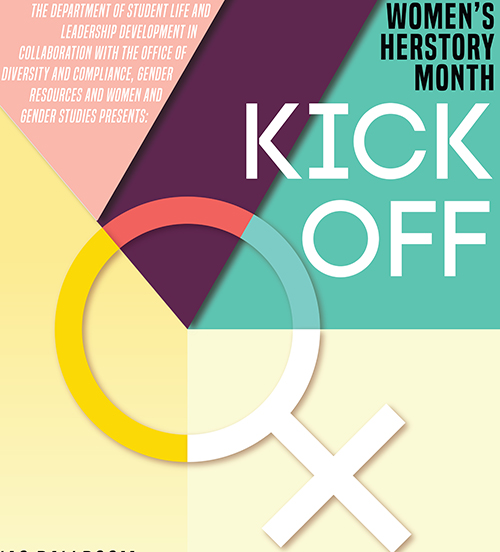 The City College of New York's 2018 Women's History Month events include a kickoff with discussion and activities about female empowerment and activism, a leadership summit and a display of artwork.
The schedule of events is as follows:  
Thursday, March 1, the Department of Student Life and Leadership Development, in collaboration with the Office of Diversity and Compliance, Gender Resources and Women and Gender Studies, presents Women's Herstory Month Kickoff, taking place in the NAC Ballroom from 12-2 p.m. The NYC Alliance Against Sexual Assault will also engage in a dialogue on empowerment and activism as it relates to our present times of the #TimesUP and #MeToo movements.
Thursday, March 1, The Documentary Forum at the CCNY Center for Film and Third World Newsreel present Indie Film Distribution Now at The CUNY Graduate School of Journalism from 6:30-9:30 p.m. Join Impact Producer Denae Peters of Film Sprout and Founder/CEO Deshuna Peters of kweliTV in a conversation on the distribution landscape for documentaries. The tale will be moderated by Distribution & Marketing Director Roselly Torres of Third World Newsreel.
Monday, March 5, City College Libraries will host CCNY Women Make Art 2018 in partnership with the Art Alumni Group showcasing the creative talents of the women of the college community. The artwork will be displayed in the City College Library's (NAC, Room 301) Cohen Library Archives, 5th Floor.
Saturday, March 10, the Public Safety Department presents the "I Am Woman Conference 2018" where a panel of women will speak to the college community about financial freedom, mental health awareness, domestic violence awareness and more. The event will take place in the NAC Ballroom at 3 p.m. For more information, contact Antoinette Jennings at 845-313-3585.
Tuesday, March 13, the Beyond Identity: A Gendered-Platform for Scholar-Activists a project of The Politics of Sexual Violence Initiative will celebrate the work of 10 remarkable young women, the inaugural class of the Beyond Identity program, in Shepard hall, Room 350 from 6-8 p.m.
The students will present their own work and reflections, alongside acclaimed novelist Dr. Valeria Luiselli, author of "Tell Me How it Ends: An Essay in Forty Questions," Pulitzer-prize winning critic, and author of "Negroland," Margo Jefferson, author of "Veil" and political commentator, Rafia Zakaria, and City College President and social movement scholar, Dr. Vincent Boudreau.
Wednesday, March 14, Director Pam Sporn with share clips of film "Detroit 48202: Conversations Along A Postal Route," a journey through Detroit with Wendell Watkins, an African-American mail carrier and the residents he has faithfully served for thirty years. The event will take place in Shepard Hall, Room 290/291 from 6:30-9:30 p.m.
Pam Sporn will share hare insights into how rekindling longtime ties and forming new community connections in Detroit guided the crafting of the story and deepened its analysis—as well as how she managed to fundraise and produce this film.
Thursday, March 22, a Master Class with Film Director Yoruba Richen will take place in Shepard Hall, Room 290/291 from 6:30-9:30 p.m. Director and Professor Yoruba Richen, director of the "The New Black, Promised Land," talks about getting into the industry and how she works and gets her stories.
Friday, March 23, the CCNY's Annual Women's Leadership Summit will aim to inspire and empower students to foster skills or to continue with leadership roles on and off campus. The theme this year is "Developing Your Potential To Innovate and Inspire." The event will take place in the NAC Ballroom from 9 a.m.-3 p.m.
About The City College of New York
Since 1847, The City College of New York has provided a high quality and affordable education to generations of New Yorkers in a wide variety of disciplines. Today The Chronicle of Higher Education ranks CCNY #2 among public colleges with the greatest success in ensuring the social mobility of our student body; at the same time the Center for world University Rankings places it in the top 1.2% of universities worldwide in terms of academic excellence. More than 16,000 students pursue undergraduate and graduate degrees in eight professional schools and divisions, driven by significant funded research, creativity and scholarship. CCNY is as diverse, dynamic and visionary as New York City itself.  View CCNY Media Kit.