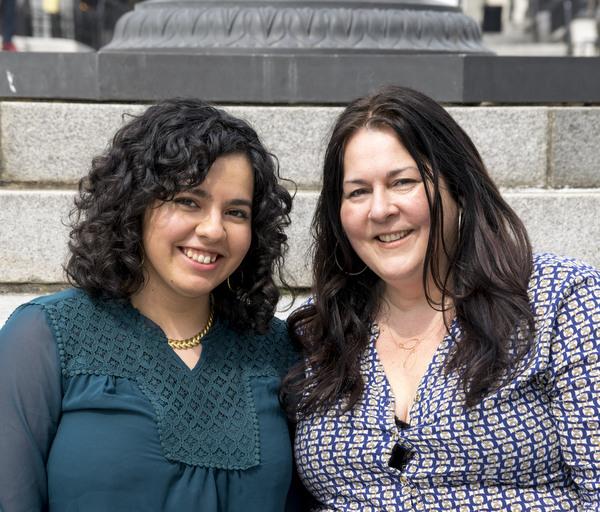 Class of 2018 Valedictorian Yasmine El Gheur and her mother Kathryn who is a senior at CCNY.
Zhiying Zhu, Class of 2018 Salutatorian.
Brooklynite Yasmine El Gheur, a Mellon Mays Undergraduate Fellow and the first of her family to complete college, is The City College of New York's Class of 2018 Valedictorian. Zhiying Zhu, born in China and raised by a single parent after emigrating to the United States, will be the Salutatorian at CCNY's 172nd Commencement Exercises on June 1.
Following are brief bios of the Valedictorian and Salutatorian:
Yasmine El Gheur
A first generation American from Park Slope, Brooklyn, El Gheur is graduating from the Division of Humanities and the Arts with a BA in art history and a 3.94 GPA. She received the Mellon Mays Undergraduate Fellowship, which is awarded to talented students from traditionally underrepresented groups to encourage them to pursue PhDs in the humanities and social sciences. She plans to earn a PhD and become an art historian of contemporary North African and Middle Eastern Art.
Among El Gheur's other honors, the Downer Award for Study Abroad took her to Paris in summer 2016 to study French civilization at the Sorbonne. The next summer, she was in Rabat learning Moroccan Arabic. In addition, El Gheur was a City College Fellowship recipient, winner of the Therese Ralston Connor Award for Art History, and a CCNY Kaye Scholar.
She interned at the Jewish Museum and The Frick Collection (an art museum) both in New York City and participated in the CCNY-Stanford exchange program. It was at Stanford, in summer 2015, that El Gheur began her research on contemporary Moroccan photographers that would be a component of her Mellon Mays research project.
From a melting pot New York family with a Moroccan immigrant father and Colombian/Cuban/Irish-American mother, El Gheur's academic success and the opportunities available at CCNY inspired her mother to return to college. Kathryn El Gheur had spent a year at the New York City College of Technology when her daughter was a toddler. Kathryn is now a senior at CCNY majoring in international studies and studio art.
Zhiying Zhu
Poverty forced Zhu to work odd jobs from age 13 after arriving in New York with her mother and a young sister in 2008. Last December, the Bensonhurst resident completed her requirements for a BE in biomedical engineering from the Grove School of Engineering with a 3.91 GPA.
Zhu worked two or more part-time jobs while completing the rigorous engineering curriculum. Challenging as it was, it did not diminish her passion for research and healthcare that she had developed at CCNY.
Zhu gained both research and bedside care experiences at several institutions, including CCNY, Memorial Sloan Kettering Cancer Center, Regeneron Pharmaceuticals, the University of Texas at Austin and the National Cancer Institute. At the latter, she collaborated with clinicians and scientists and assisted in various phases of research from data acquisition to manuscript writing. She said the technical skills she acquired from these experiences prepared her for a more engineering role in medicine.
A month after commencement, Zhu will sit for her MCAT with the goal of pursuing an MD/PHD and a double career as a medical doctor and researcher. Her dream is to merge the gap between bench-side research and bedside care.
Zhu's accolades at CCNY included a NASA New York Space Grant Fellowship, the Harold Shames Award for Undergraduate Excellence, a Colin Powell Fellowship in Leadership and Public Service, and the Jewish Foundation for Education of Women Scholarship.
She's been a Student Support Services Program student since her freshman year and received the Charlotte and Arthur Zitrin Scholarship awarded to a select group of SSSP students.
About The City College of New York
Since 1847, The City College of New York has provided a high quality and affordable education to generations of New Yorkers in a wide variety of disciplines. Today The Chronicle of Higher Education ranks CCNY #2 among public colleges with the greatest success in ensuring the social mobility of our student body; at the same time the Center for world University Rankings places it in the top 1.2% of universities worldwide in terms of academic excellence. More than 16,000 students pursue undergraduate and graduate degrees in eight professional schools and divisions, driven by significant funded research, creativity and scholarship. CCNY is as diverse, dynamic and visionary as New York City itself.  View CCNY Media Kit.