CENTER FOR DISCOVERY AND INNOVATION
The City College Center for Discovery and Innovation opened in Fall 2014 and features approximately 200,000 square feet of space for advanced research in key interdisciplinary fields. The facility is a magnet for regional, national and international researchers and an academic hub of learning for students and faculty.
CUNY ADVANCED SCIENCE RESEARCH CENTER
The Advanced Science Research Center has brought CUNY to a landmark moment in its multi-billion-dollar commitment to becoming a national leader in visionary scientific research of vital, real-world consequence.

Located on the south end of the City College campus in Upper Manhattan, the striking, 200,000-square-foot ASRC building embodies a bold vision of 21st Century discovery. At the center's core is a world-class facility designed to inspire an innovative approach to the scientific method itself, one that links a new wave of talented scientists with hundreds of top researchers from CUNY campuses across the city.
SCIENCE DIVISION FACILITIES
With a major investment of more than a quarter billion dollars from the State of New York, the construction of world-class science research facilities is underway at the CCNY campus.  Two new science research buildings – The CCNY Center for Discovery and Innovation for CCNY's science research program and the CUNY-wide Advanced Science Research Center -- serve scientists from throughout the City University system.  These centers yield nearly 400,000 square feet for state-of-the-art laboratories and offices, imaging facilities,  Electron Microscopy vivarium, as well as a café and lecture hall. Together with the adjacent New York Structural Biology Center, the buildings form a research hub that will provide outstanding opportunities for faculty and science students.
Currently, most of the research facilities of the Science division are located in the 360,000 sq. ft. Robert E. Marshak Science Building. The construction of a new vivarium adjacent to the building is near completion.  The Marshak building has undergone major renovation of its structural and HVAC systems.
 CCNY ELECTRON MICROSCOPY CENTER
The Electron Microscopy Center is a shared core facility whose primary goal is to promote scientific support in biological and materials research by providing training in basic operation of the scanning and the transmission electron microscopes.  Room MR-519.
The Confocal Microscope shared facility is equipped with a LSM 510 Confocal Laser Scanning System manufactured by Carl Zeiss Inc. LSM 510 is capable of acquiring highest quality digital images at resolutions close to theoretical limits of light microscopy.  Room MR-52
THE DIVISION OF SCIENCE COMPUTER LAB
This new facility located in the lower level of Marshak houses 40 PC's, two projection screens, two wireless LCD projectors, and a wired lectern.  It is used for PC-based instructional classes, such as SCI20000, and is also open to students for general computer use everyday from 9am to 7pm.  Room MR-044.
THE NUCLEAR MAGNETIC RESONANCE FACILITY
The Nuclear Magnetic Resonance Spectroscopy (NMR), also a shared research facility, consists of a 600-MHz NMR spectrometer for Structural Biology experiments and a 500-MHz spectrometer for Organic Chemistry research. A 300-MHz spectrometer is also part of the NMR core, and is primarily used in NMR instruction. Rooms MR-101 and MR-1201.
SCIENCE COMPUTING SERVICES
The Science Computing Services facility, under the direction of Mr. Karl Li, provides technical support and leadership for all aspects of information technology in the Division of Science.  Room MR-302.
The Science Library is committed to providing superior service and resources in support of the instructional and research mission of the College. Room MR-29
The City College Physics Dept operates a 60 seat planetarium in the Marhsak Basement. Consult the planetarium webpage or contact Dr. James Hedberg for more information.
Hongfeng Du, CCLT
Consultation and repair of research electronic instruments and computers. Electronic design of circuit devices. Room MR402
Linden Langhorne, CCLT
Mechanical modification or repair of broken parts (if possible), or replacement. Room MR220
Custom glassware for research and development. Room 1121A
Laser Safety
Nano-particle Safety
Division departments share major Core Facilities: equipment including the NMR600, NMR500, NMR300, and Zeiss LSM 510 Confocal.
SOM-designed Marshak Science Building gets facelift amid R&D building boom at Hamilton Heights campus, by Robert E. Thomas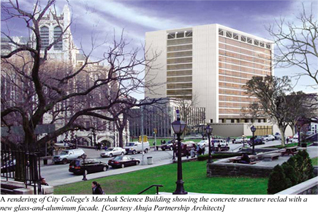 Curving LEED-Gold buildings by KPF and Flad Architects usher in a "Decade of Science" in Harlem, by Aaron Seward
KPF create glassy twins for new CUNY campus, by Julia Galef