Culminating Exhibition Celebrates Seneca Village
Colin Powell School for Civic and Global Leadership (incorporating the Colin Powell Center)
Culminating Exhibition Celebrates Seneca Village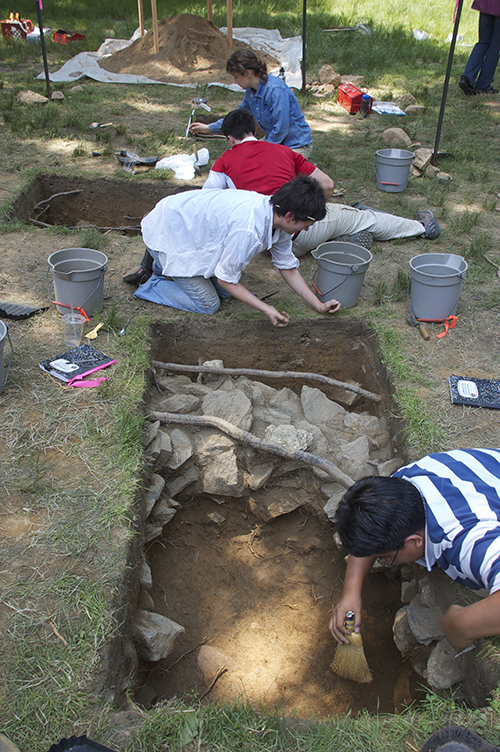 "Seneca Village: Unearthing a Forgotten African-American Community" reveals findings 14 years in the making.
Imagine "uncovering history live" beneath the soil layers of Central Park. For Ashton Dorminvil, participating in a summer-long archeological dig in 2011 was an experience he'll never forget. "History was in your hands," recalls the senior majoring in biology. "It's still fascinating to me."
Fourteen years in the making, the Seneca Village excavation focused on a section of the park near 85th Street and Central Park West, now known to be the site of an early nineteenth-century community made up primarily of free African-Americans. Central Park construction razed the village in the 1850s.
Culminating Exhibition
This spring, a culminating exhibition, "Seneca Village: Unearthing a Forgotten African-American Community" at the Raphael Cohen Library at City College, featured artifacts and findings from the project.
On Wednesday, June 5, the Colin L. Powell School for Civic and Global Leadership hosted a celebration of the exhibition, which included curated tours and featured a talk by Cynthia Copeland, a former education coordinator at the New York Historical Society, now on the faculty of NYU. Copeland is one of the founding directors of the Seneca Village Project, along with Diana Wall, chair of the Colin L. Powell School's anthropology department, and Barnard College's Nan Rothschild.
Rapt Attention
The Seneca Village project stemmed from an education project that Copeland designed at the Historical Society to engage children about mysterious village remains said to lie beneath Central Park. The children's rapt attention suggested that adults might be equally compelled by the socio-cultural significance of the settlement and the variety of narratives that it might contain.
These narratives, Copeland added, now include "the story of African-Americans who owned property just before emancipation in New York; the story of women owning property in this era, which was uncommon; the stories of the significance of the churches; the education history…there was a colored school, which stood in the basement of one of the churches…and the story of abolitionism…some of the individuals living there were trying to uplift the race and fight for the civil rights of people to vote or just live freely."
Locating Descendants
Wall, who along with Rothschild supervised the dig, says next steps include working with a genealogist to conduct a "backward genealogical search" to help find descendants of the Seneca villagers. She and project staff hope to find funding that will support hiring a genealogist to build a course around the research, so students can continue to be active participants on every phase.
The Seneca Village Project provides a number of touchstones for students seeking to broaden their educational perspectives. In addition, all of the students participating in the initial dig, which included undergraduates from NYU, Fordham, and Barnard College, as well as City College, remain connected. "We've stayed close," Dorminvil says. "It's a bond that we'll never forget."