Colin Powell School Rolls Out a Major Initiative for Student Success
Colin Powell School for Civic and Global Leadership (incorporating the Colin Powell Center)
Colin Powell School Rolls Out a Major Initiative for Student Success
NEW OFFICE OF STUDENT SUCCESS RAMPS UP SERVICE AND RESOURCES FOR COLIN POWELL SCHOOL STUDENTS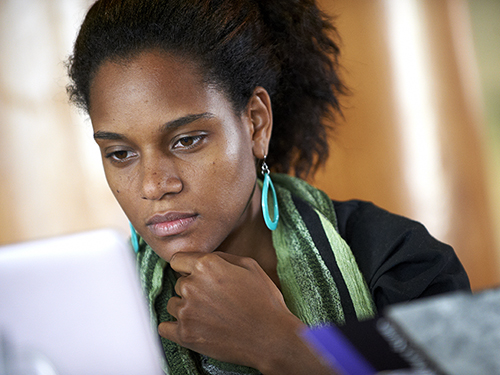 This month the Colin Powell School rolls out a sweeping network of student services and resources, launched as a fundamental re-envisioning of what students need to graduate successfully and achieve in their personal and professional life. Housed in the school's new Office of Student Success, the multi-pronged initiative includes enhanced advisement, peer tutoring, powerful research and internship opportunities, and many other components.
The office, led by Director Kamilah Briscoe, is a centerpiece initiative of the Colin Powell School and is supported by a generous $2 million gift from the Dalio Fund. 
With regard to advisement, Colin Powell School students will now receive extensive attention and service, not only about course selection, but also about how to intentionally and productively shape their college experience to fulfill their academic and professional goals. "We are building on the current approach, coordinating existing resources and adding new ones to proactively engage students in the great project of their own success," says Briscoe, former director of student leadership at the Colin L. Powell Center for Leadership and Service (now merged with the Colin Powell School). "In every conversation we will be asking students: When are you graduating; what are you going to do next; and who is helping you get there? These questions keep us focused on our shared goals for students —graduate successfully, begin satisfying careers, and build rich and supportive networks."
"LAST DOLLAR" FUND
To smooth their way, the office now has on hand a student advocate. The advocate, a former student, Chinomso Ejiogu, will help students solve problems big and small, so the non-academic obstacles they face will be less likely to derail them. Ejiogu will also keep students informed about important dates, resources, scholarships, and other opportunities. The office also has established a "Last Dollar" emergency fund to help students with dire financial need stay in school. Staff will be tracking its impact on student retention.
Importantly, the office, in conjunction with departments and programs, is rolling out peer tutoring and peer mentoring programs, based on a model that develops a strong sense of community and gives the peer leaders extra support. In the school's pre-law program, the program is helping students whose grades are at the margins for law school acceptance. For larger departments, such as psychology or economics, the focus will be on support in gateway courses where a strong foundation of understanding is critical for future success. 
PROJECT ZERO
The office is also committed to guiding Colin Powell School students toward internships, service opportunities, fellowships, scholarships, and extended research experiences. To accomplish this, staff are drawing upon the school's robust community partnerships with organizations such as the Roosevelt Institute, the Council on Foreign Relations, Peer Health Exchange, and The Education Alliance.  Additionally, the office is supporting service-oriented clubs on campus such as Health Leads and Let's Get Ready, and it has launched "Project Zero," which funds students to carry out worthy campus and community projects. 
Additionally, the office is starting a student research journal and enabling students to present at academic conferences. For example, Gwendolyn Dordick, a researcher and lecturer in the Department of Sociology, has invited several students to present at a regional sociology conference. "They are very excited, and they are getting the attention they deserve," Dordick says. 
BUILDING NETWORKS
Re-energized student professional societies, faculty and student meet-and-greets, efforts to build the capacity of student organizations and to interconnect their leaders, are also helping to create a strong sense of community and purpose at the Colin Powell School. And there's more to come. The larger goal, Briscoe says, is to "invest heavily in what we know works." To this end, the school will be researching and tracking its patterns of retention and success. 
These changes are the result of a lot of research and many, many conversations, Briscoe adds. Through them, one thing stands out. "There is a talented faculty here, a skilled staff, a visionary dean, and an extraordinary board of visitors, all committed to this challenging project," she says. "To a person, we all recognize what's possible for Colin Powell School students, and we've got the tools to make it happen."