Chudi Uwazurike
Associate Professor
Main Affiliation
Sociology
Additional Departments/Affiliated Programs
International Relations
International Studies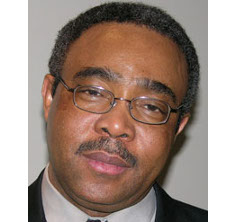 Chudi Uwazurike
Profile
An Associate Professor in the Department of Sociology, Dr. Chudi Uwazurike completed his Bachelors degree in Sociology and Anthropology at the University of Nigeria at Nsukka in 1979. He subsequently attended Lagos University, where he earned a Masters degree in Mass Communications in 1981. From there, he went to Harvard University, where he earned his Ph.D. in Sociology focusing on political and comparative development in 1987. A keynote speaker, invited lecturer, and recipient of foundation grants, Professor Uwazurike also teaches in the International Studies Program at City College.
Education
B.A., Univ. of Nigeria; M.A., Lagos Univ.; Ph.D., Harvard Univ.
Research Interests
Sociology of Africa and Nigeria The Politics of Democracy Pan Africanism Gender Roles African Immigration to the U.S
Publications
Professor Uwazurike's publications include among others: The Man Called Zik of New Africa: Nigeria's Pan African Statesman in Critical Perspective, 2003 (1996), which is part of a forthcoming three volume series; Civil Governance as Good Governance in 21st Century Nigeria, 2004 Instrumental Pan-Africanism: Good Governance, Technological Gaps and the Black and African Diaspora in the Future of the First Continent, 2005
Black America and the Black Diaspora in the Challenge of Instrumental Pan-Africanism, 2006 "Urban Violence as Metaphor – Insecurity, Ethno-Religious Fault Lines and the Crisis of Democratic Legitimation in Contemporary Africa," in Ethnic Militias and Conflicts (O. Babawale, ed.), 2004.