David Eastzer
Assistant Professor
Main Affiliation
Division of Interdisciplinary Studies (CWE)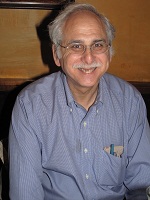 David Eastzer
Profile
PhD, Development Psychology, University of North Carolina at Chapel Hill.
MS, Biology, City College of New York (CCNY)
BS, Biology, Cornell University
In 1995 he became Assistant Professor of Biology with primary responsibility for pedagogical innovation and curriculum development of interdisciplinary science courses for the students at the Center for Worker Education (none of whom are science majors). Along with developing and teaching the two semester core science sequence, the science elective courses he teaches  The Human Body, The Biology of Love and Aggression, Plagues Past and Present, From Frankenstein to Frankenfoods, and A History of Eugenics: Breeding Better Babies, Eliminating the Unfit.
In fall 2002 David began teaching the Life Science course for non-science majors at the Honors College of CCNY. David has written numerous articles on science teaching and learning, focusing on the social construction of scientific knowledge and the personal and societal dimensions of scientific technology in the 21st century. David's innovative teaching style was recognized by the 2000-2001 Outstanding Teaching Award from City College (CCNY).