Jennifer Tuttle
Chairperson
Areas of Expertise/Research
Classical Theatre
Michael Chekhov Technique
New and Women's Works
Building
Compton - Goethals Hall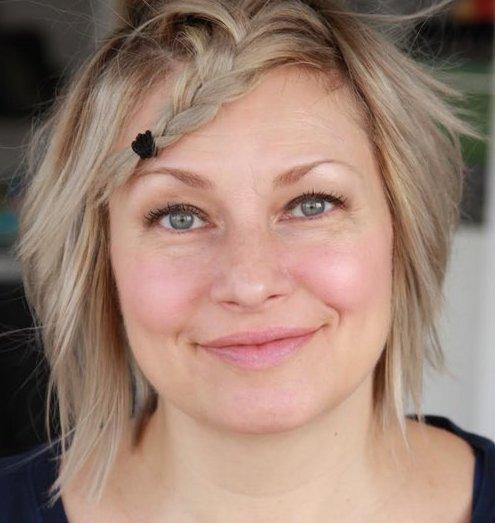 Jennifer Tuttle
Profile
Teaching Philosophy
As an artist and teacher, I believe in the power of training over talent. That the person that challenges him or herself the most will grow and go the furthest. I believe that a cooperative and collaborative attitude is one of the strongest assets a theatre artist can possess. I believe that theatre is a craft.  That discipline is essential.  That process is just as important as production. I believe that the artist should never be afraid to try, to look ridiculous, to fail, to play, to laugh, to be daring. As a teacher, I strive to teach this philosophy and to teach students tools that they can use for the rest of their lives. I believe that theory always needs to be put into practice. The actor needs to understand their instrument – how to ground themselves physically, how to engage the text, to free their voices, to create character, relationship and metaphor – what Michael Chekhov referred to as the Four Brothers: a feeling of ease, form, beauty and the whole.
My classroom is collaborative and cooperative. I encourage risk taking, but provide a safe, inclusive environment where playing, exploration, and trial and error are valued.  I truly believe that nothing is a mistake, just an opportunity to learn by assessing what works and what doesn't work. I believe that the discipline of theatre requires communication, problem solving, creative thinking, self-expression and confidence, skills that make theatre students resourceful, not just in their chosen craft, but in life.
Education
Degrees
MFA – Theatre/Acting, Wayne State University, Detroit, MI
Hilberry Repertory Theatre Company Actor
Graduate Fellowship
BA – English Literature/Theatre, Northeastern Illinois University, Chicago, IL
Graduated Magna Cum Laude
Courses Taught
CCNY:
Acting 1: Beginning Acting
Acting 2: Acting Realism
Acting 3: Acting the Classics
Speech for the Stage
Speech for the Stage 2
Physical Comedy and Clowning
Directing 1
Directing 2

Other Institutions:
Acting 1: Principles of Acting
Acting 2: Scene Study
Acting 3: Shakespeare
Acting 3: Period Styles
Acting 4: Auditioning and the Business of Acting
Voice for the Actor
Movement for the Actor
Diction and Dialects
Directing 1: Principles of Directing
 
Research Interests
My research interests are in psycho-physical acting, voice and classical text and where they intersect.  My artistic interests are new works, and women's voices and EDI (equality, diversity and inclusion) in the world of theatre.

Certification/Certificates
Certified Teacher
Michael Chekhov Acting Technique
Great Lakes Michael Chekhov Consortium/Kent State University
Certified in the Tools of the Technique (Module 1), June 2012
Certified in Applying the Tools to Acting as an Artist (Module 2), June 2013
Certified in Applying the Tools to Directing and Teaching (Module 3), June 2014

Certificates
Moscow Art Theatre School, Summer Intensive, Moscow, Russia  
Dell Arte School of Physical Theatre, Mask Making and Performance, Blue Lake, CA

Additional Professional Development Training
Michael Chekhov Technique
International Michael Chekhov Workshop, MICHA, Boston, 2011
Michael Chekhov Technique for the Director Workshop, MICHA, New York, 2010
Movement
Margolis Method, Balance Arts Center, New York, 2013
Movement Summer Intensive Program, Actor's Movement Studio, New York, 2011
Voice
Voice, Movement and Classical Text Intensive, Linklater Center/Columbia University, New York, 2014
Voice for the Actor with Patsy Rodenburg, Michael Howard Studios, New York, 2009
Voice, Verse and Classical Text with Andrew Wade, Actor's Movement Studio, 2010
Shakespeare
Advanced Shakespeare with Kristin Linklater, Linklater Center, New York, 2013
Shakespeare's Heightened Language with Patsy Rodenburg, Michael Howard Studios, New York, 2009
Bringing Shakespeare to Life, Stratford Festival, 2004
Productions
Professional Credits
DIRECTOR (partial):

New York Theatre
Apple, Table, Penny, Emerging Artists Theatre/New Work Series, New York, NY
Immigration Stories, Culture Project/WomenCenter Stage,Teatro Sea, New York, NY
An Incient at Peniel, in association with Crossways Theatre @ The Alchemical, New York, NY
I Want to Die One Day After You, Performance Mix Festival @ The Performance Project, New York, NY
The Organizer (reading), Bernie Wohl Theatre, New York, NY
Immigration Stories, The Producer's Club, New York, NY
Arendt/Heidegger (staged reading), Studio 310, City College of New York, New York, NY
The Seedling Project, Partly Cloudy Theatre Company @ The Pit Loft, New York, NY
This is My Last Attempt at Fame, Dixon Place, New York, NY
The Sorcerers (staged reading), Martin E. Segal Theatre, New York, NY
This is Not a Lecture (staged reading), Bowery Poetry Club, New York, NY
Born MYdentity, New Work Series @Emerging Artists Theatre, New York, NY
We Must Work, Performance Mix Festival @ HERE Arts - New York, NY
REDlight, NYC Fringe Festival, New York, NY
Born MYdentity (workshop), Two Moon Art House, Brooklyn, NY
REDlight (curated workshop), Brooklyn Theatre Exchange/BAX, Brooklyn, NY

Regional Theatre
Much Ado Para Nada, Shakespeare in Detroit, Detroit, MI
This is My Last Attempt at Fame, Hastings College, Hastings, NE
Arsenic and Old Lace, Straw Hat Players, Moorhead, MN
Shout! The Mod Musical, Straw Hat Players, Moorhead, MN
The Sound of Music, Straw Hat Players, Moorhead, MN
The Seafarer, Theatre B, Fargo, ND
The Music Man, Straw Hat Players, Moorhead, MN
True West, Big Shoulders Theatre Company, New Orleans, LA

Academic Theatre
Ruined, City College of New York, New York, NY
Macbeth, City College of New York, New York, NY
Morroccan Sardines (one act), CUNY Theatre Festival, New York, NY
Top Girls, City College of New York, New York, NY
Working, City College of New York, New York, NY
The Arabian Nights, City College of New York, New York, NY
Hay Fever, City College of New York, New York, NY
The House of Blue Leaves, Minnesota State University, Moorhead, MN
Three Sisters, Minnesota State University, Moorhead, Moorhead, MN
Cabaret, Minnesota State University, Moorhead, Moorhead, MN
Tartuffe, Minnesota State University, Moorhead, Moorhead, MN
Hamlet, Minnesota State University, Moorhead, Moorhead, MN

ACTOR (partial):
New York Theatre
Lennox, Macbeth, Name of BIRD Theatre Company, Town Stages
Mercutio, Romeo & Juliet, The Wild Project
Solange, The Maids, Riverside Theatre
Driscoll/Reporter, Bury the Dead, Upon These Boards, Cooper Union

Regional Theatre
The Wife, Yes. No. (Maybe So.), Milwaukee Repertory Theater
Anna Jackson, Stonewall Country, Theater at Lime Kiln
Morning Star/Mary Ann Rowen, The Kentucky Cycle, Hilberry Repertory Theatre
First Witch, Macbeth, Hilberry Repertory Theatre
Alexa Vere de Vere, As Bees in Honey Drown, Brava Productions, Le Chat Noir Theatre
Regan, King Lear, Dog & Pony Theatre Co.
Brooke/Vicki, Noises Off, Le Petit Theatre du Vieux Carre

Improv
Troupe Member            BROWN! Improv Comedy Troupe

DIALECT COACH (partial):
Hay Fever - Brtitsh RP and Estuary
My Fair Lady – British RP and Cockney
Lucky Stiff – British Estuary, Cockney, Italian, French, Texan, Brooklyn
Shout! The Mod Musical – Cockney, Manchester and RP
Laughter on the 23rd Floor – Brooklyn
The 39 Steps – British RP and Cockney, Scottish Burr, Yorkshire and German
Unnecessary Farce – Scottish Burr
Cabaret – German, RP, French, Texas
The Rocky Horror Show – Hungarian and German Dialects
The Kentucky Cycle – Southern Rhotic Dialect
Macbeth – American Standard Dialect
Great Expectations – British RP Dialect
PRODUCER (partial):
CABIN Short Film, 2016:
Official Selection – Big Apple Film Festival, NYC (2016)
Winner Best Cinematography – Made in Michigan Film Festival (2017)
Official Selection – Fargo Film Festival (2017)
Official Selection – The Escapist Short Film Festival, Liverpool, UK (2018)
Official Selection – Capital City Film Festival, MI (2018)
THE COLLECTOR Short Documentary Film, 2009:
Winner Best Documentary – NYC Downtown Short Film Festival (2011)
Official Selection – Boston Underground Film Festival (2011)
Official Selection – Boston LGBT Film Festival (2011)
Official Selection – World Wide Short Film Festival (2010)
Conferences and Presentations
ATHE (Association for Theatre in Higher Education) Conference, 2017
Peer Reviewed Workshop: Elemental Alchemy: Heightened Movement and Ritual
Las Vegas, NV

ATHE (Association for Theatre in Higher Education) Conference, 2017
Panelist: Staging Inspired Spectacle: Michael Chekhov Technique for Directors
Las Vegas, NV

STATERA Foundation Conference, 2016
Break-out Session Presentation: Sound Chek: Michael Chekhov Technique and Voice
Utah Shakespeare Festival, Cedar City, Utah

VASTA (Voice and Speech Trainers Association) Conference, 2016
Peer Reviewed Workshop: Sound Chek: Michael Chekhov Technique and Voice
DePaul University, Chicago, Illinois

STATERA Foundation Inaugural Conference, 2015
Break-out Session Presentation: Building your Directing Resume
Utah Shakespeare Festival, Cedar City, Utah

Kennedy Center/American College Theatre Festival, Region V
Invited Scenes Coordinator, 2011
Iowa State University, Ames, Iowa
Kennedy Center/American College Theatre Festival, Region V, 2010
Presented workshop: Embodying Shakespeare
Iowa State University, Ames, Iowa
Professional Organizations/Affiliations
Associate Teacher, Great Lakes Michael Chekhov Consortium (GLMCC)
Member Actors' Equity Association (AEA)
Member Voice and Speech Teachers Association (VASTA)
Member Theatre Communications Group (TCG)
Member Association for Theatre in Higher Education (ATHE)
Member StateraArts Foundation: Women+ in Theatre
Awards
Nominee: Best Shakespearean Production - Much Ado Para Nada, BroadwayWorld.com Detroit Regional Awards, 2018
Nominee: Best Ensemble Cast - Much Ado Para Nada, BroadwayWorld.com Detroit Regional Awards, 2018
Winner: Best Actor in a Season, Detroit Free Press Awards, 2004
Winner: Best Supporting Actress in a Comedy - Head Nun/The House of Blue Leaves, The Wilde Awards (Detroit), 2004
Winner: Best Actress in a Comedy - Tracy/The Philadephia Story, The Wilde Awards (Detroit), 2003