Kathleen Potts
Assistant Professor
Main Affiliation
Theatre and Speech
Building
Compton - Goethals Hall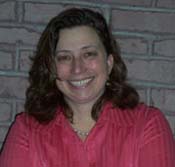 Kathleen Potts
Profile
Educational Philosophy
I take the Department of Theatre and Speech's mission to heart: We strive to connect theory with praxis, regarding it as our responsibility to augment a varied roster of courses with a vital annual season of public performances; to provide the students with a vocabulary, information, and skills worthy of professionals; to draw lessons between the practice of theatre arts and living in the contemporary, multicultural world; finally, to use theatre as an art form, a humanizing activity, and basis for inner growth and personal fulfillment.  
Education
Degrees
PhD in Theatre (History & Theory), The Graduate Center, CUNY
MPhil in Theatre, The Graduate Center, CUNY
Certificate in Film Studies, The Graduate Center, CUNY
MFA in Theatre (Playwriting), Columbia University's School of the Arts
BA in Theatre, University of Southern Maine
Courses Taught
Theatre History 1, 2, and 3, Musical Theatre History, Playwriting, New Play Collaborations, Webisodes: Web Episode and Series Creation, Women's Theatre, Introduction to Theatre Arts, Shakespeare in Text, Dramatic Literature for High School Teachers (Graduate Level), and Foundations of Public Speaking.
Research Interests
Conference Presentations
"Camilla Williams: [African] American Soprano,"  American Theatre in Higher Education's Black Theatre Association Debut Panel, Bridging Communities – Engaging Creativity Conference, San Francisco, CA

"From Roman Gospels to Jewish Shakespeare: Rethinking Our Cultural Paradigms,"  Left Forum's The Center Cannot Hold: Rekindling the Radical Imagination Conference, New York, NY

"No Longer Divine: The Adaptation of Hairspray from Film to Broadway,"  American Society for Theatre Research's "Something Appealing, Something Appalling, Something for Everyone…" Changing Tastes in American Musical Theatre Working Group, Accounting for Taste Conference, Las Vegas, NV.  
Publications
The Professional Actor's Handbook: From Casting Call to Curtain Call; Julio Agustin with Kathleen Potts, Rowman & Littlefield, 2017.
Miss Nowhere Diner, Dramatic Publishing
Additional Information
Awards
Lorraine Hansberry Award for Best Play, Kennedy Center/American College Theatre Festival (KC/ACTF)

Eugene O'Neill Playwriting Fellow, Eugene O'Neill National Playwrights' Conference and Center, Waterbury, CT

Grand Prize Winner, University of Southern Maine Playwriting Festival

 
Professional Associations
The Dramatists Guild of America, Inc.  (Full Member)