Lyn Di Iorio
Professor
Areas of Expertise/Research
Literature of the Americas
Building
North Academic Center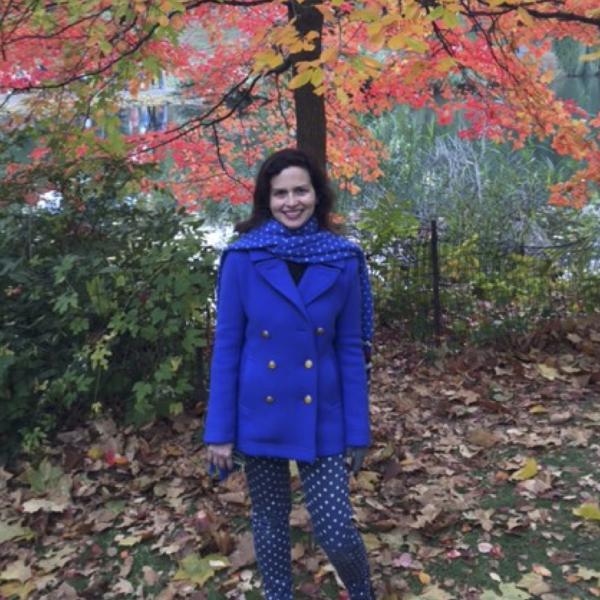 Lyn Di Iorio
Profile
I am both a fiction writer and a scholar and I teach graduate seminars at CUNY Graduate Center as well as literature and creative writing classes at CCNY.  My fiction so far explores outsized and outrageous female characters, and my current novel-in-progress is a work of literary suspense that won both runner-up and shortlist positions in the Faulkner Society Faulkner-Wisdom Novel-in-Progress Contests, most recently in 2015.  My novella OUTSIDE THE BONES (Arte Publico Press, 2011) was a 2012 FOREWORD REVIEW Book of the Year Silver Award winner, 2011 Latinidad List Best Debut Novel by a Latino/a Writer, John Gardner 2012 Fiction Prize Finalist, among other distinctions.  My scholarship explores abjected and emerging subject positions in works by Caribbean and U.S. Latino/a writers, notably in KILLING SPANISH: LITERARY ESSAYS ON AMBIVALENT US LATINO/A LITERATURE (Palgrave Macmillan, 2004). My most recent scholarship was published in JUNOT DÍAZ AND THE DECOLONIAL IMAGINATION (Duke University Press, January 2016).  I studied with Gilbert Sorrentino at Stanford University's Graduate Creative Writing Program, where I was honored as a Patricia Harris Fellow.  As an undergraduate at Harvard University, I was a Harvard College and John Harvard award winner.  At Harvard, I was also a book reviewer for the Harvard Crimson, and a profile writer for Harvard Magazine, and other publications.  While at Stanford, I worked in the summers as a cub reporter for The Boston Herald and The Monterey Peninsula Herald and wrote many news pieces for both.  After Stanford, and before going back to graduate school for a doctorate, I worked as a simultaneous English/Spanish interpreter and translator in the Boston courts and a volunteer fiction editor for Sojourner, a Boston journal.  My translation credits include a poem and the glossary for MY BELOVED WORLD by Sonia Sotomayor (Knopf, 2013).
Education
Harvard University, AB Magna Cum Laude
Stanford University, Graduate Creative Writing Program, MA
University of California at Berkeley, PhD
Courses Taught
Selected Courses:
Fiction Workshops
The Short Story in the Americas
Gothic Literature
Magical Realism in the Americas and Beyond
Caribbean literature
Caribbean Spirits, Colonial Ghosts
U.S. Latino Literature
Latin American Literature
The Madwoman in Literature
Faulkner and García Márquez seminar
World Humanities
Publications
BOOKS (in order of most recent publication):

1. IT'S ALL ABOUT SHOES: A COLLECTION OF ESSAYS, POEMS, AND STORIES ABOUT WOMEN AND THEIR UNUSUAL RELATIONSHIP TO SHOES, eds. Laskin, Di Iorio and Clark (Plain View Press, 2015). This book was Laskin's idea, and she wrote the introduction. As well as co-editing, I also have an essay included in the book called "Parts of a Life in Shoes."

2. MOMENTS OF MAGICAL REALISM IN US ETHNIC LITERATURES. Co-editor with Richard Perez (Palgrave Macmillan, 2013). This study challenges magical realism as a monolithic Latin American literary mode by exploring momentary episodes of "magic" in otherwise realist fiction by African American, Asian American, Iranian American, Jewish, Native American, and U.S. Latino/a writers. This book was my conception. I co-wrote the introduction, co-edited the book, and contributed an essay on trauma and magical realism in Caribbean and U.S. Latino/a literatures.

3. OUTSIDE THE BONES: A NOVEL (Arte Público Press, 2011). A larger than life Upper West Side Latina falls for a musician and tries out a form of dark Afro-Caribbean magic to make him fall in love with her, but instead of finding love she ends up on a collision course with a vengeful spirit. MYSTERY SCENE, the most important mystery genre review venue, said: "Di Iorio…has taken the crime story to a strange and mysterious new place. Adventurous readers interested in Afro-Caribbean culture will want to follow her there."

4. CONTEMPORARY U.S. LATINO/A LITERARY CRITICISM (Palgrave Macmillan, 2007), co-editor with Richard Perez.  This book ws the first work of literary criticism in Latino/a studies that focused on literary works by writers from all the major U.S. Latino/a groups and used sophisticated theoretical focuses rather than sociological interventions.

5. KILLING SPANISH: LITERARY ESSAYS ON AMBIVALENT U.S. LATINO/A LITERATURE (Palgrave Macmillan, 2004, 2009).  This book investigates the trope of the dead woman and abjected identity issues in U.S. Latino/a literature.


SELECTED RECENT SHORT FICTION:

"The Girl with Translucent Skin" in THE NEW GUARD, vol. iv (Winter 2015)
"Her Name is Guanábana" in REVIEW: LITERATURE AND ARTS OF THE AMERICAS, special theme: "Writing and Arts in La Gran Manzana." (Fall 2014)

Exerpt from THE SOUND OF FALLING DARKNESS in THE DOUBLE DEALER REDUX, the Online Journal of the Pirate's Alley Faulkner Society. (Winter 2012/13).

"The Lovesong of Chico Lotario" in GLOBAL CITY REVIEW. (Spring/Summer 2012).


SELECTED ESSAYS:

"Laughing with a Broken Mouth in Junot Díaz's BRIEF WONDROUS LIFE OF OSCAR WAO," in JUNOT DIAZ AND THE DECOLONIAL IMAGINATION , eds. Hanna, Harford Vargas and Saldívar (forthcoming Duke University Press, January 2016). Duke UP describes the book as "the first sustained critical examination of the work of Dominican-American Junot Diaz."

On Being Latina in America and American Literature," ORD AND BILD: Sweden's oldest literary journal, "Latinamerika" issue (Winter 2009, in Swedish translation) and PHATITUDE Magazine (Fall 2011).


SELECTED TRANSLATION:

MY BELOVED WORLD: a memoir by Sonia Sotomayor (Knopf, 2013). Translated the classic 19th century Puerto Rican poem "A Puerto Rico (Regreso)" by José Gautier Benítez from Spanish to English for use in the epigraph and as an appendix. Also wrote the Spanish-English glossary, read and edited the English and Spanish editions of the book, and advised on other issues pertaining to Puerto Rican language, history, and culture.
Additional Information
SELECTED HONORS AND AWARDS:

• Shortlist, 2015 Faulkner Society Faulkner-Wisdom Novel-in-Progress Contest for excerpt from THE SOUND OF FALLING DARKNESS

• 2014 Seán Ó Faoláin International Short Story Competition Long List & "Highly Recommended story" mention for my short story "The Girl with Translucent Skin"

• 2014 finalist in "THE NEW GUARD Machigonne Fiction Contest" for "The Girl with Translucent Skin" (published in THE NEW GUARD LITERARY REVIEW in Winter 2015)

• #2 on 2012 Top Ten "New" Latino Authors to Watch (and Read) List: http://latinostories.com/Top_Ten_Lists/top_10_authors.htm

• 2012 FOREWORD REVIEW Book of the Year Silver Award in the Literary Fiction Category (for my novel, OUTSIDE THE BONES or OTB)

• The Latinidad List Best of 2011: Best Debut Novel by a Latino/a Writer: http://groups.yahoo.com/group/marcelalandres/message/398 (for OTB)

• John Gardner 2012 Fiction Prize, Finalist (for OTB)

• 2011 International Latino Book Award, Finalist (for OTB)

• Runner-up, 2011 Faulkner-Wisdom Novel-in-Progress Contest, Pirate's Alley Faulkner Society, for THE SOUND OF FALLING DARKNESS; excerpt published in THE DOUBLE DEALER REDUX, the online journal of the Pirate's Alley Faulkner Society, Winter 2012/13