Paul A. West
Adjunct Associate Professor
Main Affiliation
Mechanical Engineering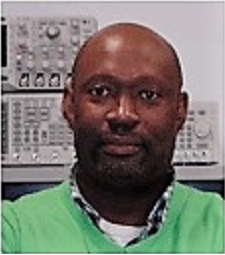 Paul A. West
Interests
Musculoskeletal Research, STEM Education and Laboratory Development. 
Research
Osteoarthritis (OA) and Osteoporosis (OP). Fourier Transform-Infrared Microspectroscopy and Microscopic Imaging, Infrared Fiber Optic Probe sampling, micro-CT and mechanical analysis of bone and cartilage. 3-D printing of bone adaptation models.
Dr. West has multiple presentations and publications in peer reviewed journals.
Stem Education - Faculty Mentor
National Institutes of Health (NIH) Bridges to the Baccalaureate Program
Louis Stokes Alliance for Minority Participation (LSAMP)
Elsevier Foundation for Women in Science Program
LaGuardia (STEP): Science Technology Entry Program
City College Academy for Professional Preparation (CCAPP)
Patents
Determination of the Ultrastructure of Connective Tissue by an Infrared Fiber Optic Spectroscopic        
Probe"; US Patent #09/853,298; UK Patent 0226099
Book Chapter
Chapter title: FT-IR Imaging and Micro spectroscopy
                        Osteoporosis-Methods in Molecular Medicine (2008)
Selected Publications
Monitoring the Progression of Spontaneous Articular Cartilage Healing with Infrared Spectroscopy. 
Megan P. O'Brien, Madhuri Penmatsa, Uday Palukuru, Paul West, Xu Yang, Mathias P. G. Bostrom, Theresa Freeman, and Nancy Pleshko. Cartilage 2015
Temporal changes in collagen cross-links in spontaneous articular cartilage repair.
Masahiko T, Damle S, Penmatsa M, West P, Yang X, Bostrom M, Hidaka C, Yamauchi M, Pleshko N. Cartilage. 2012. 
Fourier Transform-Infrared Microspectroscopy and Microscopic Imaging 
Gourion-Arsiquaud S, West PA, Boskey AL. Methods in Molecular Biology. 2008.
Histological and Molecular Structure Characterization of Annular Collagen after Intradiscal Electrothermal Annuloplasty.
D. Southern, G. Lutz, P.A. West, N. P. Camacho, M. Spevak, A. Bracilovic, S. Doty
The Musculoskeletal Journal of Hospital for Special Surgery, 2006. 
FT-IR Imaging Spectroscopy Analysis of Collagenase-Induced Cartilage Degradation
P.A. West, P.A. Torzilli, C. Chen, P. Lin, N.P. Camacho. Journal Biomedical Optics 2005.
Journal Reviewer: The International Society for Optical Engineering