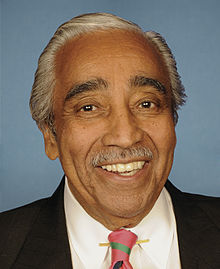 Congressman Charles B. Rangel served New York's 15th Congressional District for nearly 50 years. Congressman Rangel combined a dedication to the specific needs of his Harlem and Washington Heights constituency with an expansive viewpoint that led him to leadership on a broad range of national and international issues in the House of Representatives. From Harlem to South Africa, from affordable housing to help for the unemployed, from tax legislation to international trade, his work has always been characterized by a fundamental commitment to equity, justice and inclusion.
As Chair of the Committee on Ways and Means, Congressman Rangel was a major voice for equity in the Internal Revenue Code and proposed tax legislation. As a Congressional advisor to the U.S. Trade Representative and a member of the President's Export Council, he worked tirelessly to build consensus on international trade matters. In addition, he authored several landmark bills, including the $5 billion Federal Empowerment Zone demonstration project to revitalize urban neighborhoods throughout America; the Low Income Housing Tax Credit, which helped finance 90% of the affordable housing built in the U.S. in the last 10 years; and the Work Opportunity Tax Credit, which has provided thousands of jobs for underprivileged young people, veterans, and ex-offenders.
As chairman of the Congressional Narcotics Abuse and Control Caucus, Congressman Rangel lead national efforts to reduce the flow of drugs into the United States and to solve the nation's continuing drug abuse crisis.
He is a founding member and a former chairman of the Congressional Black Caucus. He also served as chairman of the New York State Council of Black Elected Democrats and as a member of the House Judiciary Committee during the hearing on the articles of impeachment of President Richard Nixon.
Awarded the Purple Heart and Bronze Star for his service in the Korean War, Congressman Rangel has authored several pieces of legislation to benefit minority and women veterans, including a successful bill that established the Office of Minority Affairs within the Department of Veterans Affairs. In the area of foreign affairs, he played a vital role in ending the apartheid regime in South Africa and restoring the democratic government in Haiti.