LRC - Microscope Slides
Sophie Davis Biomedical Education/CUNY School of Medicine
Making Reservations
To view microscope slides, reservations must be made in person  at least 48 hours in advance. Students can reserve slides for no more than an hour block of time for each viewing session. Slides can be viewed individually or in groups. To make a reservation, students must:
Go to the LRC reception area and request a Viewing Reservation Form.
Fill out the form and indicate the reservation date and time, and the names of all students who will be attending the session.
If you unable to keep your reservation, please notify the LRC, preferably 24 hours in advance.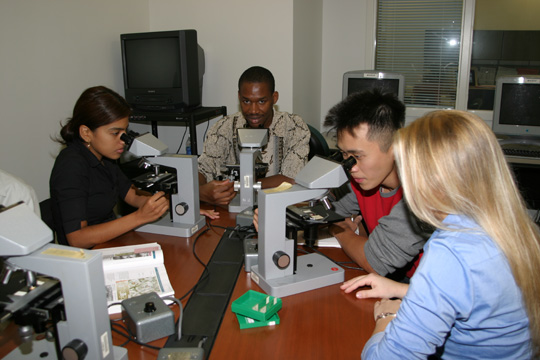 Viewing Slides
On the reserved date:
Arrive on time to your session. If you arrive ten minutes after the reserved time, your session may be given to another student / group.
All group members must sign in electronically at the front desk before beginning the viewing session.
One member of the group must leave his / her student ID card with the receptionist for use of the slide boxes.
At the conclusion of the session, all students must sign out electronically at the front desk.
Each group must make sure all of the slides are returned in the proper order and in good condition.
Note: There is a $10 breakage fee for any broken, cracked, damaged, or missing glass slides.