CONGRATULATIONS!
2018 CCNY Salutatorian; Valedictorian Grove School of Engineering.
Zhiying Zhou
Biomedical Engineering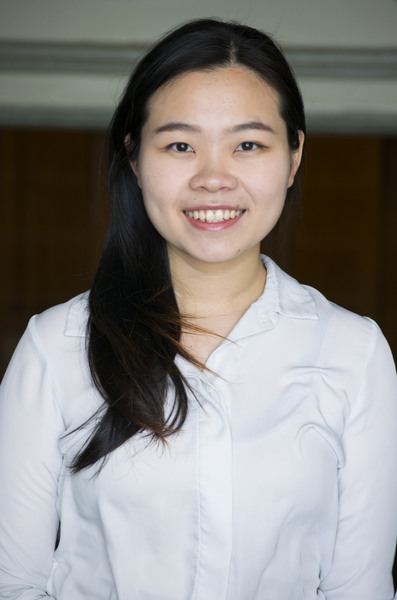 Zhu arrived in New York with her mother and a young sister in 2008, and she began working at age 13 to support her family. Last December, the Bensonhurst resident completed her requirements for a BE in biomedical engineering from the Grove School of Engineering with a 3.91 GPA.
     Since her freshman year, Zhu has been a Student Support Services Program student, mentor and tutor, and in 2015 she earned SSSP's highest academic honor, the Charlotte and Arthur Zitrin Scholarship.
     Zhu worked two or more part-time jobs while completing the rigorous engineering curriculum. Challenging as the last few years at CCNY have been, her passion for research and healthcare has only grown stronger.
     Zhu gained both research and bedside care experiences at several institutions, including CCNY, Memorial Sloan Kettering Cancer Center, Regeneron Pharmaceuticals, the University of Texas at Austin and the National Cancer Institute. At the latter, she collaborated with clinicians and scientists and assisted in various phases of research from data acquisition to manuscript writing. She said the technical skills she acquired from these experiences prepared her for a more engineering-oriented role in medicine.
     A month after commencement, Zhu will sit for her MCAT exam with the goal of pursuing an MD/PHD and a double career as a medical doctor and researcher. Her dream is to merge the gap between bench-side research and bedside care.
     Zhu's accolades at CCNY include a NASA New York Space Grant Fellowship, the Harold Shames Award for Undergraduate Excellence, a Colin Powell Fellowship in Leadership and Public Service, the Charlotte and Arthur Zitrin Scholarship and the Jewish Foundation for Education of Women Scholarship.
Berenice Oseguero, BE.
CCNY Masters Student in Environmental Engineering
I am an Environmental Engineering Master's student at CCNY that also obtained a Bachelor of Engineering in Environmental Engineering at CCNY. I am a first generation college student and my parents did not speak English well. As an undergraduate student, I took advantage of the tutoring offered with SSSP for math and science. I struggled with calculus and the tutoring helped me with the homework and with studying. I was also provided with a mentor that I kept in touch with all the way to graduation. We even took classes together and she was very helpful. The adviser I was assigned to also helped me a lot, especially with information on available scholarships and even offered to write recommendation letters for my applications. One advice I would like to offer students is to consider also joining a club relevant to your major to help you determine if you truly like your major. Do not solely base it off of any struggle you are facing with classes!
However, (which you do not have to include in the bio) I would like to mention that while I was struggling with math, my SSSP adviser suggested I reconsider my major. I honestly am happy I stuck with engineering because I was able to successfully complete it and truly love it. I would recommend advisers suggest students to become part of engineering clubs to figure out if engineering is for them before telling students they should just change majors. Finally, I would love to mentor another student. Unfortunately, I would be unable to give a short talk unless it is in the evenings since I work full-time.

Edward Sarfo
BS 2018,
IRTA Fellow of the
National Institute of Health
National Institute of Allergy and Infectious Diseases (NIH/NIAD)
Edward Sarfo received an Intramural Research Training Award at NIAD in Bethesda, Maryland and is involved in research on vaccines at the world renowned Vaccines Research Center. The group is focussed on vaccines for infectious diseases such as Ebola, Influenza, HIV and other emerging diseases. He likes the research and is learning a lot from the experience.
At CCNY Edward Sarfo was a biotechnology student with chemistry and liberal arts honors. He began doing research as a freshman in the lab of Prof. Zimei Bu of the Department of Chemistry and Biochemistry. Mr. Sarfo was part of the NERA-MedPREP program, which enabled him to spend a summer researching at Columbia University, and two summers at the Mount Sinai School of Medicine. At Mount Sinai, his research aimed at devising effective vaccine regimens against HIV-1. He also worked in a neuroscience lab where his project used a rat model to study differences in neurons in autism spectrum disorder (ASD). He is an NIH Maximizing Access to Research Career (MARC) scholar and has presented his research at multiple local and national conferences, such as the Annual Biomedical Research Conference for Minority Students in 2016 and 2017. His numerous academic awards include the Arthur and Charlotte Zitrin Award, the Meyer & Gloria Fishman Academic Scholarship, the Ira & Cecile Weber Academic Scholarship and the Alpha Phi Omega Schol-arship. He is a volunteer leader at the New York Presbyterian Hospital in Queens and a team leader at New York Cares. His service and leadership has earned him the United States President's Volunteer Service Award (PVSA) for three consecutive years. He enjoys tutoring and teaching, having served as a tutor for CCAPP and SSSP's Academic Resource Center. He en-joys playing or watching soccer during his leisure time. While in college, he has traveled to Vietnam and studied in Amsterdam. For the future, he plans on getting either a Ph.D or MD./Ph.D. with a focus on infectious diseases.
Kaisa Ajaye
B.A., English
Kaisa Ajaye, a City College of New York who majored in English, was the recipient of a $10,000 fellowship from the Women's Forum Education Fund. The award recognizes extraordinary and often heroic efforts in overcoming adversity in restructuring lives for success. 
Ajaye was one of 15 Fellows selected by the Women's Forum of New York for their "superior qualifications, accomplishments and commitment to education after overcoming many of life's adversities."  The cash award is an added incentive for them to complete their education.
Ajaye first began her education 34 years ago when she entered The Pennsylvania State University. At age 19, she left (after a year) when her mother died suddenly, leaving her orphaned.  Ajaye later overcame unemployment, homelessness and life-threatening medical issues.
Her professors at City College have described the Manhattan resident as a gifted student and tutor. Ajaye's goal is to write, to promote literacy at an early age, and eventually teach creative writing at the university level.
About the Education Fund
The Education Fund of the Women's Forum provides annual awards to encourage mature women of need to fulfill their potential through the pursuit of an undergraduate college education and to enhance their capacities to provide productive and supportive service to their communities.
SSSP at CCNY
Student Support Services Program (SSSP) is an actual task force made up of a diverse group of qualified compassionate fixers. I've learned this first-hand. I learned of the program my second year at CCNY. How fortuitous! Under the helm of Dr. Elizabeth Thangaraj, the counselors and support staff have consistently displayed a level of commitment one usually equates with one's friends. I've considered dropping out of school many times because of crippling hardships; but, the SSSP staff went out of their way to find solutions so that I could complete my studies.
There are resources at CUNY and beyond; however, most students aren't aware that such resources exist. Student Support Services Program connected me to the proper channels, ensuring that I had access to grants, scholarships, networking and employment opportunities geared toward my major. And their wealth of help extended beyond my expectations. Last year my SSSP counselor went with me to the hospital (for a critical medical procedure) when I had no one else. I'm not a lucky person; but I feel extremely lucky to have these wonderful professionals as part of my life.
I urge all incoming and continuing students to reach out to SSSP. I thought such an organization was a CCNY myth, that people like these, real people, didn't exist any longer in this age of disconnection. Gladly and clearly, I was wrong.
--Kaisa Ajaye
Taha Abdulla
PhD, Chemical Engineering (Lamar University)
Senior Engineer and Technology Leader
They call me doctor now—extremely peculiar to my ears! I was born to wonderful parents in Aden, Yemen:   One who sacrificed his family time by consistently being across seas (in America) working blue collared jobs to keep his family in Yemen well fed and dignified, while the other was with her kids step by step, being the builder of values of the family.  Hard work was never a choice in our house—it was mandated.  It's hard to believe that my mother, who has been so adamant about her seven kids to be educated in all aspects of life, was only given a chance to go up the educational ladder of 4th grade as a maximum limit. It wasn't that she didn't have the choice, but it was just the culture of that place at that time. Unfortunately, my older sister followed what she saw as normal—and also left school in the 4th grade. Whether it was gender related or not, the opportunity for learning wasn't necessarily encouraged.
As us kids grew up, we had a chance to come to America—where we had at this point "no choice but to educate ourselves", as my mother firmly continued to say. In the back of my mind, I humbly always felt the need to be a different example to my family—especially my younger sisters.
With time, high school was upon me, whereby I had to overcome language barriers just to pass it. I must thank Ms. Rae-Ann Fischer almost exclusively for the English part. Then I was welcomed by CCNY.  There were many things that made this University beautiful but two things stood out: The ubiquitous diversity in both ethnicities and intellectual backgrounds and the Student Support Services Program (SSSP) led by Dr. Elizabeth Thangaraj.  I would like to focus on the latter as I don't think it gets much credit. The SSSP was such a comfort zone for me. Firstly, I found in it many students who had very similar upbringing as I did—which played a huge role in making the place feel like home for me. What's special about it is just as it helped me in its tutoring programs, being a Zitrin Scholar and having great counseling, it also gave me a chance to give back simultaneously by being a tutor and a mentor.
Since I graduated from CCNY in 2010, I joined DuPont as a Chemical Process Engineer in Chattanooga Tennessee. There I also got my Masters in Chemical Engineering at the University of Tennessee and received an Excellence Engineering Award. I then transferred to Texas with DuPont, where I started my Doctorate in Chemical Engineering at Lamar University. I graduated from there on May 21st 2016. Yes—working while simultaneously doing school was a tough choice—but it's doable. I'm now a Senior Engineer and Technology Lead in one of the world's biggest Mega Projects ($21 Billion worth) with Sasol in Lake Charles, Louisiana.
More than anything mentioned above, I'm proud of two important parts of my life: Choosing the most wonderful life partner (my wife), and seeing my youngest sister graduate valedictorian of the 5th Grade this year! The latter, especially, means so much to me—the fact that my oldest sister had no means to go beyond 4th grade and my youngest being valedictorian and having aspiration "to hold a doctorate like [her] brother" melts my heart. At the end of the day, if we aren't here on this earth to be inspirational to those whom we love and those around us—even in the slightest of ways—then why even pursue education? I truly believe that part of that mentality was instilled in me via the SSSP in its many altruistic means. 
 

Rubaiya Faruque B.S., Psychology, Medical Student (University of Pikeville-Kentucky)

My name is Rubaiya Faruque, a former student of SSSP. I graduated from CCNY with a BS in Psychology and have recently started my exciting path on becoming a physician at University of Pikeville-Kentucky College of Medicine. SSSP has been a great resource for me while I was in undergrad and one of the reasons behind my successful journey towards medical school. Other than financial and academic support, it has been a stress-relieving place for me. SSSP has been a place where I was encouraged to push my limits to discover my true potential. I have met some wonderful friends/human beings at SSSP with whom I plan to have long-term relationship with. I worked as a mentor, student aide and tutor for SSSP. I strongly believe in giving back to community, so please if anyone has any questions for me, don't hesitate to email me at rfaruque12@gmail.com . I would be more than happy to answer any questions you may have for me. Thanks!

 

 

 

 

Kaveh Bastani BE, Science Teacher

Dear Dr. Thangaraj

I am doing great and hope that you and the team are also doing fine. I am still working at the Global Community Charter School as a science teacher. I teach science to second, third, fourth, and this year also to fifth graders. I also help administering the State exams for the fourth graders. The change has been challenging at times, but it has been mostly fun for me. This school is in a high-need area in Harlem and has mostly low-income students. Both our children, Issa and Julia, go to GCCS, so I have a real interest for this school to become one of the best in NYC.

CCNY and SSSP prepared me well for the job I am doing now. CCNY taught me mainly how to be an inquirer and SSSP helped me to be a better communicator. Studying in a college is a very intense experience and it shapes the future professional in us. This was not too clear to me when I was a student as it is now. I was often tempted to think that some classes and occurrences were not too important for my future, but right now I have come to the understanding that all those classes and experiences are very precious to me and are a source of wisdom in my current professional life. Most importantly, having the privilege to interact with my peers within an organization as the SSSP gave me the opportunity to be an actor and solver of problems. That is the best kind of real life practice that we can get as we are still a student. I don't think that I would want to miss even one minute of time that I spent in the CCNY and SSSP.

Thank you so much for all your help and please forward my greetings to Vatsala, Tyson, and Ahalya.

 

 

 

 

Prince Baawuah BA, MPH, Health Insurance Specialist

"Deamonte had lost his life because of an untreated $80 toothache. His parents had lost their health insurance and did not have enough money to offer him the right treatment at the right time." It was during one of the career seminars at the 2008 Summer Medical and Dental Education Program (SMDEP) where Dr. Formicola, a retired dean of Columbia University School of Dental and Oral Surgery, concluded his lecture with the story of 12-year-old Deamonte Driver. It was my second summer in the United States from Ghana, and I was shocked to hear this kind of story from a land I thought to flow with milk and honey. But it was fitting, as I had interest in healthcare related careers, and wished to learn more about the healthcare system provided in the land of opportunity.

 

This was the summer between my first year of college at Lehman College (Bronx), and my plan to transfer to another college. CCNY became the pick, because it was at home - NYC, and was loan-free (enough grants, work-study, and scholarships) to cover everything. I came to CCNY as a biological-science-major-premed student; however, from the summer experience, I had changed my mind to doing a social science major. With an Economics background from High School, I choose to do Economics. Lost in my first couple of weeks at CCNY, SSSP became a buddy! SSSP took me on, gave me a super-duper fabulous mentor (Deborah Ayeni - Debbie), and staff (Vatsala Ponnuraj, Dr. Thangaraj, Ann Bascom, Carlito, Mr. Aponte) whose lives exhibit the program they work for - Service & Support Students!

 

There are two experiences in the SSSP tutoring lab I cannot forget:

 

Running to Debbie after my first organic chemistry 1 exam: Orgo is "hard" and the professor I had wasn't the one most of my current students would highly recommend. Debbie encouraged me that it was going to be alright; she took me through some concepts, helped me to find better ways to study for it, and I came out of the class with an A. By the end of the semester, even until now, orgo has been one of my favorite classes. I became the economics major student tutoring organic chemistry in the lab.
Times when Jian Lui (Math student), Kuang (Electrical engineering student) and I (Economics student) will sit down to crack numbers and puzzles on math and how it relates to real life. It was just a fun way of learning with my fellow SSSP students.

 

Whew!!! It's 5 years already since I graduated from CCNY. With the support from family, friends, mentors & SSSP, I graduated with a summa cum laude; I received the Ward Medal for being the Outstanding Economics and Business Student, and the Friedman Scholarship fund Award for Excellence in Economics. I was blessed to enrolled in the #1 US News & World Report Health Management & Policy program at the University of Michigan School of Public Health with a full out-of-state tuition scholarship; coupled with being one of two students in the United States to be awarded with the Hospital Corporations of America (HCA) Corris Boyd Health Management Scholarship. An example of hands on project I worked during my studies at UMSPH is the use of system operations tools to identify, quantify and recommend optimal use of resources to decrease variability in resource utilization and wait times for patients and families to increase throughput without compromising quality in Pediatric Hematology/Oncology clinic.

 

"We make a living by what we get but we make a life by what we give" Winston Churchill. Throughout my life, as I have been given, I do my very best to be giving. I love to reach out to my community; to those underserved and underprivileged by serving as a mentor, tutor, and serve as a missionary. During my time in college, I served as volunteer peer mentor to new students, I presented on various summer internship avenues, I tutored as a Zitrin Scholar, I volunteered at Harlem hospital Hip Hop Public Health Program, from which I received the Harlem Hospital Volunteers award, and the Westen Public Service Scholar Award from CCNY. I received several Special Services and Leadership awards from SSSP.

 

I also served as the youth leader at First Ghana Seventh-day Adventist church in the Bronx. I served as a missionary after college (Summer 2011), and took a year off in between my masters program to serve as a missionary (2012/2013 academic year) with the Center for Adventist Ministries to Public University Students (CAMPUS); with EAGLESonline Center for Leadership Development to host an Excellence conference in Ghana (Summer 2014), and recently in Allentown, PA with Simplicity Community Outreach (Summer 2016). I currently serve as a youth leader at Washington Ghanaian Seventh-day Adventist Church. We plan, and host programs for our youth and the community. One example is our 3 hour Sunday tutoring and homework help program at the Howard Community College in Columbia, MD. Moreover, I serve on the executive board of the North American Ghanaian Seventh-day Adventist Youth and Young Adult ministries which plans and execute youth programs for Ghanaian Adventist youth across US and Canada.

 

It's been 7 years now and Deamonte's story still moves me in my career. It is noteworthy that I now reside in Deamonte's state - Maryland, working at the federal agency that guides policies on the federal-state Medicaid programs, the insurance program Deamonte's family had lost - The Centers for Medicare & Medicaid Services (CMS). At CMS, I work as a Health Insurance Specialist with the Medicare Part C program. My team manages the operations of risk adjustment policy payments to over 600 health plans providing services to over 16 million beneficiaries across the US.

 

There are SSSP lessons that I've learned in my life and want to share:

Be a Student: "When you graduate today, and stop learning tomorrow, you'd become an illiterate the next day" Dr. Samuel Koranteng-Pipim
Be a Support: "No one is useless in this world who lightens the burdens of another." Charles Dickens
Be of Service: "...the Son of Man did not come to be served, but to serve, and to give his life as a ransom for many." Jesus
Be Personable (Nice): "It is nice to be important; but it is more important to be nice." Unknown  

Be a living SSSP everywhere!!!

 

 

 

 

Deborah Ayeni, PhD Candidate PhD Candidate, Yale University

Deborah is a 5th year PhD candidate at the Yale School of Medicine. Her research explores the conundrum of relapse commonly observed in cancer patients following an appreciable response to therapy. Using lung cancer as a model, her work investigates the highly promising potential of combining agents that stimulate the immune system with small molecule inhibitors that specifically target tumor cells. Deborah's research is supported by the CUNY Salk award, a 3-year fellowship from the National Science Foundation, the Yale University Gruber and Annie Le fellowships and a 2-year NRSA fellowship from the National Cancer Institute.

In 2014, she was recognized as a student leader by Women werk, in honor of the international women's day. Also, in 2016, She was awarded the young African Scholar award by the African Youth Excellence organization.

Deborah got her bachelor's degree from the City College of New York where she received numerous awards including the Minority Access to Research Careers (MARC) and the City College fellowships, which supported her undergraduate research work. She is a first author on the publication of that work. She is also a recipient of the SSSP prestigious Arthur Zitrin Award. While in New York, she pioneered a one-on-one weekend tutoring sessions for middle and high school students at her church, where she prepared students for the mathematics regents examination. She also ensured the sustainability of her efforts in this area by mentoring the next generation of tutors before leaving New York for graduate studies in New Haven. Her commitment to community service is on display in the New Haven community as well, as she volunteers with the non-profit organization New Haven Reads, which fosters reading and learning in children within the community who may not have access to needed educational resources.

While at Yale, Deborah has served as the Editor-in-Chief for the quarterly newsletter at CNSPY, a student and post-doc led organization committed to providing graduate students and post-docs within STEM disciplines with the platform to explore diverse career options, as well as connect them to established mentors within their career of choice.

A native of Nigeria, Deborah witnessed the dire consequences of the poorly regulated production and importation of food and drug products on close friends and family members as a young girl. This has inspired her strong resolve to pursue a career in health policy, specifically focusing on the regulatory practices of industries.

Deborah credits her accomplishments to her family and fiancé who believes fiercely in her and to God who sustains her.

 

 

 

Diondra Bailey Master's Student in Social Work

My name is Diondra Bailey. I graduated from CCNY in May of 2011. After I graduated, I joined the United States Navy and I was a Master-At-Arms which is military police. My orders landed me in Omaha, Nebraska. After being in the military for one year, I discovered my passion to become a social worker. I applied for my Master's degree in social work in a part time program which has a focus on the Hispanic population within the United States. I finished my four years in the military in April and I initially started working as a youth worker at Children's Square USA. I worked in the emergency shelter and would occasionally work in the residential cottages that was for children with severe behavioral or mental problems. I recently started working as a program assistant for the after school program at the non-profit agency, Completely Kids. Completely Kids provide opportunities and case management services for children that are living below the poverty line. I will be graduating with my degree in the fall of 2017.

 

 

  Yasodra Singh BS, Chemistry

My name is Yasodra Singh and I graduated from City College in 2014. I graduated with a Bachelors of Science degree in Chemistry, concentration in Biochemistry. I was apart of the Student Support Services Program from freshman to senior year. I was also the president of the SSSP Fusion Club for two years. After graduating, I continued to work as a Dental assistant, a job that I had from sophomore year of high school into college. After graduating, I feared that my lack of experience in chemistry would hinder my opportunities in the work field, causing me to question my knowledge and skills. I spent a year after graduating doubting myself but decided that I had nothing to loose by applying to jobs in the field, which I've spent years studying to be in. In a matter of weeks after sending out my resumes, I received countless emails from interested companies. Today I am an Associated Chemistry Technician at a Food Science Laboratory. I've spent a few months training and I now specialize in many different types of extractions that range from pesticides to seafood testing, and also the ability to analyze samples on HPLC machines. In April of 2016, our company received a special project from a major food distributor; I was chosen to be the technician in charge of this project. Although it was a major undertaking, the results were very rewarding; I recently finished Phase IV of this project. This is major accomplishment for me in such a short timeframe and to give you a perspective as to why, I started this job February of 2016, which proves that a lot can happen in a matter of months.

So with that being said, if there is one piece of advice that I can share with future graduating classes, please don't ever sell yourself short, believe in yourself and your abilities to perform in whatever field you desire.  Use myself as an example, I received a job within weeks of applying and received a major project with months of being there. I did not believe in myself but when I did, the opportunities came to me.

It is also very important to utilize that the resources that Student Support Service Program has to offer, internships are very important. The unfortunate truth is that you need experience in the work field; if internship opportunities are present, utilize them.

Good Luck and Study hard!  

 

 

 

 

Fathima Farah Naushad Medical Student, Ross University

Fathima Farah Naushad is a 3rd year medical student at Ross University School of Medicine, hoping to pursue her medical career as a Pediatrician. She graduated Summa Cum Laude from City College of New York with Bachelors of Science in Biology. She was a pre-med student and was involved in several extra-curricular activities. With a strong interest in clinical medicine, she started volunteering in Neonatal Intensive Care Unit (NICU) at Elmhurst Hospital Center where she helped the nurses and the patients at the Maternity & Childcare Unit. Farah was also involved in research studies at the Neuroscience Department in CCNY where she assisted the research associates with analyzing the experimental videos. Furthermore, she started shadowing a cardiac electro-physiologist at St. Luke's Roosevelt hospital. She observed cardiac surgeries and it was one of the most influential experiences she had out of the many.

Throughout her undergraduate studies, she was a part of the Student Support Services Program which benefited her immensely with their guidance, motivation, moral, and emotional support. She was a mentor, tutor, student aide, and Zitrin scholar with SSSP that helped her gain a positive teaching and learning experience with fellow students. Thus, enhancing her communication and leadership skills. Farah has a built a very strong and unforgettable relationship with the SSSP staff that she will cherish forever.

Farah is also a recipient of numerous awards at CCNY. She was honored to be in the Science Department Dean's list since her 2nd semester and received the Outstanding Academic Achievement Award from SSSP. In the year 2011-12, she received the Rose A. Lahman Scholarship from the Science division at CCNY. Farah was a proud recipient of the Charlotte and Arthur Zitrin Scholarship. Her affiliations include Golden Key International Honor Society, Chi Alpha Epsilon Honor Society, and Alpha Epsilon Delta Honor Society.

 

 

 

 

Samantha Abbondanza Director of Human Resources, Goffa International Corporation

Samantha Abbondanza graduated from the City College of New York (CCNY) in May 2015 with a Bachelor's in Sociology.  Currently, she works as the head of Human Resources at Goffa International Corp., a small company in New Jersey that manufactures and distributes toys worldwide.  When not at work, you can find Samantha helping out at the local church, where she serves as the events coordinator.  Samantha is thankful to the Student Support Services Program at CCNY for enabling her to carry out her passion for helping others on a daily basis