The MFA in Creative Writing Presents, Rumi: Unseen Poems
Dates
Tue, Nov 12, 2019 - 05:00 PM — Tue, Nov 12, 2019 - 06:30 PM
Event Address
North Academic Center
160 Convent Ave
Event Location
CCNY Cohen Library
Archives, 5th Fl.
Event Details
CCNY MFA in Creative Writing Presents, Rumi: Unseen Poems
A reading of a new translation of the 13th century Persian Sufi poet, Rumi 
with authors Maryam Mortaz and Brad Gooch. Moderated by author and translator, David Unger 
Tues, Nov 12, 5:00 - 6:30pm
CCNY Cohen Library, Archives, 5th Floor
Maryam Mortaz is an Iranian-American writer and translator. An alumnus of two graduate programs from the City College – MA in Creative Writing and MS in Mental Health Counseling, she has published a collection of short stories in Persian and her works in English have appeared in such journals as Bomb, Poetry magazine, New Review of Literature and Callaloo. She lives in New York City where she works as a private therapist.
Brad Gooch is the best-selling author of Smash Cut, Flannery and City Poet. He wrote the first popular biography, Rumi's Secret: The Life of the Sufi Poet of Love (Harper, 2017) and Rumi: Unseen Poems (translation by Brad Gooch and Maryam Mortaz, Everyman's Library, 2019).
This event is made possible through the generosity of the Estate of Kenneth Kowald Fund for Advancing American Literature and the CCNY Cohen Library Archives.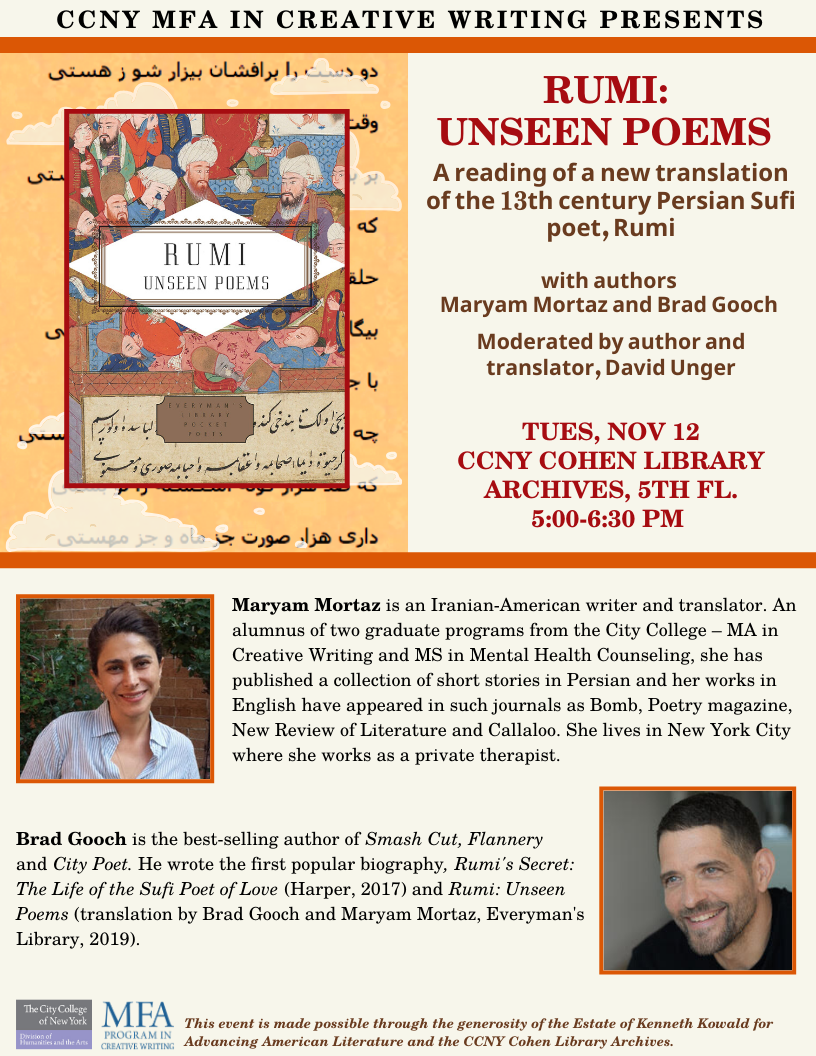 Back to Departmental Calendar
Back to calendar of events