Climate change Fellowship Program

The Climate Policy Fellowship Program is designed to support CCNY undergraduate students from the sciences, social sciences, architecture and engineering degree programs with training, professional development, and internship opportunities that link climate-related science, engineering, and economics to public policy. Fellows participate in four intensive workshops led by a range of senior national and international climate policy leaders. The workshops  prepare fellows to understand how science, engineering, and economics research affects public policy, and how policy-making shapes these fields of research.
Deadline: The deadline for the Fall 2021 cohort is March 15th, 2021. An updated application form will be available in December 2020. Applicants must submit materials to cpsfellowships@gmail.com .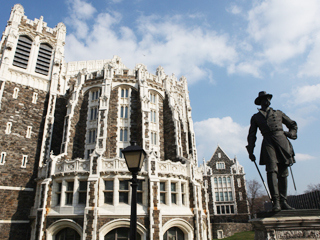 1-year program
- Workshops
- Policy Brief
- Internship

$500 stipend each semester
$3,500 stipend for approved summer internships.
Deadline: 
March 15th, 2021

Shanley Augustin
Shanley Augustin grew up in Haiti and moved to the United States in 2016. He came to The City College of New York as a biology major but later joined the Colin Powell School to study economics and finance due to his strong interest in the social sciences, based on the circumstances in which he grew up in Haiti. Having been exposed to the economic impacts of political instability, natural disasters, deforestation, and health crises, he hopes to build a career centered on the environmental and social impacts of financial institutions. As a Climate Policy Fellow, Shanley hopes to learn from lawmakers and get a closer look at how policy can affect carbon emissions, energy consumption, economic growth, and green job creation. He is a co-founder and the Vice President of the City College Club for Nature, Rational Thinking and Humanity, whose mission is to create an environment that welcomes curious minds willing to engage in thoughtful conversations on social issues, science, philosophy, and our future as a species. In the past, Shanley has volunteered with the All-Stars Project, a national nonprofit, and the Mount Sinai St. Luke's Hospital. During his free time, Shanley enjoys theater and films, specifically related to stage combat and stunts.

Arjeta Balidemaj 
Arjeta Balidemaj is a sophomore at Macaulay Honors College at CCNY. She is a biology major who is eager to expand her science knowledge and help make a difference in every way she can. Science was always one of Arjeta's favorite subjects in school because it allowed her to question her surroundings and the way the body and the world work. Her experience in an aging and metabolism lab at Mt. Sinai in the summer of 2017 ignited a passion in neurology. Currently, she works at a public library and interns at the CCNY President's Office. Her hobbies include collecting and reading Stephen King novels, finding cozy coffee spots in the city, and going to the gym. Arjeta is the oldest of four children, and she loves to spend time with her siblings whenever she can. Her vibrant and ambitious nature allows her to achieve whatever she sets her mind to.
​​​​Lesly Calle 
Lesly Calle was born and raised in New York City. She is the daughter of Ecuadorian immigrants and, as the first in her family to attend college, she feels incredibly fortunate to have found support at The City College of New York. Lesly is a Macaulay Honors scholar pursuing a degree in business administration and economics. She is most interested in exploring the connection between sustainability and economic policy in the United States. Her interests include environmental sustainability, minority rights, and economic inequality.

Orlando Castillo
Orlando Castillo majored in physics at The City College of New York. He conducts research at the CUNY Advanced Science Research Center in the nanoscience initiative, where he helps to build clean energy engines that run on evaporation and that can be used to power boats and vehicles. He would like to pursue a master's degree in sustainability and the urban environment at City College. Orlando wants to help NYC become the first large city to run on clean energy and have a zero carbon footprint. He intends to focus his attention on commercial and residential buildings and waste management. As a climate policy fellow, he is eager to learn the fundamentals of public policy, how climate policies are passed, and how they affect people at the national and international levels.

Akib Chowdhury 
Coming from a country that has experienced devastating events due to global warming and climate change, and having experienced them firsthand, Akib has always wanted to help change the way we utilize our resources. Currently, he is pursuing a bachelor's degree in mechanical engineering at CCNY. Through classes on fluid mechanics and heat transfer, he has developed a better understanding of how human interactions have greatly affected the state of our planet. He wants to use this knowledge to work in the field of energy engineering and sustainability. In the future, Akib wants to contribute to making NYC a model, modern city that has taken great steps toward tackling climate change and has done its part to help improve our environment. With the recent deadly heat waves striking Europe and the global temperature constantly rising, he sees the need for more legislation like the Paris Accord and Obama-era fuel economy standards for cars in order to help build a more sustainable future. Akib believes the best way that we can tackle climate change is by having government officials lead us with new policies and legislation. As an engineer, he wants to contribute to these policies, use his knowledge to work together with others, and be a part of this change in order to help maintain a safe and viable planet.
​​​​Jennifer Duong 
Jennifer Duong is a second-year environmental engineering student at the Grove School of Engineering at The City College of New York. Jennifer has had extensive experience working at various research facilities throughout New York City. Previously, at Long Island University, she worked to develop simple methods for large-scale, eco-friendly synthesis of electrospun nanomaterials for applications in thermal energy storage. She is now working to assess lake water quality and quantity using satellite remote sensing at NOAA-CREST. Recently, Jennifer was selected to participate in the 2019 Energy Boot Camp offered by the CUNY Building Performance Lab, where she learned about the high demand for energy efficiency in New York City and how policy has helped to boost this demand. After meeting and speaking with leading industry professionals, Jennifer's interest in environmental policy has only grown. She is excited to further explore this interest as a 2019 Colin Powell School Climate Policy Fellow.

Courtni Holness
From a young age, Courtni has been concerned about the damage that human activities contribute to the environment. The daunting headlines about the existential threat that climate change has created, along with her love for the earth, helped her interest in the environmental sciences bloom. Courtni began environmental studies at Hunter College in 2015 after she moved from Arizona to New York. After she was accepted to The Grove School of Engineering in 2017, she transferred to City College to continue her studies in Earth system science and environmental engineering. Alongside her engineering coursework, she is involved in professional development and leadership-building opportunities on campus. Her main goal is to educate people about climate change and inspire them to engage in pro-environmental behaviors. Courtni is currently conducting undergraduate research where she is applying her technical engineering skills to estimate current and future distributions of cloud forests in Mexico. In the future, she hopes to continue applying her efforts toward climate change mitigation using an interdisciplinary approach to provide frameworks for the implementation of sustainable practices.

Mohammed Hossain
Mohammed Hossain is majoring in mechanical engineering at the Grove School of Engineering, with a concentration in clean energy and sustainable systems. He has spent the last three years focusing on building science and climate policy within US cities. Over the past three years, he has participated in internships through City College's Zahn Center of Innovation. These internships have given him the opportunity to expand his knowledge in multiple fields, including promoting Wi-Fi thermostats to communities in New York State and being able to conduct research on energy policies in US cities. He would like to help create carbon-neutral, urban environments across the country. In his spare time, he enjoys biking around the city, looking for new places to eat, and taking photos.
​​​​Michael Hubbs 
Michael Hubbs is a senior at CCNY's Grove School of Engineering. He is majoring in Earth system science and environmental engineering, and plans to minor in computer science. Michael chose this major because he wants to attain the technical expertise to address an issue that he sees as one of the biggest challenges of his generation, and to make a positive impact. His past internships include working as a Process Research and Development Intern at the NYC Department of Environmental Protection's Bureau of Wastewater Treatment; an Energy Efficiency Intern at ICF through NYC's Retrofit Accelerator program; an RFCUNY student researcher at CCNY; and a TRELLIS Summer Bridge intern at CCNY. Through his studies and work experience, he has acquired various skills and discovered passions for data analysis, computer programming, and process engineering and design. Upon graduation, he would like to combine these skills with his desire to address environmental issues. He is excited to be a climate policy fellow, to learn about environmental policy, and to develop a more holistic understanding and skillset with which to combat environmental problems. In his free time, Michael enjoys singing, making beats, and playing piano and guitar.

Isabella Joseph 
Isabella Joseph is a fifth-year undergraduate student and Macaulay Honors University Scholar majoring in architecture and minoring in anthropology. Her academic and professional development is driven by her commitment to learning how architecture can build a synergetic relationship between people and their environments. In pursuit of her goal of becoming a civically-engaged architect, she has held internships at the New York City Housing Authority's Energy and Sustainability Department, at the Bond Center for Urban Futures, and most recently, at the global architecture firm Kohn Pedersen Fox (KPF). At KPF, she works on the Changi International Airport expansion project in Singapore, which is on track to become the world's largest airport facility. As a member of the inaugural class of Colin Powell School Climate Policy Fellows, Isabella hopes to continue to contribute her voice, skills, and perspective to form interdisciplinary and contextually-specific solutions to the most pressing urban issues, including climate change.

Aryaana Khan
Aryaana Khan was born and raised in Bangladesh, a country that experiences massive flooding every year as a result of climate change. Four years after moving to New York, she began doing climate advocacy work with various nonprofit organizations, such as Global Kids and the Alliance for Climate Education. She has taught hundreds of youth and adults from around the country about the science of climate change and encouraged them to take action. As a youth activist, she has done grassroots organizing for actions such as the 2016 People's Climate March and the 2018 NYC Zero Hour Climate March, and participated in policy work on a local, national, and international level. This year, she became a NYC Youth Poet Laureate Ambassador and began using spoken word poetry to further spread awareness around varied issues, including the climate crisis. She is an undergraduate student majoring in biology and a Climate Policy Fellow at The City College of New York. In the future, she hopes to continue using her creative voice for good, as well as to pursue a medical career in which she can mitigate health impacts caused by larger issues such as environmental inequity and climate change.
Darren Lin 
Darren is a mechanical engineering student at the City College of New York. Growing up as a Boy Scout, his love for nature and the environment translated into an interest in sustainability and clean energy. As a senior at the Grove School of Engineering, he wants to learn more about how science and engineering can influence climate policy to build a more sustainable future. Darren had his first real experience in clean energy and sustainability at Resonant Energy, a solar development startup aiming to expand solar power to underserved markets, primarily low-credit/income homes and community centers. This past spring, he worked at Willdan, an energy solutions company, to conduct an audit of the lighting, HVAC, and domestic hot water systems in their Brooklyn office. With a growing set of analysis, research, and communication skills, Darren is looking forward to shaping the future through engineering and public policy.

Salina Liu 
Salina is a second-year Macaulay Honors College student who is majoring in mechanical engineering. She is excited to be part of the Climate Policy Fellowship and to learn how she can promote sustainable practices amongst individuals and in communities as a whole. Her main interests are related to plastic waste disposal and materials production policies because she has been very passionate about ocean conservation since she was a child. Her love for animals and for the conservation of nature's beauty and resources drives her to pursue the search for solutions using her creativity and technical standpoint as an engineer.

Abusaleh Masud 
busaleh was born in Bangladesh, where he attended primary school. He immigrated to the United States at the age of seven and enrolled in second grade. At first, the language barrier proved to be tough to overcome but, after a year or two, he managed to pick up English and make significant progress toward embracing and thriving in his new environment. Throughout the years, he has fostered a love for astronomy, the natural sciences, and all things technology-related. As a result, he has great respect for nature, which compels him to want to address the numerous problems surrounding us today, such as the hazardous climate change situation. Realizing the dangers related to climate change, Abusaleh is drawn to climate policy as a means of helping to improve conditions for future generations.
​​​​Violet Nash Greenberg 
Violet is a native New Yorker studying architecture at the Bernard and Anne Spitzer School of Architecture at The City College of New York. She transferred to Spitzer from Bard College, where she was studying mathematics and music. Violet gravitated towards architecture because she recognized its potential to be a vehicle for change, and that is the driving force for her pursuit of knowledge. These days, when she is not in the studio, she is working with children and honing her skills as an educator. She is particularly interested in education and the impacts that schooling can have on society. The further she dives into her own pursuit of knowledge, the more she realizes just how interconnected everything is, and that inspires her to dive deeper. She looks forward to the opportunities that the climate policy fellowship will present to her along her journey.

Melissa Olivar 
Melissa is currently a junior majoring in sociology and international studies. She aspires to pursue a master's degree in sustainable development and is interested in working with developing countries such as Haiti and Senegal to help improve their quality of living, and to help communities maintain food and water security. Melissa became interested in learning more about sustainability after studying abroad in Costa Rica last year and witnessing the devastating consequences of climate change on the impoverished communities within the country. She hopes that through her involvement with the fellowship, she will be able to become better aware of the United Nation's role in aiding countries that are most affected by the effects of climate change.

Lucy Piacentini 
Lucy Piacentini is a fourth-year environmental engineering major at the Grove School of Engineering at The City College of New York. Lucy interned at the NASA Goddard Space Flight Center in the summer of 2018. While there, she focused on oil release prevention for the Maryland GSFC campus. Lucy has also been a research assistant in the Land Ocean Atmosphere Lab, where she worked on a NASA-funded project that examined the Long Island Sound's ecology. As President of CCNY's Society of Women Engineers (SWE) for the 2018-2019 academic year, Lucy was instrumental in corporate outreach efforts to provide members with education and employment opportunities. She hosted a successful internship panel with her SWE team and created STEM outreach programs for children. Lucy hopes to use her academic and practical experience in a career that promotes sustainability in building practices and facilities, processes, and the environment. Additionally, Lucy is captain on the CCNY Women's Track and Field team, which won the CUNY Championships for the 2018 indoor and outdoor season.
​​​​Aparna Ramanathan Ramesh 
Aparna Ramanathan Ramesh is a second-year architecture student in the Spitzer School of Architecture at CCNY. Aparna is ethnically Indian, but was raised in Dubai and moved to New York to attend university. The various cities and environments they have grown up and interacted with have shaped their love for nature and understanding of climate, which they hope to enrich through this fellowship. Policy-making often falls in the hands of the majority and Aparna hopes to be the diverse face it needs. They look to this fellowship as a guiding light in this endeavor.

Jaylene Salas 
Jaylene is a first-generation college student majoring in physics. She spends most of her time conducting research on ways to improve clean energy through the fabrication of thin films and semiconductors. She also works on finding new ways to help minority groups stay in the STEM fields. Her scientific pathways reflect who she is as a person. At an early start, Jaylene knew that she wanted to work in science for the purpose of saving the earth and improving the climate, which is why she began to major in marine biology. Working in a lab, she learned firsthand that our actions as people can have great effects on the environment around us. She hopes to work toward creating a sustainable world that relies on clean energy.

Tani Salma 
Tani Salma is a senior in international studies and public policy at the Colin Powell School. Having interned with the Committee on the Status of Women in the spring of 2018, Tani has become a strong advocate for gender equality and human rights. He previously worked with Amnesty International as a canvasser, during which he helped raise awareness and funds for the Rohingya refugee crisis in Myanmar. Tani is more interested in the human rights aspect of climate change. He is from a community of farmers in Togo. Having witnessed the direct impact of climate change on the quality of life of his community due to a sudden change in rain patterns, Tani is determined to learn more about sustainability to be able to go back and help improve the living conditions of his community.
​​​​Herut Tekilu 
Herut Tekilu is a Colin Powell Fellow at The City College of New York and studies political science and community change studies. Herut's experience in community outreach and organizing fueled her passion to join causes focused on social, climate and economic justice. After graduation, Herut plans on becoming a public policy advocate/educator in economically disadvantaged areas in New York. She is passionate about community organizing and public policy and hopes to be able to serve and organize disadvantaged communities to fight for socioeconomic and political rights.

Wali Ullah
Wali Ullah is a City College and CUNY BA (CUNY Baccalaureate for Unique and Interdisciplinary Studies Program) student majoring in political behavior and analysis. He cares about civic engagement, political organizing, policy research/advocacy, community outreach, and political strategy, and he is open about his personal and cultural experience as an Asian-American student with disabilities such as Tourette's Syndrome and ADHD. He is most concerned with policy issues concerning higher education, environmental sustainability, economic inequality, and government accountability. Wali also carries over student organizing experience with NYPIRG, Student Government and CUNY University Student Senate from his time at Bronx Community College, from which he graduated in Fall 2018. Wali hopes to graduate by Fall 2020, after which he hopes to pursue doctoral studies in political science and work with political candidates, organizations, and advocacy groups as a political consultant.

Hazel Vaquero 
Hazel Vaquero is a born and bred Brooklynite, currently an undergraduate student at The City College of New York. She is majoring in environmental earth systems science with a concentration in hydrology and is working toward pursuing an environmental engineering degree. Her interest in environmental science started in high school when she had the opportunity to pursue a summer job at Uprose, an environmental community-based organization. There, she developed a dedication to promoting sustainability and resiliency to her community. She helped organize yearly climate summits for other youth in the city and was a moderator for a District 38 NYC nonpartisan council debate. Upon completion of her undergraduate studies, Hazel plans to go to graduate school and continue her studies in hydrology and sustainability. With her education, she hopes to work for the NYC Department of Environmental Protection, where she would like to manage and inspect New York City's public water system. In her spare time, Hazel enjoys watching films, documentaries, and reading webtoons. She is the designated photographer for family events.
Marjorie Vargas
Marjorie Vargas is a senior at The City College of New York majoring in environmental engineering with a concentration in the energy field. Her interest in energy first began in her sophomore year, during a science class in which a lecture was dedicated to different types of renewable energy. She later interned at the CUNY Building Performance Lab, where she learned about building efficiency. In her internship, she was able to learn about the upcoming changes that will move NYC toward a greener and more efficient city. Her interest and curiosity began to expand, and she learned about the importance of managing building energy consumption in order to reduce carbon emissions in cities. Marjorie hopes to be able to expand and focus her career on the use of renewable energy as a means of improving building efficiency. When she is not learning about buildings/HVAC analysis and new technologies, she enjoys reading, hiking and watching baking shows.

Gabrielle Varghese
Gabrielle graduated from The City College of New York in May 2019 with a degree in environmental engineering. During her time in college, she obtained two internships related to environmental health and safety and water resource management by working at the School Construction Authority and the Department of Environmental Protection. In addition to this, Gabrielle was involved in a student-run organization. Having held a few positions within the National Society of Black Engineers, she has experienced the many responsibilities of leadership roles. While in school, she focused on taking courses geared toward water resources, but over time, she realized that she was more interested in solid waste management and climate policy. She hopes to utilize the skills and knowledge attained over the years to aid in resolving climate issues, specifically with respect to the solid waste sector.