Climate Policy Fellows Program

The Climate Policy Fellows Program is designed to support CCNY undergraduate students from the sciences, social sciences, architecture and engineering degree programs with training, professional development, and internship opportunities that link climate-related science, engineering, and economics to public policy. Fellows participate in four to six intensive workshops led by a range of senior national and international climate policy leaders. The workshops  prepare fellows to understand how science, engineering, and economics research affects public policy, and how policy-making shapes these fields of research.
Deadline: The deadline for the Fall 2021 cohort has been extended to March 26th, 2021. Applicants must submit materials to cpsfellowships@gmail.com .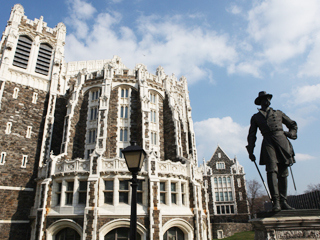 1-year program
- Workshops
- Internship

$1,000 stipend each semester
$5,000 stipend for approved summer internships
Deadline: 
March 15th, 2021

Kenneth Arguedas
Kenneth Arguedas is majoring in Environmental Engineering at CCNY. He is passionate about navigating the pathway of interdisciplinary studies in order to acquire a more diverse job opportunity post-graduation. His parents immigrated to this country in the 1980s when they were teenagers, with his mother originating from Ecuador and his father originating from Costa Rica. He grew up in the south Bronx for most of his life, before moving to Harlem about four years ago. Kenneth is interested in environmental remediation in order to mitigate the risks to public health.
Jackie Baum
Jacqueline Baum is a double major in political science and Jewish studies. She came to CCNY with an interest in public policy. As a freshman, Jackie registered voters on campus with NYPIRG, volunteered for NYC Votes, and lobbied for criminal justice reform with the Roosevelt Institute. Through the Opportunities in Research and Creative Arts Program, she conducted legal research on vagrancy and loitering laws, as well as methods of policing in NYS. As Secretary of the Roosevelt Institute at CCNY, she organized a panel with NYPIRG on racial disparities, featuring the CCNY Chapter of the NAACP. This experience fostered her interest in environmental justice and housing security. She was recently a Policy and Advocacy Intern at WE ACT for Environmental Justice, a nonprofit organization based in Northern Manhattan. Jackie plans to turn her passion for environmental justice and urban sustainability into a career as an environmental justice lawyer.
Brian Boston
Brian Boston is a rising sophomore in the Macaulay Honors College at CCNY, pursuing a Bachelor's degree in Environmental Earth Systems Science. A native Staten Islander, he has long-fostered a relationship with the environment, whether it be park beautification and maintenance committees, or through extensive service work on the path to Eagle Scout. Gearing his education both towards lab research and policy development, Brian seeks to bridge the ever-growing gap between the governmental and scientific sides of climate change. Sustainability in infrastructure and business practice, widespread regulatory reform, and ecosystem protection and restoration are among the most pressing matters motivating Brian's involvement in the Climate Policy fellowship along with his other educational endeavors.

​Aisha Butt
Aisha Butt is a senior at The City College of New York where she is pursuing a major in Anthropology and minor in Women's and Gender Studies.As a Mellon Mays Undergraduate Fellow, Aisha is currently working on an independent research project on disentangling the various rubrics and metrics of success in conservation. Her project considers the reciprocal effects that environmental protections and local populations have on one another during the temporality of the Anthropocene. Aisha's research has led her to study abroad in Costa Rica, the Galapagos, and Australia where she has worked with various organizations such as Reserva Playa Tortuga, Equipo Tora Carey, and Hacienda Tranquila, observing first-hand the various challenges of conservation projects and  its effects on local communities.
Amaury DeJesus
Amaury De Jesus is a senior at CCNY studying Geology. He has always wanted to study geology, though he also has a passion for planetary science. Amaury is interested in how and why atmospheric, chemical, and physical processes occur on Earth and other planets in the solar system. He became interested in this Fellowship because of the ways in which planetary science is related to climate issues. He thinks that the Fellowship is a good way to spread that information to communities so that they are aware of their own carbon footprint and its impact on global warming.
​Mohamed Gueye
Mohammed Gueye is currently a rising 5th-year Architecture student at the Bernard and Anne Spitzer School of Architecture at City College. He comes from a Senegalese and Jamaican background and is a native-born New Yorker. Mohammed is incredibly invested in architecture, gardening, and social work. He believes these three can come together to aid many of the systemic issues of a diversely growing city. He finds that issues related to food deserts and nutritional literacy, systemic poverty, and lack of healthcare can be directly attributed to the qualities of the architecture, social work, and community gardens around them. He used these three concepts in the last year working as president of the CCNY Green club.
 
​Tanya Gwartiringa
Tanyaradzwa Gwatiringa was born and raised in Harare, Zimbabwe, until she was about 10 years old when her family made a huge transition from Zimbabwe to America. After graduating high school, Tanya joined New York Cares, seeking to find her purpose and serve her community. A few months into the program, Tanya knew that she wanted to pursue a career in education. From her work and volunteer experience with children, Tanya has become a believer in the whole-child approach of education, a student-centered democratic classroom, and student-teacher relationship building.
 
Tareen Haque
Tareen Haque is a junior in the Macaulay Honors College at CCNY majoring in Environmental Earth Systems Science. As the child of Bangladeshi immigrants, she has learned how devastating climate change is because of the ways in which flooding and sea levels affect various disadvantaged communities. Tareen has been interested in ocean conservation, sustainability, and space sciences since she was in elementary school and hopes to pursue her passions in order to work towards the Sustainable Development Goals. She is involved in a number of opportunities, including being a global youth ambassador for Voices of Bangla, an NGO dedicated to bringing social change in Bangladesh for those in poverty. She is also involved with the CUNY Youth Ambassador Program, which allowed her to attend meaningful United Nations events and develop a signature project towards educating other youth about the Sustainable Development Goals.
​Mirian Hernandez
Mirian Hernandez is a first-generation immigrant and college student whose experiences as such engendered her deeply-rooted interest in social, political, and cultural justice. She is driven by her commitment to empowering underrepresented communities. Currently, she serves as the President of CCNY's Model United Nations (UN) Club where one of its missions is to advance the Sustainable Development Goals of the UN. As a member of the club, Mirian conducted extensive research to understand the effects of climate change and explore alternative energy sources. Learning about its detrimental effects on already vulnerable populations encouraged her to continue studying and applying the knowledge both academically and in the field. After graduating as a double major in political science and international studies next spring, she plans on attending law school abroad.
 
​Lamine Kaba
Lamine Kaba was born and raised in Guinea, West Africa. He is a first-generation college student. Six years ago, he couldn't speak and write a complete sentence in English, but it did not stop him from pursuing his dream of higher education. He dedicated the first two years of his time in the U.S. to learning English. He graduated from the Borough of Manhattan Community College with honors with an Associate's Degree in Economics. From this experience, he learned the value of perseverance and commitment. He is currently pursuing a dual Bachelor's/Master's degree in Economics at The City College of New York. His choice to become an economist was inspired by his childhood experience from poverty. This hardship has inspired him to pursue his career in academia and craft economic policy in the future. He believes that climate change is real and he has enrolled in sustainability courses to better understand the relationship between sustainability and economics.
Krystian Kopka
Krystian Kopka is a third-year Mechanical Engineering and Geology double major at the City College of New York. In 2018 and 2019, he participated in the NSF-funded Northwest Passage Project research expedition in the Canadian Arctic Archipelago as a physical oceanography scientist. As an early career researcher, he was able to collect critical water, ice, and air samples to study atmosphere-ocean- cryosphere interactions and biogeochemical processes aboard the icebreaker Oden. Krystian wants to increase the public understanding of the changing Arctic's conditions that are causing extensive environmental and climatic changes, which increasingly influence people and wildlife diversity around the world. Prior to both research expeditions, he previously worked as an engineering intern for several construction companies and is also a NOAA CESSRST Fellow and Summer Bridge intern.
 
Sameeha Malikah
Sameeha Malikah is a Macaulay Honors sophomore at the City College of New York. Born in Queens and raised in Brooklyn, Sameeha is a first-generation college student and the first child of her parents who immigrated from Bangladesh. She attended a small, private Islamic school throughout elementary and high school, where she learned the importance of having a supportive community and of holding on to one's values. Understanding that environmental destruction is not only an environmental issue, but also a social issue, she feels that it is her responsibility as a citizen of the world to educate herself more, and use her professional and educational skills to fight for a more sustainable environment for future generations. Sameeha decided to major in Earth Systems Science and Environmental Engineering at the Grove School of Engineering with hopes of developing her engineering and professional skills that she will need to get involved in research in this field and fight for a brighter future.
Frankie Modell
Frankie is a second-degree candidate in her third year at City College majoring in Chemical Engineering with a minor in Chemistry. She first became interested in climate change while in grad school studying Political Science at Georgetown. She ended up at CCNY after leaving her graduate program to pursue a more technical hands-on approach to the problems facing life on earth. She is currently doing research with the NASA-CCNY Center for Advanced Batteries for Space, compiling data on different types of batteries used for energy grid storage, a crucial part of the shift towards the widespread adoption of renewable energy.
 
Emma Montero
From a young age, Emma has been passionate about the issues facing her community. Born and raised in the Bronx, she began to realize the vast disparities not only in her neighborhood but in her community. She intends to use her major in Political Science to prepare her for law school in the hopes to further advocate for her community. She is most known for her role as an avid community leader and mentor to her alumna program StreetSquash, where she still plays squash for fun and mentors high school girls with their academics and college applications.

Grace Nevitt
Grace Nevitt is a senior at The City College of New York, currently pursuing a Bachelor of Arts and majoring in Theatre. She is originally from Silicon Valley and chose this school so she could be in New York. In her junior year of high school, she took AP Environmental Science and has been a climate activist ever since. Grace believes that protecting the environment is of paramount importance, and apart from being vocal about the impending climate crisis. During this fellowship and her last year of her undergraduate degree, she hopes to gain all the tools she needs to go out into the world and remain a climate activist, while also remaining involved in performing arts.
 
​Alexandra O'Keefe
Alexandra O'Keefe is a sophomore at City College of New York. She is an Earth and Atmospheric science major with a passion for the environment. She began developing her interest in weather and the environment in high school where she was able to shadow a few meteorologists. This led to her interest in climate change. Alexandra hopes to be able to work with others to build a sustainable future. She is particularly interested in how agriculture affects the environment.

 
Michael Ramundo
Michael Ramundo is a second Bachelors' student with a strong interest in climate and the environment. He obtained his first BS in Mechanical Engineering from the Grove School of Engineering, focusing on electives like energy generation and the built environment. He also contributed to energy and climate research during his degree. After graduation, he studied gas hydrates, a viable method of CO2 gas sequestration, at a national lab in Paris, France. Returning to New York, Michael worked for a firm that specializes in building automation and energy efficiency. He is a control system engineer for multiple projects around New York City and currently works within the Hudson Yards neighborhood. Michael is on the Board of Governors for the ASHRAE NY chapter and is a project lead for Engineers Without Borders, which is currently building a solar array with battery storage at a high school in the Bronx.
 
​Taniya Ranepura
Taniya Ranepura is a first-generation college student born to Sri Lankan immigrants, and a native-born New Yorker currently residing in Jamaica, Queens. She is a fifth-year City College Honors student majoring in architecture at The Bernard and Anne Spitzer School and is also minoring in studio art and mathematics. In 2019, Taniya worked as a disaster relief volunteer for CUNY Service Corps – Puerto Rico to repair and revitalize communities devastated by Hurricane Maria. It was then that Taniya realized that environmental challenges emerge primarily due to a lack of adequate policy and reform. However, Taniya believes that design can be used as a tool, in conjunction with policy, to propagate change. Taniya loves to apply her architectural design skills in her recreational practices and hobbies.
 
Jannie Ravn
Jannie Ravn is a junior at the City College of New York where she is majoring in International Studies with a concentration in Development. Her interest in International Studies is based on her upbringing in Germany, which encouraged her to learn a few European languages and have been lucky enough to travel to a majority of the countries in Europe sparked her interest in the interconnection of all nations. Having interned at the nonprofit Hey There Beautiful Inc., which supports women empowerment, and in the Marketing and Communications Department of the Museum of the City of New York, she is now eager to pursue her passion through the Climate Policy Fellowship.

Evana Said
Evana Said is entering her final year as an Architecture major and Legal Studies minor as part of the Honors Programs at The City College of New York. As a first-generation college student whose parents emigrated to this country from Syria as religious refugees, she recognizes the value of higher education. Throughout her architecture education, she found she was interested in more than just the aesthetics or function of design, but in the broader ways design could make space more equitable and accessible for all. After taking various and diverse classes, she began internalizing the interconnected nature of housing, health care, sustainability, and design. She realized that though there were plenty of intelligent and passionate people working in those various fields, there were not enough people dealing with their connection to public policy.

 ​Andrew Salmieri
Andrew is a first-generation college student who was raised with his younger sister by his single mother. He was raised in the Southern Brooklyn neighborhood of Gravesend. He completed his high school career at Xavier High School in Manhattan before attending college. Professionally and academically, he is interested in issues that pertain to climate change and how it will impact people of lower socioeconomic status the hardest. Andrew was drawn to the Fellowship because it offers guidance and mentoring by climate policy leaders, which he intends to use in his career in either law or education.

 ​Fany Silva
Fany Silva is a junior in electrical engineering focusing on the energy sustainability and power of NYC buildings. She is a first-generation student with Mexican American immigrant parents and grew up in a Spanish-speaking household. Her journey started when she graduated from a research high school and pursued a STEM major. Fany pursued a STEM major with the desire to improve energy sources and conduct research in the engineering field. She chose CCNY Grove School of Engineering for their mission of increasing diversity and their dedication to public service for the community. She wanted to be a part of the Climate Policy Fellowship because she wanted to learn how to communicate with the public. Her goal is to be able to translate her technical skills into policies that will further the fight against climate change.
 
Nora Silva
Nora Silva is a junior in Electrical Engineering focusing on energy sustainability and solar power. She is a first-generation student from Mexican-American immigrant parents raised in Brooklyn, NY. She started her journey as a psychology major and has taken science and engineering classes to broaden her skills. Her research experience started in a biomedical engineering lab, where she was encouraged by her research mentor Heriberto Moran to pursue a research career. She is currently working with Louis Stokes Minority Representation (LSAMP) in a mechanical engineering lab focusing on energy-saving technology.
Daniel Tolaro
Daniel Talero is a born and raised New Yorker. He grew up in Queens alongside his two sisters and his Colombian and Peruvian parents. In his spare time, Daniel is a voracious reader and consumer of film. He believes storytelling to be one of the most quintessential human behaviors. He graduated with honors from LaGuardia Community College where he served on the Faculty Student Disciplinary Committee and as a member of the prestigious President's Society. He transferred to CCNY's Colin Powell School to join the Skadden Arps Legal Honors program and to pursue a bachelor's degree in political science. His interest in politics led him to work in the offices of Assemblyman Brian Barnwell, Assemblywoman Catalina Cruz, and Congressman Hakeem Jefferies. Daniel eventually hopes to become an attorney and use that position to advocate for a myriad of social justice issues.
 
​Leslie Vasquez
Leslie Vasquez is currently a City College undergraduate student who is majoring in International Studies with a concentration in Public Policy, and double minoring in Economics and Earth and Atmospheric Science. She hopes to change environmental law while simultaneously addressing social justice. Being a Latina immigrant from the Dominican Republic, she has endeavored in a system that targets minorities, and wishes to dismantle the system from within — while saving the environment, of course. Being in International Studies exposes her to all of those issues from different parts of the world, and the concentration in Public Policy allows her to find ways in which she could make global and political change.

Erin Wengerter
Erin is a native New Yorker and one of two daughters raised by a single mother, who immigrated from Europe at a young age. In order to juggle both raising and supporting the family, Erin's mother pursued a job as a science teacher, which sparked Erin's discovery of STEM and the natural environment. Today, Erin is a senior CCNY undergraduate student studying Earth System Sciences and Environmental Engineering within the Macaulay Honors Program. This choice of major stems from her passions for environmental preservation, adaptation, and mitigation as well as helping others. Along with being involved in NOAA CESSRST research, she spends her time volunteering within the Engineers Without Borders chapter at CCNY.