Colin Powell Fellowship in Leadership and Public Service
 
The Colin Powell Fellowship in Leadership and Public Service is a two-year, intensive program for undergraduate students. The experience is designed to prepare fellows for lives of public service and active citizenship, and enable them to apply their skills to issues of public concern. Students accepted into the Colin Powell Fellowship acquire a broad knowledge of political institutions and the policy-making process, and learn about public service careers and opportunities. Fellows also explore leadership development and methods for creating social change.
There are two categories of Public Service and Leadership Fellows, each bearing the name of its generous donor. The New York Life Endowment for Emerging African American Issues supports students that are interested in policies impacting African Americans and other underserved groups. The Fulvio Dobrich Award supports students that are first- or second-generation immigrants with interests in policies and programs that impact the lives of immigrants in the United States.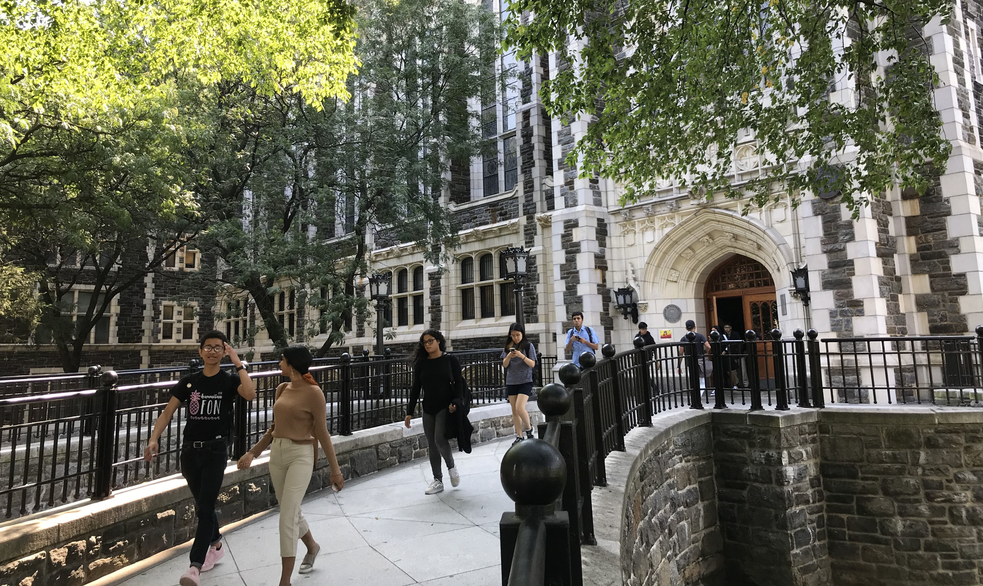 2-year program
- seminars,
- summer internship,
- professional development

$10,000/year over 2 years
 
Deadline: For the Fall 2020
March 13th, 2020.
---
Colin Powell Year 1 
---

Kyle Abrahams
Kyle is a rising junior at CCNY in the Macaulay Honors College receiving his BA in psychology. As the youngest of three siblings growing up in Brooklyn, Kyle was always fascinated by the diverse experiences he saw each day. He noticed the anxiety which comes with being young in the world today and was inspired to help others. This led him to his interest in becoming a mental health advocate for young people. That passion for understanding the individual led Kyle to major in psychology and try to understand the experiences of others. Some of the ways Kyle wants to advocate for better mental health awareness are through policy change and public service, making the Colin Powell Fellowship a perfect fit. By using the leadership and collaborative skills he learns in the fellowship's seminars he hopes to help create a more caring and empathetic world for kids to grow up in.

Shanley Augustin
Shanley Augustin grew up in Haiti and moved to the United States in 2016 where he completed his secondary education. He is a New York Life Fellow. In 2017, after being admitted to the City College of New York, Shanley became the first in his family to enroll in a Bachelor's degree program. As a Climate Policy Fellow, Shanley learned the process of policy-making and got a closer look at how policies can affect carbon emissions and the economy.  He co-wrote a policy brief that assessed the resiliency of the developments owned by the New York City Housing Authority and introduced a financial instrument capable of providing a stream of funding dedicated to resiliency projects. Shanley was the co-founder and Vice-President of the City College Club for Nature, Rational Thinking and Humanity, whose mission is to create an environment that welcomes curious minds willing to engage in thoughtful conversations on social issues, science, philosophy and our future as a species and inspire students to gain confidence in their ability to make meaningful impacts in their community.
​​​​Kethia Calixte
Kethia Calixte is a sophomore at The City College of New York and a New York Life Fellow. Although young, Kethia has fought to find her place in the professional world. At the age of seventeen, Kethia graduated from the Clara Barton School for Medical Professions as a licensed practical nurse. Her dream to care for others has pushed her to strive for greatness and influence. While Kethia has yet to declare a major, she is taking full full advantage of the various opportunities offered at CCNY and is considering a double major in international relations and psychology. As a first-generation college student, Kethia understands the importance of setting a new precedent. She grew up in a small town in Haiti called Jacmel. Her mother and father were farmers and teachers. Her father, although never attending college, used his intelligence, attended mentoring programs and seminars in the hopes of benefiting his community. He later became the director of a nonprofit school, which helped to educate kids who could not afford primary education. Kethia has worked with the Brooklyn Public Library in tutoring and distributing meals, CAMBA in helping feed and find shelter for the homeless, and the Campaign Against Hunger. Kethia plans to use her past experiences, interest in public service, global and international health to make an impact on the world.

Adrianna Galbraith
Adrianna Galbraith is a sophomore at CCNY studying sociology to pursue a career in foster care or prison systems. A New York Life fellow, her interest in sociology began in her senior year of high school, where she took it as a College Now class. During the course, Adrianna discovered that she was interested in learning about the development, structure, and functions of society. She wants to make sure that no one else has to struggle with the same obstacles that she had. Adrianna views City College as a place where like-minded people can learn and become better versions of themselves. She intends to use this opportunity given to her in order to better the lives of others affected by the system, as well as grow, challenge, and make positive changes in her environment.
 

Sarah-Hannah Herman
Sarah-Hannah is currently majoring in Political Science at the City College of New York and is a New York Life fellow. Her interest in the major is heavily influenced by her upbringing. Growing up, she was taught to uphold several values: excellence, perseverance, compassion, respect, and integrity. In her native country, Jamaica, she witnessed her family taking in the underprivileged despite not being well off themselves. Witnessing philanthropic actions instilled a feeling of social responsibility within her. Knowing politics affects every aspect of our lives and can, therefore, be used as a tool to better the lives of the underprivileged on a mass scale led her to specialize in political science.

Catie Hernandez
Catie Hernandez is a rising Sophomore at CCNY and is currently double majoring in anthropology and political science with a minor in art history. She is a Dobrich New Americans Fellow and was raised in Babylon, NY by her parents Francisco Hernandez and Ann Christine Hernandez. Her father, Frank, is a Cuban immigrant and alumnus of City College, and Catie grew up hearing from him about City College's history. She loved that it has always been known for providing social mobility to its students, and as Catie had always been interested in social justice and equality, she chose to go to City College for its amazing and continuing legacy. Catie is interested in art restitution law, a field that deals with settling disputes over the rightful ownership of art and artifacts.

Aryaana Khan
Aryaana Khan was born and raised in Bangladesh, a country submerged underwater every year as a result of climate change. She is a Dobrich New Americans Fellow. Four years after moving to New York, she began doing grassroots and climate advocacy work with various non-profit organizations, such as Global Kids and the Alliance for Climate Education (ACE), and began understanding the deep connections between climate and her experiences in Bangladesh. During her sophomore year at the City College of New York, she became an inaugural Climate Policy Fellow with the Colin Powell School and was also accepted as a Colin Powell Fellow soon after. She is pursuing a Bachelor of Science in biology with a minor in sociology; professionally, she hopes to carve her own path in environmental health, which she is excited to learn more about throughout the Colin Powell Fellowship.

Nabeela Mustafa
Nabeela Mustafa is a rising junior in the Macaulay Honors Program at The City College of New York where she is majoring in public health and community health psychology. A Dobrich New Americans Fellow, she chose to create this major through the CUNY BA program because of her growing interest in learning about public health issues and how society affects the way people in a community function. In her free time, she enjoys dancing on her fusion dance team called Macaulay Deewane that she has been a part of since freshman year. Growing up, she noticed that topics such as mental health and women's health were considered taboo in many cultures and that people refrain from talking about them openly. Further growing her interest in social issues, she was exposed to several underserved populations as a patient advocate volunteer at Bellevue Hospital.
Hannah Shulman
Hannah Shulman is a sophomore in the Macaulay Program at The City College of New York double majoring in Political Science and Forensic Psychology. She is a Dobrich New Americans Fellow. Growing up in an Orthodox Jewish community, Hannah has firsthand knowledge of the rapidly increasing rate of antisemitism worldwide and feels a responsibility as a Jewish person to help others who face forms of discrimination. In addition, Hannah grew up with a father who works as a psychologist in a Veteran's hospital and a grandfather who worked as a criminal defense attorney. These experiences have led her to become interested in the intersections of law and mental health, specifically in how they relate to underserved and marginalized communities. Motivated by these experiences, Hannah has worked as an intern at the Anti-Defamation League learning about discriminatory practices against the Jewish, Latino, and African American communities. Additionally, she is currently working as an intern at the office of Assemblyman Walter Mosley where she has the opportunity to engage with constituents about police reform, rent policy, and gentrification. Hannah was excited to learn about the Colin Powell Fellowship in Leadership and Public Service because she believes it will help her learn more about and discover opportunities in the fields of law, mental health, public service, and government.

Dolma Sherpa
The search for a better future and opportunities brought Dolma and her family to the land of dreams. A Dobrich New Americans Fellow, Dolma's parents have always emphasized the importance of education in one's life since they were deprived of one. Dolma is a first-generation student so going to college is a big milestone for her and her family. She believes the places we come from shapes us into becoming who we are today. Coming from a place that lacks good health care services, she has learned to value the importance of good healthcare in people's lives. She is very passionate about medicine and wants to pursue her passion in college.

Megan Viera
Megan Viera is a native New Yorker born and raised to a single mother in the Bronx. She is a New York Life Fellow. Drawn to the City College of New York for its diversity and various extracurriculars, she is currently entering her junior year where she is pursuing a Bachelor's degree in political science with the consideration of a business minor. Her interest in the political world started at a young age after she began studying the numerous cases of racial profiling in the nation against minority groups. Her interest was further driven by the tribulations and instances of the profiling that she and her family have been subjected to at the hands of the system. These experiences have propelled her interest in exploring not only the dynamics of the American political system but the creation of public policy and law, as well as the ongoing battle against systemic racism.
---
Colin Powell Year 2
---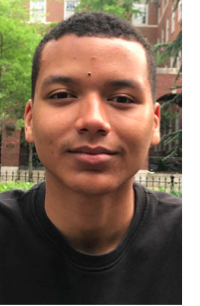 Benjamin Felix
Benjamin Felix was born in Finland to immigrant parents of Haitian and Finnish descent, and he moved to New York when he was three. He is a Dobrich New Americans Fellow. He is a second-generation college student, currently a senior at The City College of New York, and he is majoring in political science and international studies with a concentration in international relations. Benjamin spends his time by making the community around him a better place on campus and off-campus, such as volunteering at local soup kitchens or in local political campaigns for Congress and the state legislature. Benjamin is interested in politics, history, and diplomacy between different countries. In the future, Benjamin would like to be a part of the diplomatic process between countries and strive for a better understanding between people and states.


Lily Fremaux
Lily is a senior at the Macaulay Honors College at The City College of New York. As a CUNY Baccalaureate student, Lily is majoring in health sciences and political science. Lily hopes to become a healthcare professional and is considering nursing and midwifery. Through a partnership between the Macaulay Honors College and the CUNY School of Public Health, Lily has already begun working towards obtaining a Master's degree in public health nutrition with a specialization in maternal, child, reproductive and sexual health. Lily entered the Colin Powell fellowship on a pre-law track; however, their involvement in the fellowship allowed Lily to conclude that a career in healthcare would better align with their goals of facilitating community health and social justice.

Rachel Holliday
Rachel Holliday is a junior at The City College of New York majoring in international studies with a concentration in International Relations. She grew up in a small town within Bergen County, New Jersey as the daughter of two preachers. Rachel has a younger sister with autism and other mental challenges, as well as a younger brother. In high school, Rachel always had a vested interest in learning about world history, global current events, world cultures, and domestic politics. She knew CCNY was the right university for her due to its history, beauty, values, diversity, and international studies program. Upon reading about various programs the Colin Powell School had to offer, the Colin Powell Fellowship attracted her the most due to its focus on preparing members for lives in public service, which she had always envisioned herself doing. Along with being a Colin Powell Fellow, she is a member of the Skadden, Arps, Honors Program in Legal Studies, and Vice President of CCNY's Model United Nations.
Theo Kasote
Theo is a first-generation immigrant born in the Republic of Zambia in Southern Africa and is a pre-dental senior pursuing his Bachelor of Science in Psychology. A New York Life Fellow, Theo couples his passion for medicine and a strong desire for social responsibility by giving back to underserved communities. As such, Theo has helped provide oral health care services to the underserved pre-kindergarten through 5th-grade youth of the Lower East Side of Manhattan. His interest in community outreach led him to apply to The Colin Powell Fellowship for Leadership and Public Service. The fellowship offered him the opportunity to learn and hone essential skills applicable to his desired career field and introduced him to relatable public service career opportunities.


Sardar Khanbilvardi
Sardar Khanbilvardi is a first-generation Iranian American student and lives with his family of six in Rockland County, New York. He is a Dobrich New Americans Fellow. Sardar will be entering his senior year at The City College of New York next semester. He was set on City College because it provided him an opportunity to both play sports and pursue his interest in engineering. He will be continuing his studies in Environmental Engineering along with playing his last season of collegiate baseball on the CCNY baseball team. Specifically, he looks to study weather extremities and the effects of it happening in cities around the world. He was drawn to the environmental sector of engineering because he saw not only how crucial this type of research was for the planet, he was fascinated by how it is one of the few engineering fields where something like the climate and environment is constantly changing.

Chamela Martinez
Chamela Martinez is a senior at The City College of New York pursuing a double major in sociology and international studies. She is a Dobrich New Americans Fellow. She is passionate about helping people in her community and anyone she is capable of helping with the resources available to her. She aims to pursue a career working internationally on human rights. In her junior year, she declared human rights as a minor to gain more knowledge on the subject. Outside of her academics, she enjoys spending time with loved ones. One of her inspirational goals is to travel the entire world while emerging herself in different cultures.
Ina Masha

Valery Palacios
Valery Palacios, a Dobrich New Americans Fellow, was born in Ecuador and grew up in a mixed ethnic family. Her mother is Peruvian-Turkish and Brazilian while her father is Venezuelan, with Chinese and Spanish ancestry. Valery grew up learning about different cultures and hearing different languages. The history of immigration and racial diversity in her family inspired her to study anthropology to learn about social meaning and how languages impact cultural life. Through the Colin Powell Fellowship, Valery has extended her interest not only in the study of cultures but also in government and the education system. Valery desires to be useful for society, fight for change, and improve education in the city.
Kate Scherer

Caroline Schwab
Caroline is in her second year of the Colin Powell Fellowship, and her third year at City College in the Macaulay Honors Program. She is an Environmental Engineering major, with a minor in Public Policy. From a young age, Caroline has always had a deep concern for the environment and climate change, and she has worked on environmental research projects since High School. She currently works on two projects – one through the NOAA CESSRST Undergraduate Fellowship, where she aims to model agricultural output based on climate variables, and the other through the Earth and Atmospheric Science Department, where she works on the initiative to unify cloud and storm tracking with satellites. While she is passionate about engineering, she understands the profound significance of policy and the social impacts of environmental change.
 

Dani Servius
Dani Servius, a Dobrich New Americans Fellow, is currently a senior at The City College of New York studying international relations. She plans to graduate in May 2021. Dani Servius grew up on Long Island, where she was raised by her mother. Growing up, her mother has always taught her the importance of education and pursuing a college degree. After high school, she chose to attend The City College of New York because of its affordability and diversity. Dani had the opportunity to explore many different courses and utilized CCNY's resources, which led her to major in international relations. Hearing about her mother's experience in Haiti has motivated her to want to help the Haitian community. In the future, Dani hopes to continue her education and help bring opportunities to children in Haiti.

Angela Vasovic
Angela Vasovic is a third-year City College student double majoring in international relations & diplomacy and global economy. She is a Dobrich New Americans Fellow and has a strong interest in world politics and global issues particularly pertaining to civilian casualties during the war. A part of this passion stems from having family from the former Yugoslavia who have lost their homes and uprooted their lives because of war and ethnic tension. Angela chose City College because of the opportunities it provides in terms of knowledge and connections as well as the diversity of its student body; classmates' stories of life and struggle all encourage her in her work to help others. This fellowship provides her with the foundation she needs to excel in public service work through lessons on legislation and connections made with guest speakers. Angela strives for a career within the US Government to advocate for those who are marginalized and victimized to ensure their voices are heard and needs are met.