Psychology Department Marks 75 Years
Colin Powell School for Civic and Global Leadership
Psychology Department Marks 75 Years
June 6 alumni dinner launches a year of celebration.
On Thursday, June 6, faculty, alumni, and guests of the Department of Psychology of the Colin L. Powell School for Civic and Global Leadership will gather in the Great Hall of Shepard Hall to kick off a year's celebration of the 75th anniversary of the department. The commemoration is particularly significant because of the department's rich and distinguished history. At one time, scarcely a psychology textbook reached print without covering contributions City College faculty made to t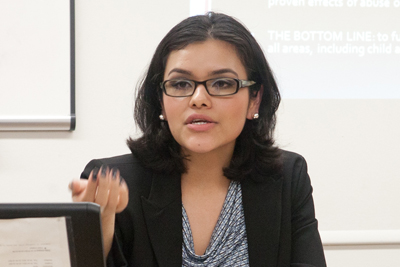 he field. The department's members included such renowned scholars as Gardner Murphy, who conducted pioneering research on personality, motivation, and creativity, and Kenneth Clark, who, along with his wife, Mamie, led studies that revealed the harmful effects of segregation on children, and whose authority is cited in the unanimous Supreme Court Brown v. Board of Education decision.
Dramatic Inroads
"The City College psychology department in its 75 years has made dramatic inroads and dramatic contributions to the field of psychology," said Department Chairperson Robert Melara. "We have an incredible history, but we're really focused on the future—our students. This is what draws me and our other psychology faculty to CCNY—the rich diversity of our students—to prepare them for success is very rewarding."
That preparation is a task the department takes seriously. Even with approximately 1,100 majors, the department is among the strongest at CCNY in terms of retention and it has double the graduation rate of the college as a whole, Melara noted.
The department also emphasizes its outreach to the community. Through its Ph.D. program in clinical psychology, doctoral students serve as therapists to patients in Harlem, and through its master's degree program, faculty place students at community mental health sites, where they gain beneficial training, advice, and experience while serving the community.
Community Contributions
The department now houses 32 full-time faculty, whose research interests include the neurochemical underpinnings of learning, dream and sleep studies, and adolescent social development and risk factors among African-American youth. Clinical Psychologist Denise Hien, for instance, is lead investigator for a multi-disciplinary NIH-funded research project that focuses on the cognitive effects, the impacts, and the treatment of post-trauma stress, particularly among women subjected to domestic abuse.
This broad range of projects and research interests promise a year of noteworthy events. Check the department's website regularly to get event updates as we celebrate this milestone anniversary.