CCNY Hosts Inaugural Anne and Bernard Spitzer Lecture
Colin Powell School for Civic and Global Leadership
CCNY Hosts Inaugural Anne and Bernard Spitzer Lecture
Walter Russell Mead addresses America's "Asia pivot" in a time of upheaval.
Preeminent public intellectual Walter Russell Mead delivered the inaugural Anne and Bernard Spitzer Lecture at City College on Monday, April 15 in the Spitzer Gallery of the Bernard and Anne Spitzer School of Architecture. Mead, the James Clarke Chace Professor of Foreign Affairs and the Humanities at Bard College, addressed America's relationship with Asia, given North Korea's nuclear threats and other signs of turmoil in the region.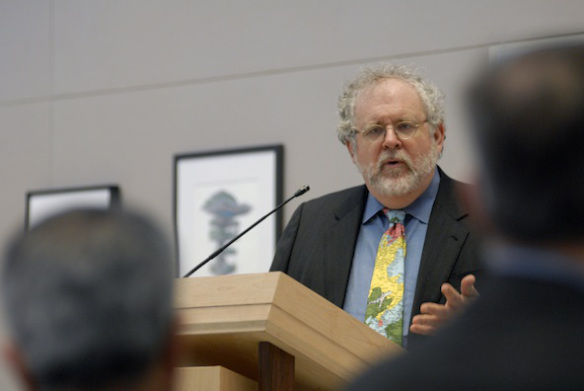 Professor Rajan Menon, the Anne and Bernard Spitzer Chair in International Relations hosted the event, along with the CCNY Department of Political Science, and the Colin L. Powell Center for Leadership and Service. The Anne and Bernard Spitzer Chair is supported by an endowment established in 2005 by Bernard Spitzer, a philanthropist, real estate developer, and CCNY alumnus, and his wife, Anne. In the talk, entitled "America's 'Asia Pivot' at a Time of Upheaval: The Pacific Isn't Looking Pacifistic,"
Mead, the former Henry A. Kissinger Senior Fellow for Foreign Relations at the Council on Foreign Relation, illuminated the reasons for America's recent policy pivot toward Asia—among them, "the prosperity and commerce that could flow from this region" if peace and stability prevail in the coming years.
A Region to Watch
Mead, who is author of the popular blog Via Meadia on the American Interest website, also described potentially destabilizing long-term impacts in the region, including "deep religious, ethnic, historic, and nationalist tensions." He added, "If you want to know what kind of century the 21st century is going to be, watch Asia, and if you want to affect the kind of century the 21st century will be, you have to try to do what you can to promote the positive scenario in Asia."