Office of Engaged Scholarship: Publications
Colin Powell School for Civic and Global Leadership
Office of Engaged Scholarship: Publications
Issues in Engaged Scholarship: An Exploration of Community-Campus Collaborations
The Office of Engaged Scholarship produces an annual working paper series, Issues in Engaged Scholarship: An Exploration of Community-Campus Collaboration, begun in 2012. Issues in Engaged Scholarship features rigorous research and critical analysis involving the theory, implementation, and outcomes of engaged scholarship. Each year's volume is based on the theme of the annual NYMAPS symposia.
Goals of Issues in Engaged Scholarship
To increase understanding of processes, practices, and outcomes associated with service-learning pedagogy, community-based research, and community-campus collaborations
To disseminate high-quality research and analysis related to engaged scholarship
To build a community of engaged scholars
To document how service-learning, community-based research, and community-campus collaborations are addressing issues within NYMAPS' areas of focus: arts and culture, community revitalization, crime and policing, education reform, environmental sustainability, health, and immigration
To fulfill a part of the Colin Powell School's mission to build a strong culture of civic engagement and to mobilize campus resources to meet pressing community needs and serve the common good
Subject Matter
The Office of Engaged Scholarship at the Colin Powell School invites works that extend knowledge in the field and that move beyond description to encompass lessons, application, insights, or recommendations. Research highlighted in the series must reflect careful design, methodology, and analysis. Subject matter may encompass the following aspects of engaged scholarship:
Service-learning,including questions of student-learning outcomes, community impact, and leadership development
Community-based research, collaborative research through which faculty and community organizations jointly address a specific community problem or policy dilemma or share knowledge and expertise with community and public audiences
Campus-community collaborations between campus individuals or entities and community entities, including a wide range of reciprocal relationships such as internships, fieldwork, sharing of faculty expertise, community development initiatives, college-access programs, and others
Submission Guidelines
If you have a paper you would like to submit for consideration, email an article proposal to Genea Stewart, director of the Office of Engaged Scholarship, gstewart@ccny.cuny.edu. Include the title of the paper and describe in 350 to 700 words the focus of the investigation, the rationale, and the approach.
The Office of Engaged Scholarship's Editorial Review Board will review the proposal for general suitability and fit within the parameters of Issues in Engaged Scholarship, and will contact the author in a timely manner.
For completed works, email gstewart@ccny.cuny.edu with the submission as an attachment.
The Office of Engaged Scholarship's Editorial Review Board will review the manuscript. Working papers may be published "as is" or with light edits. Alternatively, authors may be asked to incorporate requested changes into their work before publication.
Style Guidelines
Please prepare manuscripts according to Chicago Manual of Style guidelines. Spell out numbers one through ten. Section headings and subheadings should be in roman boldface type.  Book and periodical titles should be italicized. Foreign words should be italicized only upon initial use in the manuscript.
Submissions should be between 3,000 and 8,000 words, including all references and figures.
Prepare the manuscript in 12-point type, Times New Roman, with one-inch margins. Number pages consecutively at the bottom.
Include an abstract of 150 to 250 words, and, additionally, three to six key words under the abstract. Double-space the abstract, manuscript, notes, and indented quotations.
Authors may additionally include a short elaborating note about the work: for instance: "This work is adapted from a presentation delivered at the May 6, 2012 Immigrant-Integration Conference at City College."
Place endnotes (do not include a bibliography) at the end of the article, not at the foot of the page. For books, include full names of authors and editors, title, city, publisher, and date. For journals, include volume number, month.
For additional questions, please contact the series editor, Genéa Stewart at gstewart@ccny.cuny.edu.
Editorial Team
Genéa Stewart, Editor ; Susanna Schaller, Associate Editor ; Amanda Krupman, Production Editor
Issues in Engaged Scholarship: Vol. 3
Community Campus Readiness: Approaches to Disaster Preparedness
[In production: Print and online versions available in May 2014]
Issues in Engaged Scholarship: Vol. 2
Ethics in Service-Learning: Best Practices for Empowering Community Partners and Educating Students  
View online    Save as downloadable PDF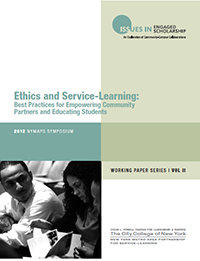 Issues in Engaged Scholarship: Vol. I
The Power of Partnerships: Transforming Students and Community Through Service-Learning 
View online   Save as downloadable PDF