Certified Medical  Administrative Assistant (CMAA)  
262 HOURS

The Office of Continuing and Professional Studies (CPS) at The City College of New York (CCNY) is proud to launch its very first "Online Certified Clinical Medical Assistant (CCMA) course, in partnership with MedStar Billing Technology and Resources, a company that has provided administrative and clinical services to doctors for over a decade.  

This 262- hour synchronous online Certified Medical Administrative Assistant course is designed to prepare students as a multi-skilled allied health professional in any healthcare facility to perform administrative office procedures with the integration of an electronic health record system.  This includes tasks in outpatient or ambulatory care facilities such as handling incoming and outgoing calls, scheduling appointments, insurance eligibility verification, follow up denials, accounts receivable, process pre-authorization, referrals billing, and bookkeeping.  

According to the US Department of Labor outlook handbook, the employment of employment of medical records and health information technicians is projected to grow 11 percent from 2018 to 2028, much faster than the average for all occupations. The demand for health services is expected to increase as the population ages. The median annual wage for medical records and health information technicians was $40,350 in May 2018.
Prerequisites:  Knowledge of Medical Terminology and Anatomy is strongly recommended. 

THIS COURSE IS BEING OFFERED ONLINE ONLY which incorporates two innovative software, namely: Moodle.org and Bluejeans.com. 

Moodle is a virtual learning environment (LMS) that is free to download and access 24/7. All documents related to the course, such as the syllabus, assignments, seatwork, homework are housed in Moodle  
Bluejeans is a video conferencing system that allows the student to log in to view the class that is in session and participate in live discussions with the instructor and students in the classroom. The students will be using this application to "virtually attend" the class. 
    
    
---
Course Outline
 The course is presented in four major areas:
I. General Discipline of Medical Assisting 
II. Medical Office Administration
III. Electronic Health Record (EHR
IV. Medical Terminology/ Anatomy and Physiology
---
  List of Tools, Equipment and Materials Requirements:
•    ICD-10-CM, CPT and Medical Assisting Textbook can be purchased online
1. Kinn's The Administrative Medical Assistant, 13th Edition ISBN-13: 978-0323396721 ISBN-10: 9780323396721 ( Students need this book on the first day of class)
2. ICD-10-CM  the Complete Official Codebook (Students should wait until the instructor determines which edition to purchase)
3. Professional (CPT / Current Procedural Terminology (Professional Edition)) (Students should wait until the instructor determines which edition to purchase)
To purchase and avail of a discounted price of the books you can email your instructor at 
info@medstarbilling-edu.com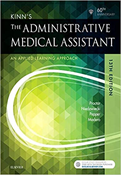 •    Printer
•    Speaker Phone
•    Computer / Laptop/Smartphone or Tablet
•    Internet Connection
•    Active Email Address
•    Free Blue Jeans App (provided by the College) 
•    Software download of Moodle and Blue jeans (College funded software)
Students will be contacted within one week of start date of class with access instructions
All instructors are Clinical Medical Assistant certified with at least 10 years of experience as coders and coding instructors.
Upon completion of the course students are encouraged to take the Certified Clinical Medical Assistant certification examination by the National Healthcareer Association. 
$  2,499.00
Virtual Live Sessions
Total Number of Program hours: 262 hours
T, W, TH  5:30 PM to 9:30 PM
Note:  NHA examination fee is not included
Last Updated: 08/04/2021 20:19